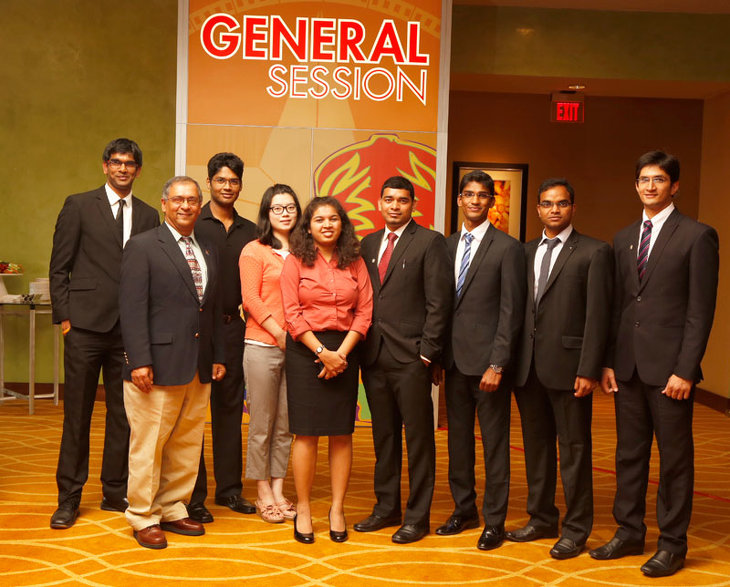 A number of students from Oklahoma State University's SAS Data Mining certificate programs were among the featured presenters earlier this month at the JMP Discovery Summit 2013 in San Antonio.
All of the students are pursuing master's degrees in information systems along with SAS and OSU Data Mining certificates from the Spears School of Business.
"This is a great conference for anyone who wants to showcase his or her talents in the areas of data visualization and modeling, and I am happy to see a large turnout from our data mining and analytic students," said Chakraborty, a professor of marketing at the Spears School who is founder of the SAS and OSU Data Mining Certificate and the Business Analytics Certificate programs. He also is a member of the Discovery Summit 2013 steering committee.
The OSU students who presented posters at the event were:
Predicting the Next Best Seller: Anuashka Sharma, Prateek Khare
Predicting the Risk Level of the Vehicle for Customers' Auto Insurance Using JMP® Pro 10: Dinesh Yadav Gaddam
Comparing Model Performances Using JMP® Pro 10: Predicting Whether a Customer Would Subscribe to a Term Deposit When Contacted for a Bank Direct Marketing Campaign: Dinesh Yadav Gaddam, Krishna Reddy Gade
Profiling and Predicting the Potential Buyers of an Insurance Product Using JMP® Pro 10: Gauray Pathak, Mantosh Sarkar
Wind Power Forecasting: Using JMP® Time Series Analysis for Hourly Prediction of Power Generation: Srinivas Reddy Busi Reddy
Crime Occurrence Analysis in Chicago City: Jiawen Liu
For more information about Oklahoma State's SAS and Data Mining Certificate program at the Spears School, visit the program's website at analytics.okstate.edu, call Chakraborty at 405-744-7644 or send an email to goutam.chakraborty@okstate.edu.