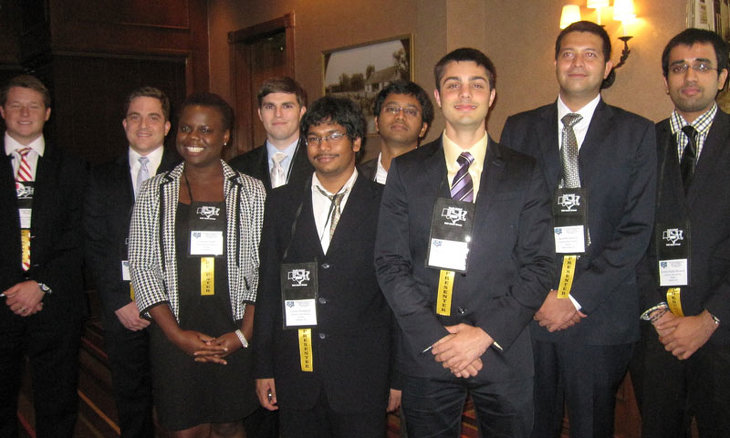 Three first-year Spears School of Business students attended and presented papers at the South Central SAS Users Group (SCSUG) Graduate Student Symposium in Analytics attended by more than 200 professionals.
Oklahoma State University, Louisiana State University and The University of Alabama hosted the Graduate Student Symposium in Analytics as a venue for communicating analytical ideas, sharing SAS software techniques and learning from analytics professionals. The symposium consisted of nine student presenters (three from each university) and covered a wide variety of analytics topics, including ways in which SAS software is used to analyze data.
The OSU presenters and their papers included Anvesh Reddy Minukuri with "Deterioration of Marine Attacks," Venkatesh Avula with "Application of SAS in Biomedical Engineering," and Suman Rachapudi with "Association of Socio-Emotional Factors: Religious Affiliation, Depression to Suicidal Tendency Among Adolescent Girls."
Goutam Chakraborty, professor of marketing at the Spears School and founder of the SAS, is proud of the students' performances.
"It was delightful to see young researchers from leading schools present their early research work at the Graduate Student Symposium," Chakraborty said. "OSU students performed very well and their papers were very well received by the academic as well as the professional analytics community. I am so very proud of them."
For more information about the SCSUG Graduate Student Symposium on Analytics contact Goutam Chakraborty at 405-744-7644 or goutam.chakraborty@okstate.edu.