Three teams of OSU students win top prizesin Riata Business Plan Competition
Wednesday, April 24, 2013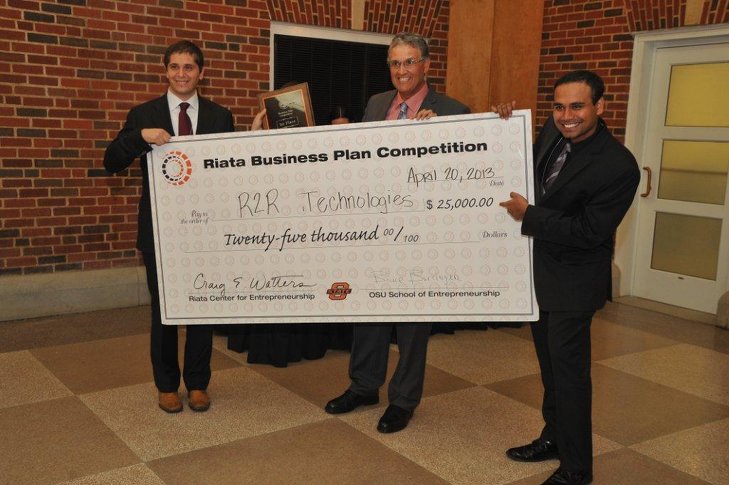 The fifth annual Riata Business Plan Competition awarded more than $43,000 in prize money on Saturday to help winning student teams finance their plans and turn them into viable business ventures.
The Riata Business Plan Competition is facilitated by the Oklahoma State University School of Entrepreneurship in the Spears School of Business.
R2R Technologies, a solution that can eliminate the setup and wastage during product changeover due to misalignment issues in roll-to-roll (R2R) processes, received top honors and the $25,000 for capturing first place. R2R Technologies team members are OSU students Carlo Branca, Aravind Seshadri and Pedro Velasco.
Medishine, the production and marketing of the SleepEaze Night Shirt which alleviates the symptoms of sleep apnea, received $10,000 for capturing second place. Medishine members are OSU students Fash Fadaei, Nasim Nosoudi and Akkarapol Sangasoongsong.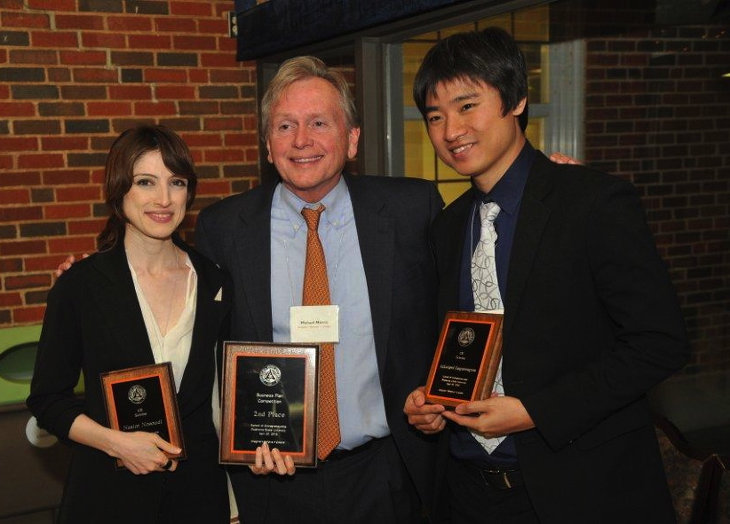 Speaking of Heroes, a non-profit organization that recruits, trains, and promotes heroic professional speakers who have triumphed over tragedy, loss, and pain to share their inspirational stories with others, received $5,000 for capturing third place. OSU student Joseph Crane is the founder of Speaking of Heroes.
PredictREI, a real estate investment software allowing access to critical property and closing information, auto-generated exit strategies, and auto-generated forms and pro formas, secured fourth place. The sole member of predict REI is OSU student Jerry Powers.
The Riata Center for Entrepreneurship in Oklahoma State University's Spears School of Business launched the campus-wide competition in December with 80 teams of OSU students competing. The top 16 teams presented business plans to a group of successful venture investors from Oklahoma and Texas, on Friday, April 19, and four teams were selected to advance to Saturday's finals.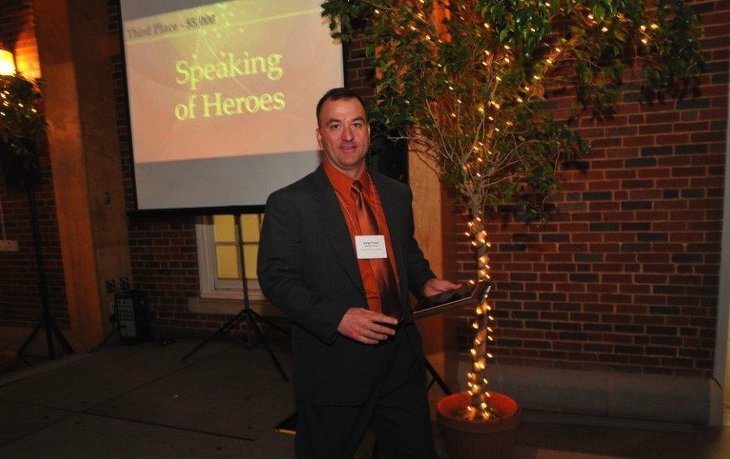 Teams were critiqued on the strength of their concept, the marketability of their product, the economic feasibility of their company, their planned business operations, the management of their team, and their capability to receive financing.
Others receiving recognition during the contest were:
Entrepreneurial Spirit Award: Arbuckle Pie Company
Dreamer & Doer: Ray Grand
Best Technology: Medishine
Best Social Venture: Latin Dimensions
Young Alumni Entrepreneur of the Year: Christina Roberts
Distinguished Community Entrepreneur of the Year: Steve Irby
Entrepreneurial Founder's Award: Dean Larry Crosby
Jon Wiese Entrepreneurial Excellence Award: Suzanne Wiese and Family
Outstanding Entrepreneurship Educator: Dr. Tom Westbrook
Outstanding Entrepreneurship Scholar: Dr. Robert Baron
Riata Fellow of the Year: Dr. Melanie Page
Entrepreneurial Faculty Difference Maker: Elizabeth Payne
Academic Excellence in Entrepreneurship: Caleb Neil
Academic Excellence in Entrepreneurship: John Harden and Nathalie Guerrier
Academic Excellence in Entrepreneurship: Suhail Shaikh
Research Excellence in Entrepreneurship: Blakley Davis
Student Entrepreneur of the Year: MaxQ
Social Entrepreneur of the Year: Dee Goodnight
Excellence in Entrepreneur Service Award: Patrick Huber and Mariah Olson
Entrepreneurial Difference Maker Award: Dani Wojciak
Outstanding Entrepreneurial Leadership: Chris McNeil
Outstanding E Club Member of the Year: Kourtney Brooks
Anthony Galindo Entrepreneurial Spirit Award (Entrepreneurship Club): Melissa Astudillo
Entrepreneurial Dreamer & Doer Award (Entrepreneurship Club): Shawn Jones
CIE Learning Community Leadership Award: Kelsey Burgess
Outstanding Service Award: Crystal Guthrie
2013 CIE Scholars: Akkarapol Sangasoongson, Ashish Singh, Ali Asmari Sadabad, Caroline Diedrich, Clint Miller, Jared Krittenbrink, Jason Vlastaras, Jeena Shrestha, Nick Irby, Jagdeep Podichetty, Suhail Shaikh, Timothy Whitley, Trent Hughes, Tyler Worden, and Nasim Nosoudi.
For more information about the Riata Center visit http://entrepreneurship.okstate.edu/riata/