Behfar Jahanshahi makes 'Spears School Tributes: 100 For 100' list
Saturday, November 1, 2014
MSIS (1998)
Master's in Telecommunications Management (2000)
Behfar Jahanshahi began his successful career while still a student at Oklahoma State University. The Stillwater native earned his bachelor's in management science and information systems in 1998 and his master's in telecommunications management in 2000 from OSU's business school.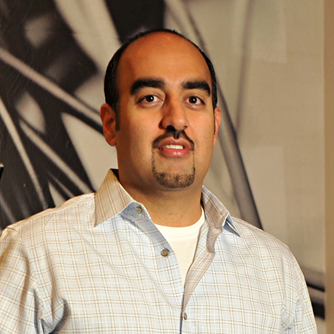 Jahanshahi describes his time at OSU as "a lot of fun." When he wasn't in class, working or tinkering with some gadget, he enjoyed participating in intramural sports. He enjoyed soccer the best and was a member of the OSU Soccer Club.
He credits the business school for his successful career. He recalls that it gave him the tools he needed to not only be skillful in IT but also to start his own business. Along with the technical skills he developed there, he also learned valuable business and managerial skills.
"This education is the foundation for both my personal success and the success of InterWorks," said Jahanshahi, president and CEO of InterWorks, a comprehensive provider of IT and data solutions based in Stillwater. "Each day in IT and data brings new challenges. I lean on the education I received at OSU to meet those challenges. The most important thing I learned from the business school was how to learn. This has made all the difference in the ever-changing tech world."
Jahanshahi started InterWorks while attending OSU. Upon graduating, the business received his full attention. The company started out with him providing networking services to local businesses. Thanks to the education he received and a bit of ambition, his business began to grow.
The purpose of InterWorks is to provide the best IT solutions, all while maximizing client satisfaction and having fun. It turns out people took to this concept. It wasn't long until he began hiring others to help him with the rapidly increasing work load.
InterWorks then began expanding the business into other areas of IT. It partnered with industry leaders like Dell, providing the best IT infrastructure solutions available. As growth continued, the company moved into many other technology-based areas such as software development, web strategy and database management.
In 2008, InterWorks partnered with an up-and-coming data visualization software company called Tableau Software. In the years that followed, Jahanshahi's company became the premier provider of Tableau consulting and training services across the US and around the globe. The growing list of clients includes such names as Facebook, Google, Rosetta Stone and, of course, OSU.
As for Jahanshahi, he's still learning every step of the way. "InterWorks is my career and my favorite hobby," he says. "We've come a long way in a short amount of time, and I'm excited to see how much further we can go. The possibilities are endless."
Jahanshahi has received several personal awards. He was named Spears School of Business Outstanding Young Alumni in 2010, a member of the 2011 Achievers Under 40 by The Journal Record, Tulsa Small Business Person of the Year in 2012 by Tulsa Metro Chamber, and a 2012 Oklahoma's Most Admired CEOs by The Journal Record.
He is also an active member in the community. He's been a board member of Oklahoma Wondertorium Children's Museum, board member of the Saville Center (2010-2012), a contributor to the Stillwater Public Education Foundation, a Planning Committee member for the City of Stillwater, an Advisory Committee member of the Meridian Technology Center, and an Advisory Committee member of the Francis Tuttle Technology Center. He's also involved in the Riata Business Plan Competition and the OSU Entrepreneurship Club.
Behfar and his wife, Staci Bejcek, still live in Stillwater. He credits her for playing a big part at InterWorks by serving as the Chief Culture Officer and being with him every step of the way. They have two daughters: Sophia (5 years) and Aria (4 months).
"I enjoy nothing more than spending time them," he said. "Family is the most important thing in my life."
Being recognized in the "Spears School Tributes: 100 for 100" means a lot to Jahanshahi.
"It makes me proud to be associated with a school that places such an importance on following and appreciating their past students," he said. "I feel a profound sense of accomplishment knowing that the OSU Spears School of Business would include me in such a successful list of alumni."