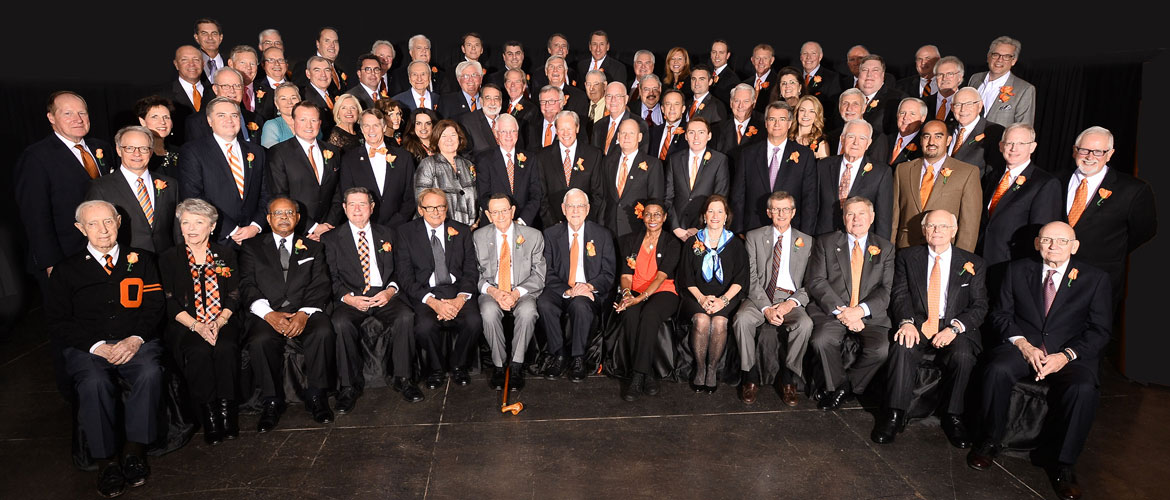 Bill Hargrave makes 'Spears School Tributes: 100 For 100' list
Saturday, November 1, 2014
Information Systems, Ph.D. (1993)
Bill C. Hardgrave is the dean of the Raymond J. Harbert College of Business at Auburn University in Auburn, Alabama. He earned a Ph.D. in information systems from the College of Business Administration at Oklahoma State University in 1993.
"As someone in higher education, I especially appreciate the legacy of great alumni from business schools," Hardgrave said. "For me to receive this recognition from my alma mater is quite humbling and I am truly honored."
Before attending OSU, Hardgrave earned a bachelor's degree in computer science from Arkansas Tech University in 1986 and went on to earn an MBA from Missouri State in 1990. During those years, he founded two successful software companies that would later fund his doctoral degree.
After graduating from OSU's Ph.D. program, Hardgrave moved to Fayetteville, Arkansas, where he was a faculty member at the University of Arkansas' Department of Information Systems in the Sam M. Walton College of Business for 17 years.
In 1999, he started the Information Technology Research Institute which is still in existence today. In the early 2000s, he began working with Walmart on a technology called Radio Frequency Identification (RFID), a replacement for the barcode. RFID technology was sought after by major retailers like Macy's, Dillard's, and JC Penney, along with technology companies including Intel, Microsoft and Motorola. Companies used RFID primarily to track and manage inventory and shipments. This work eventually led to the formation of the RFID Research Center, which quickly gained a national and international reputation for its work.
"The RFID Research Center and the work we did there was really a defining time in my career," said Hardgrave, who received the Ted Williams Award from AIM Global a few years ago as the top researcher in RFID and RFID Journal recognized him for the impact he has had on the field.
"OSU prepared me very well to be a faculty member at a great institution. I was able to go from the OSU Ph.D. program to the University of Arkansas and make an immediate impact," Hardgrave said. "It was at OSU that I really learned how to do research, but, perhaps most importantly, to appreciate the value of research to industry and to the academy."
In 2010, Hardgrave moved to Auburn, where he was appointed dean of the College of Business. In June 2013, the College of Business received a $40 million gift from Raymond Harbert with a $15 million match, and the College of Business was renamed the Raymond J. Harbert College of Business. The gift is the largest in Auburn University's history.
Before deciding to attend the College of Business Administration, Hardgrave had no prior ties to OSU. No one in his family had previously attended OSU and he didn't know anyone who attended OSU. A true researcher at heart, he did his due diligence and searched for a school that met all his requirements.
Hardgrave was certain he wanted to earn a Ph.D. in information systems and at the time there were only about 30 schools in the country that offered such a program. Next, he sought out programs that were consistent with his background, which narrowed the field down to about five institutions.
"When I visited OSU, I knew my search was over. I loved the campus, the faculty, everything about OSU," Hardgrave said.
On campus, the Clarksville, Arkansas, native was heavily involved in intramural basketball and softball. A life-long member of the Kappa Alpha fraternity, Hardgrave also helped re-establish the chapter on OSU's campus.
After his first year as a Ph.D. student, Hardgrave was awarded the Golden Key Outstanding Graduate Teaching Award. After finishing his Ph.D. in only three years, in 1993 OSU honored him with the prestigious Phoenix Award, awarded to the top graduating Ph.D. student on campus.
Hardgrave recalls being influenced by Rick Wilson and Ramesh Sharda, a pair of longtime professors in OSU's Management Science and Information Systems Department.
"Rick Wilson was my dissertation chair and was very instrumental in helping me get through the program," Hardgrave said. "It all lead to the first academic job which is the most important job coming out of a Ph.D. program."
Hardgrave enjoys volunteering through youth sports. Over the years, he has dedicated many hours to coaching youth soccer, basketball and track and field.
He and wife of 26 years, Ronda, have two children Rachel, 18, and Gavin, 12.