Carlos Johnson makes 'Spears School Tributes: 100 For 100' list
Saturday, November 1, 2014
Master's in Business Education (1966)
Ed.D. in Accounting and Business Education (1977)
Carlos E. Johnson earned his master's in 1966 and a Ed.D. in accounting and business education in 1977 from Oklahoma State University's College of Business.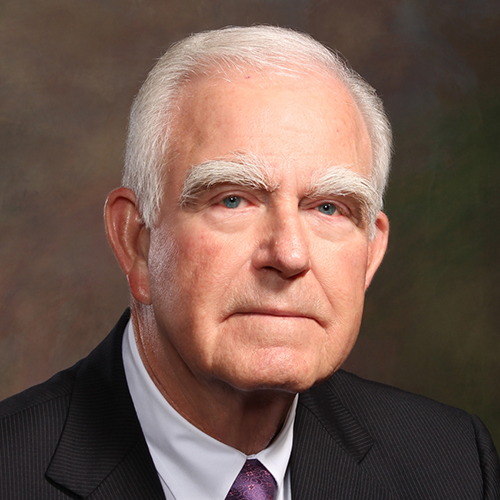 The Wilson, Oklahoma, native is a true advocate for his community, his profession, his state and his alma mater Oklahoma State University.
"I've always believed that you need to give back," Johnson said.
Johnson chose OSU to study under Wilton T. Anderson, who many refer to as the founding father of the OSU School of Accounting, who became Johnson's mentor as a student and throughout his career.
"The relationships I developed with the professors and the course work prepared me for a career in academia, public accounting and public service," Johnson said.
On campus Johnson worked for the controller at the University Business Office. He earned his master's in business education at OSU in 1966 and immediately obtained his Certified Public Accounting Certificate. The following fall, he began OSU's Ed.D. program. He commuted from Ada, Oklahoma, for his doctoral courses while simultaneously working as a professor in the accounting department at East Central University.
During that time, he maintained a strong relationship with OSU and the School of Business. As a professor at East Central University, he made countless trips back to Stillwater, bringing East Central accounting undergrads to campus to attend the OSU's lecture series. He often succeeded in inspiring his students to purse master's degrees from OSU's accounting program.
In 1970 Johnson was promoted to the head of the school of business at East Central University. After serving in that role for seven years, he left academia to work in the public accounting profession. He enjoyed a successful career in public accounting, and after retired after 25 years as a Partner with KPMG.
Johnson has remained active at OSU, serving as Chairman of the OSU School of Accounting Advisory Board and as a member of the Board of Governors for the OSU Foundation. He has been honored as a Distinguished Professional by OSU's School of Accounting.
Currently, Johnson is the Chair for the National Association of State Boards of Accountancy which represents the 55 boards of accountancy before various legislative bodies at the state and federal level.
Throughout his career Johnson, has received numerous awards and honors. In 2011, for the first time in 17 years, the American Institute of Certified Public Accountants gave Johnson special recognition for a career of Public Advocacy.
In 2012, he received the Public Service Award from the Oklahoma Society of Certified Public Accountants and has been inducted into the society's Oklahoma Accounting Hall of Fame.
Johnson's community involvement at the state level includes him serving more than 10 years as the Chairman of the Governmental Technology Applications Review Board (formerly Oklahoma Internet Application Review Board) and as a member of the Building Bonds Commission for the State. He has also served as a member of the Reform Commission under Oklahoma Gov. Mary Fallin.
Since 1985, Johnson has served as a member of the board of directors and in 2010 was named a Lifetime Director of the Oklahoma Zoological Society. Since 1998, he has served as a member of the Oklahoma State Chamber of Commerce Board of Directors and various Chamber committees.
"Being named a 100 For 100 is certainly an honor I never expected to received. However, I am grateful to be included," Johnson said. "I am very pleased that others would think that my career deserves such an honor. "
Carlos and his wife, Pam, reside in Oklahoma City. They have three children and six grandchildren who regularly attend various OSU sports events with the Johnsons.