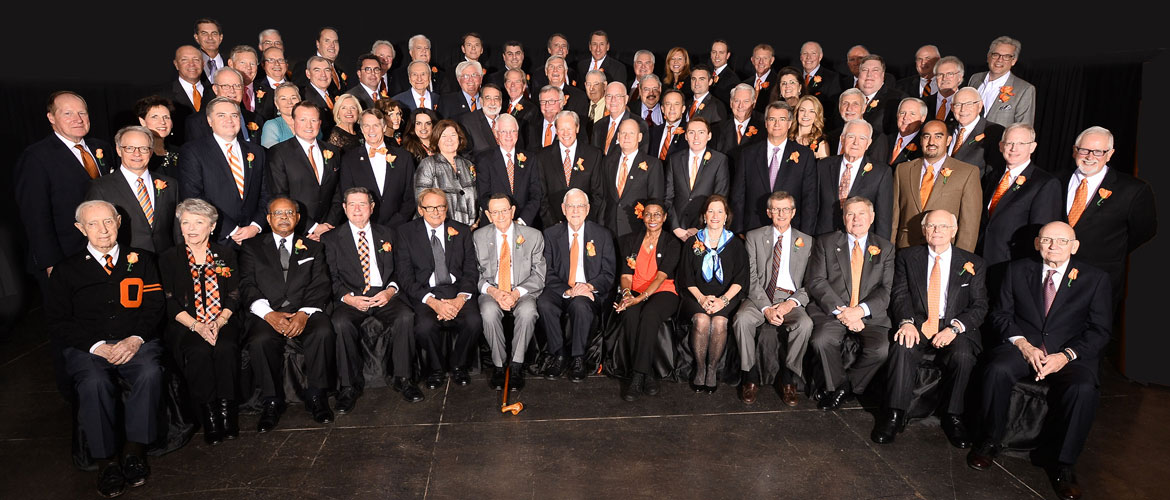 Glenn Stinchcomb makes 'Spears School Tributes: 100 For 100' list
Saturday, November 1, 2014
Management, BS (1952)
Accounting, MS (1961)
Glenn Stinchcomb doesn't remember the year and doesn't recall how old he was at the time but still today, at 87 years old, he does remember his first meeting with Oklahoma A&M College President Henry G. Bennett.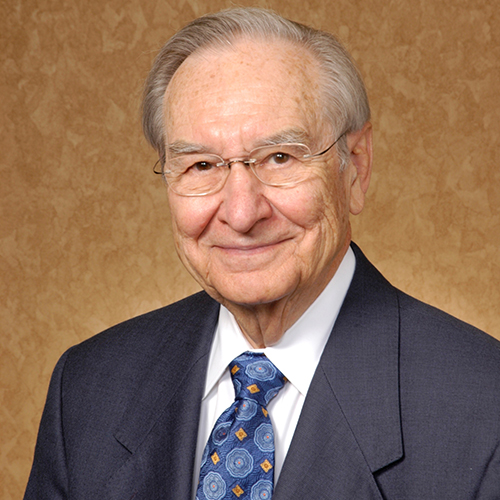 Stinchcomb and some of his classmates had traveled to Stillwater to compete in a 4-H cattle-judging competition. Afterward, as Stinchcomb said, "Dr. Bennett had us all in his office and he said to us, 'Now you boys will be out of high school soon. If you need to, you come see me when you get here for college and I'll show you around.'"
That's what Stinchcomb did after graduating from Colcord High School a few years later. He arrived via bus in Stillwater not knowing a single person, and eventually found his way to campus. Bennett's secretary escorted the teenager into the president's office and the two visited.
"Before the day was over I was enrolled in the engineering school, I had a place to stay at night, and the next day I had a job working at Simpson Pontiac. Dr. Bennett did exactly what he said he was going to do," Stinchcomb said.
He spent his freshman year studying engineering in 1945 before serving the next four years in the U.S. Navy in the aftermath of World War II. He continued to serve in the Naval Reserves for 23 more years.
Stinchcomb made the change to the business school after returning to Oklahoma A&M, becoming a member of the Beta Alpha Psi honors business fraternity for accounting, finance and information systems students, and graduating with a bachelor's degree in management in 1952. He would return to earn his master's degree in accounting in 1961.
Stinchcomb's first five years of employment were spent as an accountant with Peat, Marwick, Mitchell & Co. (now known as KPMG), before eventually joining the Oklahoma Publishing Company (OPUBCO), where he was named a vice president and a member of the Board of Directors. He also was the Chief Financial Officer and Treasurer for Gaylord Entertainment Company (GEC) from 1974 to 1991, and as Vice President of GEC from 1986 to 1991.
He retired in 1996 after 38 years at OPUBCO, but has served as an investor, advisor and board member on numerous companies, and continues to serve as a director of Vision Bank Texas in Richardson, Texas.
Stinchcomb has been a major supporter of Oklahoma State University since arriving in Stillwater in the early 1940s. Two of his four children are OSU graduates, daughter Zoe (bachelor's in microbiology, 1980) and son Paul (bachelor's in mechanical engineering, 1982). He currently has four grandchildren attending his alma mater.
Stinchcomb Hall, one of the campus residence halls, was named after Glenn and his wife, Hilda, to thank the family for their support. Stinchcomb Hall, dedicated in 2005, is home to the Wellness House and the TEACH House Living Learning Communities.
He was presented in 1988 with the OSU Alumni Association Distinguished Alumni Award and a year later he was inducted into the Spears School of Business Hall of Fame.
Stinchcomb is honored to be recognized in the "Spears School Tributes: 100 For 100."
"I can't just give myself credit for this recognition. I think my parents get credit for raising me and teaching me to do the right things," he said. "My father and my mother taught us that you were always do the right things. We grew up under their guidance, understanding that we were expected to do the best we could in everything we did. I think they would be proud."