Joe Kreger makes 'Spears School Tributes: 100 For 100' list
Saturday, November 1, 2014
MBA (1999)
Trust, stewardship, personal and professional growth, wisdom and understanding, and a foundation in faith are words that not only outline the principles of Kreger Financial, but embody the values of its founder, Joe B. Kreger.
He is the owner and principal of Kreger Financial, Wealth Management Advisor, and CERTIFIED FINANCIAL PLANNER PRACTITIONER. His wealth management practice is a provider with Northwestern Mutual in Oklahoma City. Kreger Financial serves a national network of business owners and professionals in the areas of advanced estate, personal and business financial and tax planning, by aligning clients' financial stewardship with their values.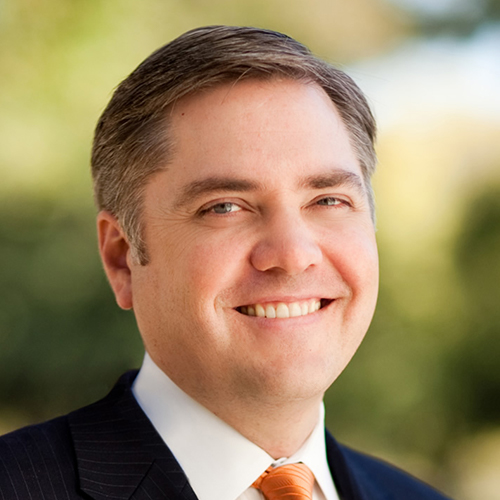 Kreger is also the managing principal of Salt Fork Resources LLC, and partner with his father and uncle in the third generation Kreger Ranch, located in Tonkawa, Oklahoma.
Kreger is a second generation OSU Cowboy. His father, Joe R. Kreger, who earned a bachelor's degree in animal science and a master's in agricultural education from OSU, raised him on the family beef cattle, wheat and alfalfa ranch near Tonkawa.
As an undergraduate, Kreger was a member of FarmHouse Fraternity, the College of Agriculture Student Council, the Animal Science champion academic team, the Block and Bridal Club (national Animal Science fraternity), and served as the community service chairman for his fraternity.
During his years at OSU, Kreger ran his own successful cattle operation in addition to working on the family ranch. He and several classmates founded an entrepreneurship club on campus, made up of OSU student entrepreneurs. He also worked in commercial and agricultural lending at Service Bank of Tonkawa during summers and Christmas breaks.
Kreger was named a Top 10 Senior in Agricultural Sciences and Natural Resources in 1994. He earned his bachelor's degree in agriculture, with a major in animal science and a minor in agricultural economics. In 1999, Kreger earned his MBA from Oklahoma State.
In the years between undergraduate and business school, Kreger worked in management and marketing consulting with a small firm in Houston, where he traveled throughout the southern United States, working with business owners and professionals, regarding their ranching interests. During this period, he experienced a huge setback as he was diagnosed with the chronic neurological disease, Multiple Sclerosis. He has faced the challenges of this disease every day since.
Just before Kreger began graduate school, he was engaged to his college sweetheart and FarmHouse Little Sis', Traci Bixler, an English education major and member of Pi Beta Phi fraternity from Woodward. The two married during his first year in graduate school.
In 2004, he earned his CFP certification, and has been recognized as a Million Dollar Round Table lifetime member; a Million Dollar Round Table Court of the Table (2011-2013) and the National Quality Award by the National Association of Insurance and Financial Advisors (2002-2013). In 2011, he was honored as an OSU MBA Program Top 50 Alumnus.
Kreger has a passion for alumni engagement and interaction, as he serves as the president of the Spears School Alumni Society Board of Directors, the MBA Alumni Advisory Board and the Spears School United Board.
"OSU has been such a great part of my life, but I have always believed that it is so much bigger than me. It is remarkable to me that I am being recognized in this way by such a grand institution. Whether it's the College of Agriculture or the College of Business, I've always wanted to give back to a school that has given so much to me and my family," said Kreger, who is the founder and chairman of the Oklahoma FarmHouse Builder of Men Scholarship.
Kreger volunteers as a member of Crossings Community Church and Crossings Christian School in Oklahoma City, and he serves on the Oklahoma Board of Directors for the National Multiple Sclerosis Society.