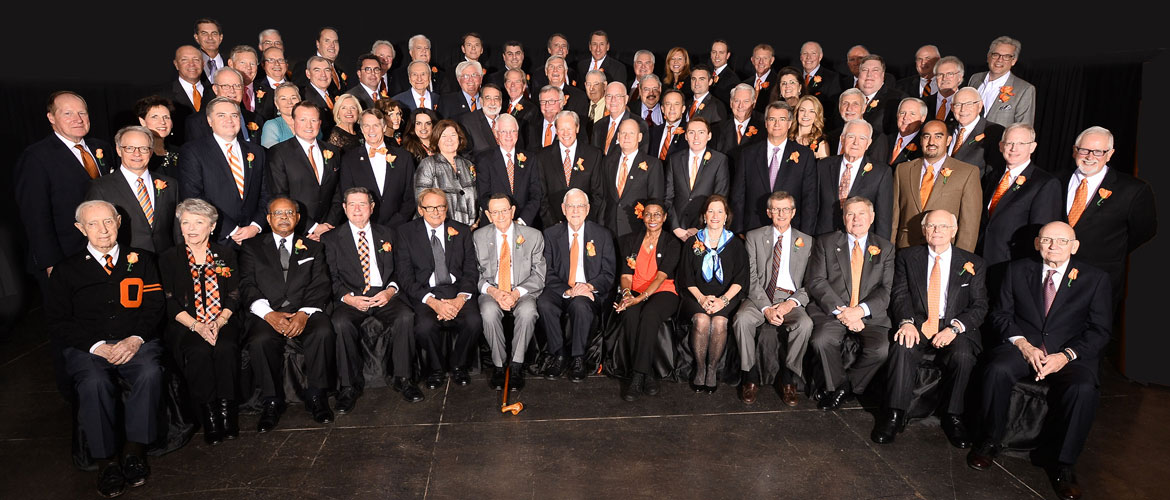 Lee Manzer makes 'Spears School Tributes: 100 For 100' list
Saturday, November 1, 2014
Chemistry (1965)
MBA (1966), Ph.D. (1974)
Some may say Oklahoma State University holds a legacy, but we fail to realize it's the people who make its legacy a reality.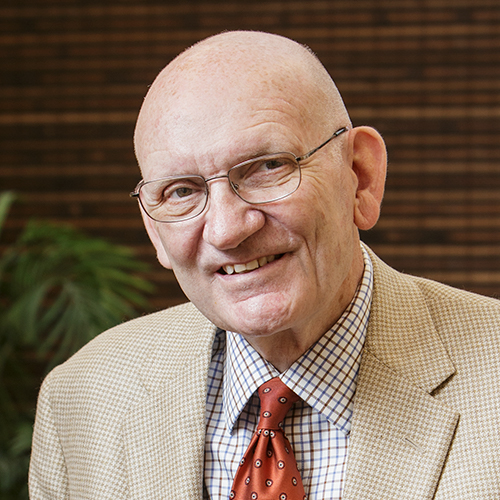 Lee Manzer is one of those people. His days at OSU are still as vibrant today as they were when he completed his bachelor's degree in chemistry in 1965. In order to fully understand Manzer's devout OSU spirit, we must go back to his yesteryears, where it all began.
The Hominy, Oklahoma, native first came to OSU in 1959, where he majored in chemistry and minored in mathematics. Little did he know that this university would be the foundation of the rest of his career.
Although Manzer's time at OSU was full of dedication and enrichment, his legacy began after a life changing experience. As a member of the Church of Jesus Christ of Latter Day Saints, Manzer embarked on a two-year mission trip to Washington, D.C., where his inquiry to teach and interact with others began.
He returned to OSU and decided that he didn't want to be a chemist but continued in that field. He then went across campus to earn his MBA from the business school in 1966. This MBA changed his life.
"The MBA changed the orientation of my working life," Manzer said. "It was to set the pattern for my career and for the rest of my life in what I was trying to do in terms of working. It was a great event."
Manzer took a position at Dow Chemical in Michigan as a chemist and soon got involved in marketing research and industrial sales. It was here that he became interested in marketing. However, at this time his pursuit to teach others was just beginning.
He soon discovered if you have something people are interested in, that is where you can get reward from the work you do. He knew at that exact moment teaching others was exactly what his calling was.
At this point, Manzer's OSU legacy came full circle when he received a call from the University to instruct a marketing class in January 1970. Manzer also joined the school's doctoral program in marketing, which was in its early stages. He took his ability to teach to then-Memphis State University in 1973, finished up his dissertation in 1974, and soon afterward received two teaching offers. Nevertheless, he took OSU's offer over Texas A&M University.
Manzer began teaching at OSU's business school in 1975 and has remained in the Business Building — in the same office on the fourth floor since 1996 — for nearly 40 years. He has served the OSU business school in a variety of positions, including Director of Graduate Studies, Director of Small Business Institute and Head of the Department of Marketing. However, his primary focus has always been teaching.
Back at his home, OSU, Manzer began enriching the lives of his students and has since become one of the most known professors on campus, and even throughout the state of Oklahoma. Teaching more than 35,000 students since the beginning of his career and speaking at multiple events has earned him his fame. A nationally sought after speaker, he has presented to hundreds of organizations and businesses with more than 100,000 participants across the United States.
And the best part? Manzer has no plans of retiring soon.
"I like to work," said Manzer. "I'm the oldest person in this building and I could retire. But I don't want to retire. I like being around the students. I like to come to work. It's a lucky person who looks in the mirror and says, 'I like to go to work.' That's been me."
Manzer is the recipient of numerous teaching awards and recognitions. He has received multiple honors and awards from the Spears School of Business and OSU. He's been named the Outstanding Teacher in the Spears School of Business four times and OSU's Teacher of the Year three times. Also, he was awarded the "Loyal and True" award, which is the highest service award that OSU gives for long-term service. After serving on faculty for almost 39 years, Manzer has won nearly 20 teaching awards.
His accomplishments don't end there. He's also served as advisor to hundreds of students, six of which have been named an Outstanding Graduate at OSU. He also was named one of the Spears School's Top 50 MBA graduates and was inducted into the Oklahoma Higher Education Hall of Fame in 2010.
In addition to his legacy, Manzer has spread the wealth by guiding his family to do the same.
"Our whole family is OSU," Manzer said. "My wife went to school here. My three children went to school here and two even graduated from the Spears School of Business. In fact, they're all heavily involved at OSU."
And if you're wondering where the Manzer family's priorities lie, they state it pretty simply.
"First in our life is deity," Manzer said. "Second is our family, and third is OSU."
Manzer is actually surprised to be honored as a "Spears School Tributes: 100 For 100."
"If the school really knew what everybody was doing I probably wouldn't be involved in this," Manzer said. "Since OSU means a lot to us, the college has been wonderful and it's a great honor. "