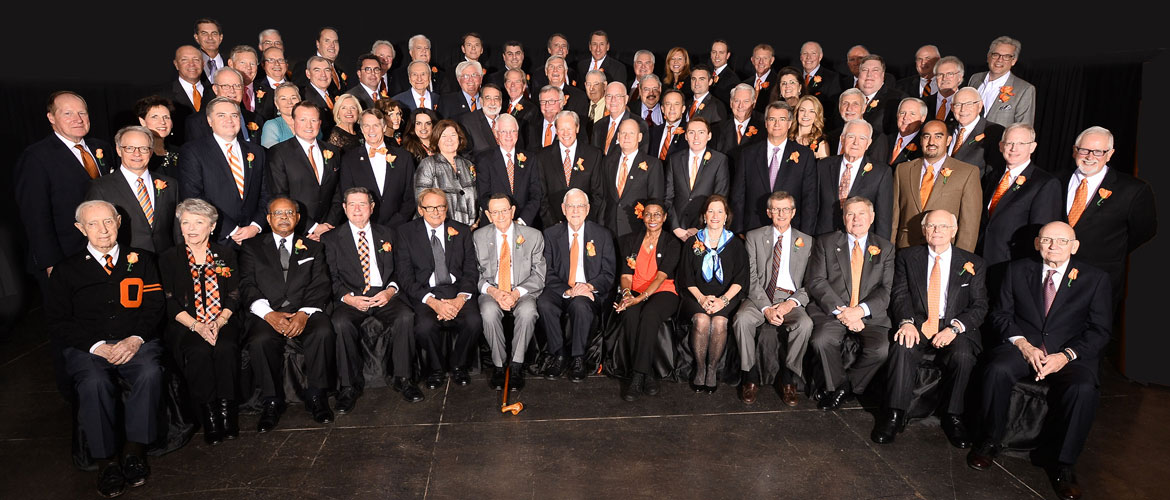 M.B. 'Bud' Seretean makes 'Spears School Tributes: 100 For 100' list
Saturday, November 1, 2014
Marketing (1949)
After serving as a field artillery officer in the Mediterranean theater during World War II, M.B. "Bud" Seretean set his sights on Stillwater, Oklahoma. He left his home in New York and enrolled in the Division of Commerce at Oklahoma A&M College as a marketing major.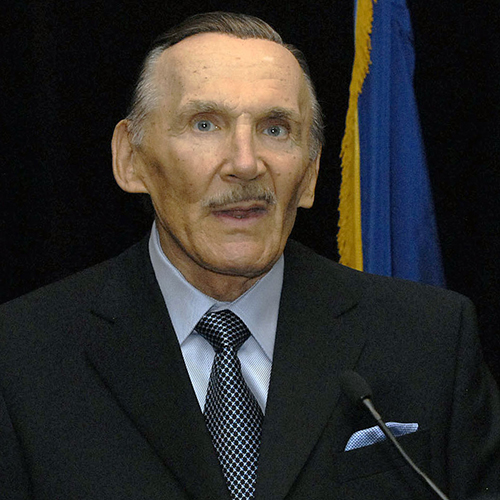 At the time of his enrollment, the Jewish population of Oklahoma A&M was very small. Despite being a good student who was active on campus, a fraternity refused to allow Seretean to become a member after discovering he was Jewish.
In response, Seretean established the Brandeis Club for Jewish students on campus. The club would meet on Jewish holidays and for social programs at the Baptist and Methodist Student Unions. Having experienced anti-Semitism, Seretean made a point to educate his fellow students about Judaism by regularly speaking to campus Christian groups. This was an early installment of what would become a lifetime commitment to promoting causes important to him.
Seretean earned his marketing degree from then-Oklahoma A&M in 1949. He went on to earn his master's degree in retailing from New York University in 1950.
In just six years, Seretean went from being assistant floor covering buyer for Allied Stores in New York to co-founding Coronet Industries, Inc. in Georgia. For 30 years, he served as its Chairman and Chief Executive Officer. Coronet Industries quickly grew to $400 million in sales and 4000 employees, and was purchased in 1971 by RCA Corporation. His other successful business ventures included co-founding Opti World in Atlanta, which was ultimately sold to Lens Crafters, and co-founding ABC-TV affiliate WGXA in Macon, Georgia.
In 1965 Seretean was named the Outstanding Small Businessman in the nation.
A lifelong love of sports led Seretean to become a co-owner, president and general manager of the NBA's Atlanta Hawks in the 1970s. After selling the franchise to Ted Turner, Seretean became a member of the Board of Directors for Turner Broadcasting Systems (TBS), the Hawks and Major League Baseball's Atlanta Braves.
Seretean realized the importance of wellness in his own life and committed himself to promoting its benefits to others. He demonstrated this commitment in ways that ranged from supporting OSU golf to founding and funding The Seretean Wellness Center at OSU. He served for 12 years on The President's Council for Physical Fitness and Sports. At 80, he was inspired to write and publish Living Healthy to 100. His dedication to practicing and promoting wellness culminated in his being awarded one of the first Lifetime Achievement Awards from the President's Council for Fitness and Sports.
Seretean was a member of the National Board of Directors and Chairman of Government Relations Committee for the Boys' and Girls' Clubs of America. He was also president of the Jewish Welfare Federation. Through Friends of the Israel Defense Forces, Seretean funded multiple facilities serving the soldiers of Israel, including a state-of-the-art wellness center located on a military base in the Negev. Recognizing his Romanian heritage, Seretean built a Holocaust memorial to the Jews of Dorohoi, Romania. It is located in the Judean Hills outside Jerusalem. He also planted a grove of trees honoring Romanian Jewry through the Jewish National Fund.
Expanding access to the arts and to education was also important to Seretean. He expressed this commitment by providing primary funding for the M.B. Seretean Center for the Performing Arts at OSU and by providing student scholarships. Seretean's commitment to OSU included serving as President of the OSU Foundation Board of Governors.
In 1999, Seretean's professional achievements and philanthropic activities were recognized by OSU. On the 50th anniversary of his graduation he was awarded an honorary doctorate.
Seretean passed away on Aug. 13, 2007. His contributions as a carpet industry pioneer, successful entrepreneur, author, and philanthropist live on. His recognition as one of the Spears School Tributes: 100 for 100 allows us to reflect upon the life of this generous man who impacted OSU in many profound ways.
Personal friend and OSU First Lady Ann Hargis said, "Bud Seretean was ahead of his time. A forward thinker who, early on, understood the impact he could have at OSU. His love of wellness and the arts, combined with his entrepreneurial spirit, made a lasting impression on our land grant university. His wellness vision continues to be recognized today, as OSU has been granted the trademark for America's HEALTHIEST Campus. His legacy lives on, and he will forever be a Cowboy."