The Spears School of Business teamed up with long-time partner SAS, a leading provider of business analytics software, to award 14 graduate students with data mining and business analytics certificates during Oklahoma State University's Fall 2014 Graduate College Commencement on Friday.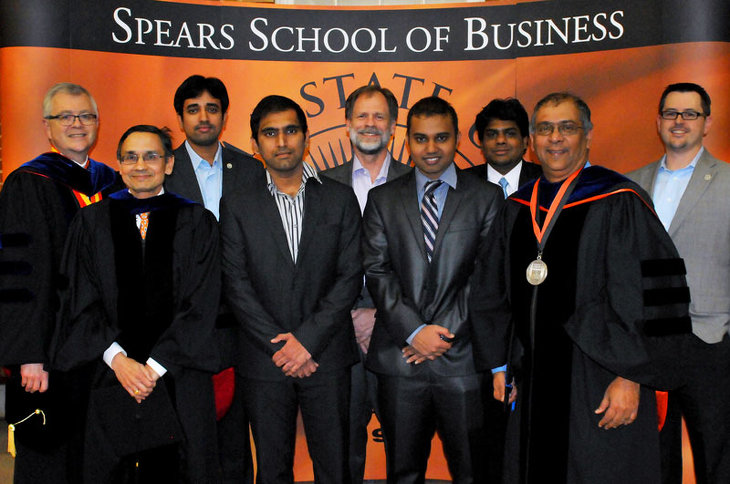 The students earning their SAS and OSU certificates are:
Temesgen E. Helsabo, Data Mining
Anup KC, Data Mining
Zabiulla Mohammed, Data Mining
Vinay Karumanchi, Data Mining
Benjamin Lee Ensor, Data Mining
Vinayak Ramchandra Sawant, Data Mining
Samuel Pakho Cheung, Data Mining
Raghavender Reddy Byreddy, Predictive Analytics
Balamurugan Mohan, Predictive Analytics
Anvesh Reddy Minukuri, Predictive Analytics
Steven B. Zeiler, Business Analytics
Jordan Elizabeth Lusnak, Business Analytics
Austin Shrader, Business Analytics
Gloria Christine Nichols, Business Analytics
OSU's nationally recognized program is led by Goutam Chakraborty, professor of marketing and founder of the SAS and OSU data mining and analytics program. "I am very proud of our students who have earned these joint certificates awarded by OSU and SAS," Chakraborty said. "Students earning these certificates represent diverse education and technical backgrounds and I am very happy with their performances in the certificate program. Congratulations to all of them." For information about the SAS and OSU Data Mining and Analytics certificate program visit
http://analytics.okstate.edu
, or contact Chakraborty at 405-744-7644 or by email:
analytics@okstate.edu
.