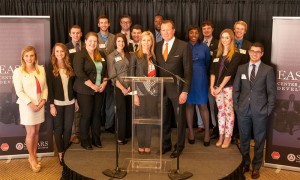 Oklahoma State University's new Eastin Center for Talent Development will provide an innovative program dedicated to empowering students in the Spears School of Business to refine their professional skillsets to obtain their highest level of career readiness.
The Eastin Center will provide the leadership and administrative support for the Spears School's Career Readiness Initiative, which will focus on practical interpersonal business skills heightening the opportunities and experiences to empower students to meet the requirements of the business community and recruiters.
"We believe the Eastin Center will become a leader nationally in innovative programs that improve the career readiness of students, thereby improving their quality of life," said Ken Eastman, interim dean of the Spears School. "The Eastin Center programs will view students in a holistic manner and will give them opportunities to expand their skills in all facets of their lives."
Joseph Eastin, an OSU alumnus who is president and principal of ISNetworld, has been instrumental in the creation of the new center with a generous gift. Eastin and his wife, Monica, were in Stillwater when the Eastin Center was announced Friday.
"As my career progresses and business practices evolve, I continue to learn and develop new skills. My wife, Monica, and I hope the Eastin Center for Talent Development will equip OSU students with a skillset that will contribute to success in today's competitive business world," said Eastin, who earned a 1992 bachelor's degree in business administration and was inducted into the Spears School Hall of Fame in 2012.
Eastin has helped build ISNetworld into one of the world's fastest-growing companies, privately held in the United States. ISN has grown from three employees in 2001 to nearly 400 employees in 2014. He currently serves as a board member for OSU's Riata Center for Entrepreneurship and the OSU Foundation's Board of Governors.
The goals of the Eastin Center are to organize and promote existing opportunities and create activities to achieve career readiness. Students will be inspired to participate in activities from the moment they arrive on campus as freshmen and will be recognized when they successfully complete the program.
Spears School students will receive hands-on instruction in four areas while in the program:
Course work: Career readiness skills will be introduced to freshman students and offered in several business elective courses.
Mentoring: Students will be encouraged to participate in the Spears Schools Mentoring Program.
Career Services: Students will take advantage of all opportunities offered by the Spears School's Career Services Center throughout the students' years on campus.
Extracurricular Experiences: Engaging in clubs, activities and organizations are an important part of any student's growth. In addition, students will be encouraged to participate in more activities such as travel programs, speakers series, debates, community service, alumni networking activities and more.
Each year, as many as 10 students who have excelled in the program will be honored as Eastin Fellows. Each of these honorees will receive a scholarship for one of the Spears School's travel programs and have the opportunity to network with business leaders in New York, Chicago, Dallas and elsewhere.
Eastman, the Spears School's interim dean, and others applaud the Eastins' commitment to business education.
"We greatly appreciate the generosity and vision of Joseph and Monica Eastin. Their support will allow us to significantly improve the lives of our students. We greatly value our partnership with the Eastins and appreciate their commitment to our students," Eastman said
"This is a great opportunity for our students, made possible by an individual who loves Oklahoma State University," said Andrew Urich, director for student development for the Eastin Center. "Joe has been very generous with his time as well as his resources and will be a valuable partner as we work to realize the goals of the Eastin Center."
Eastin Center Executive Director Bryan Edwards believes the impact of the program on the lives of current and future students will lead to better employment opportunities.
"Through the Eastin Center, we will help students enhance their professionalism through skills necessary for success such as etiquette, good judgment, confidence in business settings and a self-awareness of how they present themselves," said Edwards, associate professor and Joe Synar Chair in the Department of Management. "Graduates eventually gain these skills with job experience but the Eastin Center will provide opportunities to jumpstart the learning process."
For more information, visit the Eastin Center website: http://spears.okstate.edu/eastin/. To view the photo gallery from the Eastin Center launching event, click here.