OSU's Ph.D. in Business program attracts senior executives for third class
Thursday, January 23, 2014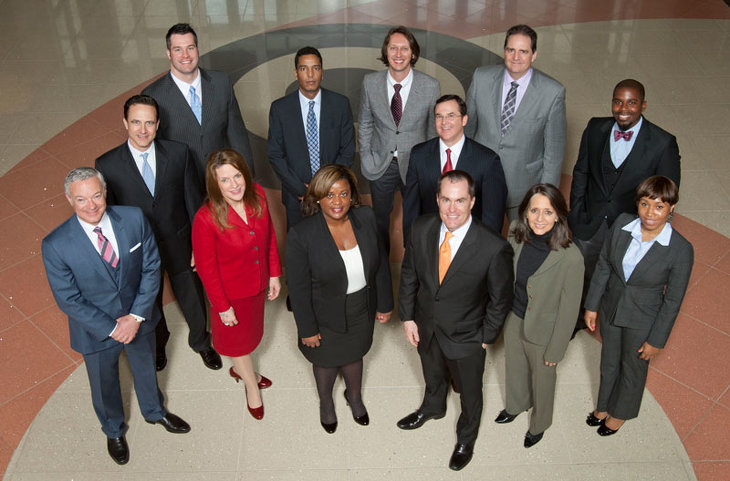 Oklahoma State University's Spears School of Business continues to grow its doctoral program for executives. The third class of the Ph.D. in Business for Executives in the Watson Graduate School of Management features 13 participants from nine states.
The three-year program kicked off Jan. 10-11 with an orientation session at the Helmerich Research Center on the OSU-Tulsa campus. The 13 participants were welcomed to the program by OSU/A&M Board of Regents Chairman Tucker Link, Oklahoma State University President Burns Hargis, Spears School of Business Interim Dean Ken Eastman, Spears School Interim Vice Dean Ramesh Sharda, and Ph.D. in Business for Executives Program Research Director Craig Wallace.
The third cohort joins 34 participants from the first two classes of the Ph.D. in Business for Executives program.
"We are very excited to welcome our third cohort into the Ph.D. in Business for Executives program," Eastman said. "The students in this group come from a number of states and professional backgrounds. I have spoken to a number of them and they impressed me with their enthusiasm for the program."
Executives from the third cohort participating in the program are (listed alphabetically):
Abdel-Kader Ben-Mohamed, Second Vice President, Citigroup
Timothy Coomer, Chief Executive Officer, SIGMA Actuarial Consulting Group
Alfonza Darnell Jr., Chief Executive Officer/Principal, ADACI
Luis Faura, President and Chief Operations Officer, C&F Foods, Inc.
Lina George, Vice President Human Resources East, Walmart
Nathan Higdon, Chief Financial Officer, L'Espace Motorcoach, Inc.
Maribeth Kuzmeski, Marketing President, Red Zone
Alexander Lawrence, Vice Provost, Weber State University
Dionne Roberts McCollum, Global Program Finance Manager, Menlo Worldwide Logistics
Kimberly Morgan, Director of Budget & Operations, National Academy of Sciences
William Periman, Vice President, Technology, Waddell & Reed
Marc Scott, Director – Procurement, L-3 Communications
Joshua Wilson, National Sales Training Manager, TD Ameritrade
The third cohort includes chief executive officers, executive directors, vice presidents, chief operating officers and chief financial officers from well-known and respected companies across the United States. The program consists of individuals representing California (2), Georgia (2), Illinois, Kansas, New York, Tennessee (2), Texas (2), Utah, and Washington, D.C.
The class also encompasses a wide variety of industries, including financial services (4), consulting (2), retail trade (2), transportation and logistics (2), and one participant each from nonprofit organizations, aerospace and defense, and higher education.
"This cohort represents further diversity in backgrounds and interests," said Sharda, director of the program. "It is also exciting to have a third cohort of the program. We are also looking forward to graduating members of the first cohort in December.
For more information or to explore how to become a member of the 2015 class, go to the Ph.D. in Business for Executives website: http://phdexec.okstate.edu.