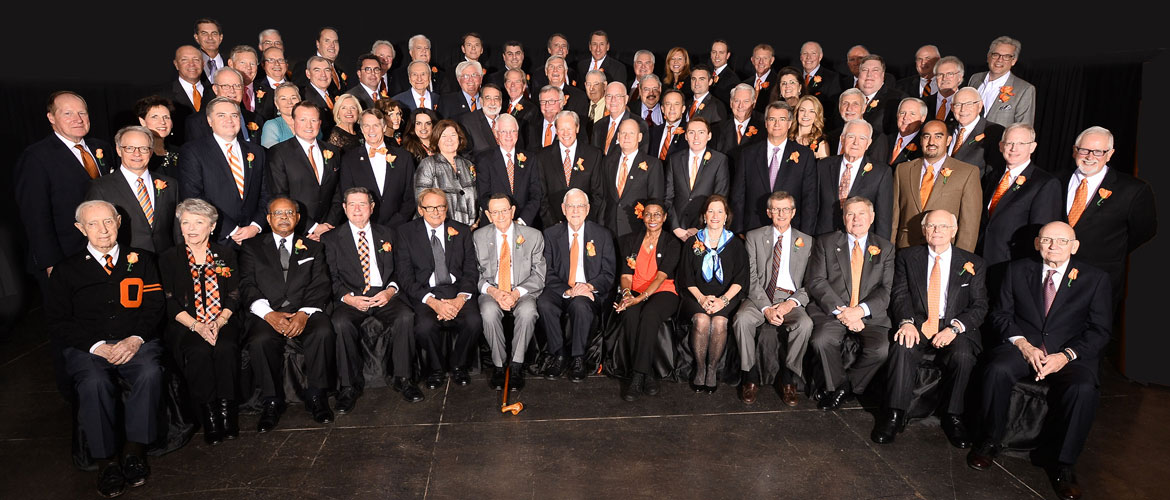 Richard (Dick) W. Poole makes 'Spears School Tributes: 100 For 100' list
Saturday, November 1, 2014
Ph.D. in Economics (1960)
Dean Emeritus
Richard (Dick) W. Poole's meteoric rise from instructor of economics to dean of what was then known as the College of Business Administration coincided with the college's growth and expansion. But there was nothing coincidental about it.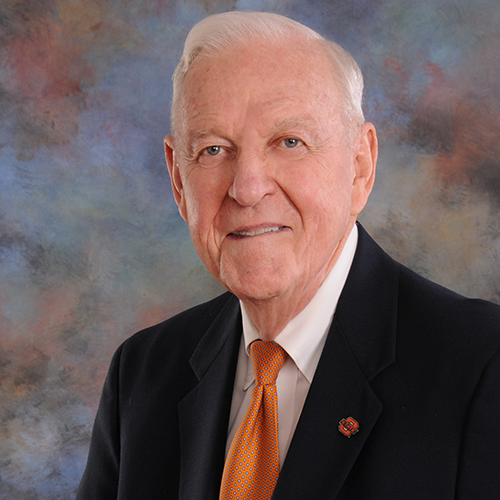 Poole joined Oklahoma State University as an instructor in the Department of Economics early in 1960, a few months later becoming the first person to earn a doctoral degree from the business school. He joined longtime friends Duck-Woo Nam and Robert Sandmeyer as the first three participants in the Ph.D. in Economics program.
It didn't take long for Poole to begin moving up the institutional ladder, advancing from instructor to assistant professor to associate professor to full-time professor to dean in five short years.
"My goal had been reached when I was promoted to full professor. My wife and I bought a historic home in Ouray, Colorado. I planned to take the summers off and do consulting, research and writing," Poole said. "I had no desire to be an administrator.
"In response to strong encouragement by Dean Eugene Swearingen, Dean Raymond Thomas, Economics Department Head Russell Baugh, OSU Academic Vice President Robert McVicar and faculty colleagues, I reluctantly agreed to submit my name as a candidate for the Deanship. It was the best decision I ever made. I loved the job and the opportunity to help create a productive environment for faculty colleagues and students."
Poole served as dean for the business school from 1965 to 1972 and accepted an appointment to the newly created position of OSU Vice President for University Relations, Development and Extension in 1972. His tenure was remarkable for innovative initiatives, new and expanded programs, and integrated marketing of OSU.
In 1988, he relinquished his position as vice president. In recognition of his service, the OSU Board of Regents named him Regents Distinguished Service Professor. He is the only person ever awarded this title. From 1988 to 1993 he taught Honors Classes and provided leadership for OSU's International programs, including creation of the School of International Studies.
That's a remarkable story for someone who grew up in Oklahoma City throwing two paper routes every morning to help support his family. He eventually enlisted in the Army, serving in Japan during World War II, before earning both his bachelor's degree in business (1951) and MBA (1952) from the University of Oklahoma.
Seeking business experience before pursuing a career in higher education, Poole worked for Oklahoma Gas & Electric Company, the Oklahoma City Chamber of Commerce and the Frontiers of Science Foundation. He moved in 1957 to Washington, D.C., to manage an office for James Webb, president of Republic Supply Co., while pursuing doctoral work at George Washington University.
"Accepting the job at OSU is the best move I ever made," Poole said. "I loved it and I am so grateful and indebted for the opportunity I've had to serve. It's such a corny statement, but I bleed orange. I'm so proud of Oklahoma State University. I'm proud of its accomplishments, and I'm proud of how it reaches out to people, and that ties in with the land grant mission."
The business school moved from its home in Morrill Hall to the new Business Building under Poole's guidance, and the students soon began referring to the new building as the Poole Hall.
Poole definitely left his mark on the business school during his tenure. He secured approval for a Ph.D. in Business with majors in finance, marketing, management and accounting. He also developed stronger relationships with the business community throughout the state that led to additional scholarships and research grants. He was the driving force behind a partnership with the Manned Spacecraft Center in Houston that hired OSU business faculty and graduate students during the summer to work on management projects at the Space Center.
He has been honored with numerous awards over the years, including the Oklahoma Higher Education Hall of Fame (1998), the Spears School of Business Hall of Fame (1993), the OSU Alumni Association Distinguished Service Award (1995), and the City of Stillwater Hall of Fame. Also, Poole was included in Who's Who in America and received OSU's Henry G. Bennett Distinguished Service Award.
He was honored after retiring when business leaders and friends endowed the Richard W. Poole Professorship that is awarded to the Dean of Business in assisting in promoting excellence in teaching, research and outreach.
The 86-year-old Poole is honored to be recognized as one of the "Spears School Tributes: 100 For 100."
"To be honored by your colleagues where you worked and toiled every day is most significant," he said. "I said when I was inducted into the College of Business Hall of Fame (in 1993) that I've had other honors, but this one is most important to me, because the College is where I worked, I grew and where I developed, and I say the same about this recognition. I am truly honored."