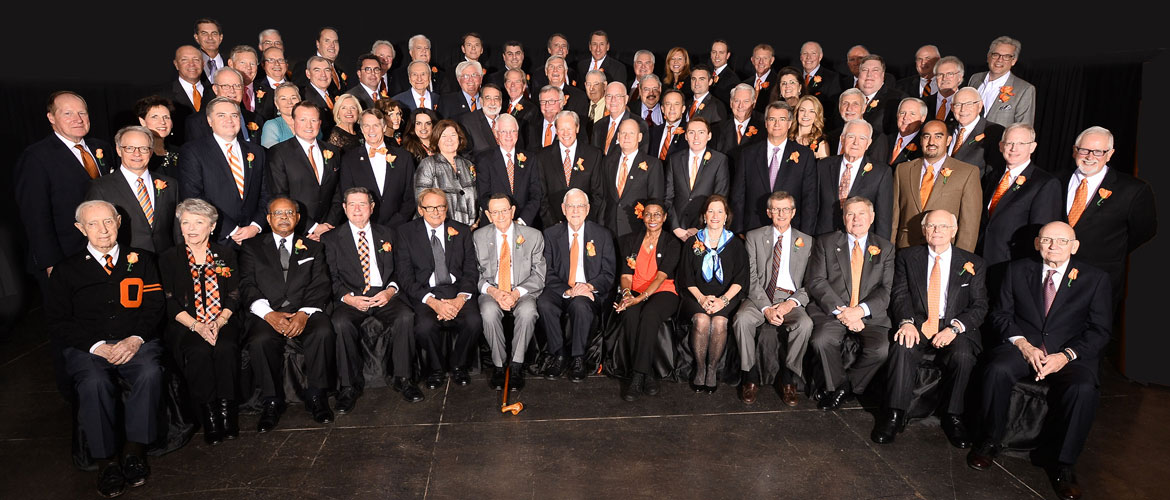 Robert (Bob) L. Sandmeyer makes 'Spears School Tributes: 100 For 100' list
Saturday, November 1, 2014
Master's in Economics (1958)
Ph.D. in Economics (1962)
Dean Emeritus
Bob Sandmeyer was raised in Kansas but instead of growing up rooting for coach Phog Allen's University of Kansas basketball team, he was a fan of Henry Iba's Oklahoma A&M Aggies. Bob Kurland was his hero.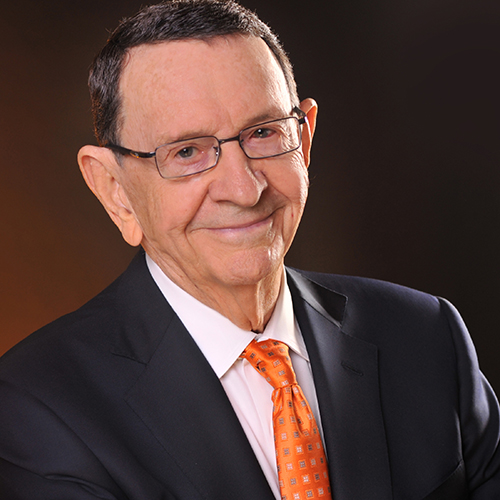 Sandmeyer earned the master's degree in economics from Oklahoma State in 1958 and a few years later became one of the first students in the business school's new PhD program in economics. After completing the required course work and passing the preliminary examinations, Sandmeyer joined the economics faculty at Arizona State University. In 1962, after earning his doctoral degree, he accepted an offer to return to Stillwater as a visiting assistant professor of economics.
In the period between 1962 and 1977 Sandmeyer moved through the ranks of visiting assistant professor to assistant professor to associate professor to full professor and then was named the first director of the Office of Business and Economic Research.
Samndmeyer was appointed dean of the then College of Business Administration in August 1977 and served until September 1994. His 17-year tenure as dean is second only to Raymond D. Thomas' 28 years of service as dean.
Business school enrollments were exploding nationally throughout the 1970s and 1980s. This was primarily due to the large influx of female enrollment. When Sandmeyer became dean, young women accounted for about one-third of undergraduate business enrollment, but 17 years later female students accounted for over 50 percent of undergraduate student enrollment.
In the late '70s and early '80s, the United States faced increased competition from Japan to produce high quality goods at a competitive price. Although Japan had a competitive advantage with respect to labor costs this alone did not explain the fact that the quality of goods produced in Japan exceeded like products produced in the U.S. It became clear that the manufacturing process in the U.S. had to change by incorporating modern techniques. Likewise, business school curriculum had to change to include issues related to doing business in a global environment.
"At OSU we accomplished this by introducing international business topics within existing courses, developing specialized international business courses and creating an international business major," Sandmeyer said. "We also saw a need to provide out students with an opportunity to gain international experience. The summer in London was the first of what has become numerous opportunities for our students to study abroad."
To illustrate the impact of changing technology on teaching and learning Sandmeyer said that when he became dean, the major capital expenditure for the college was the purchase of typewriters. With the advent of desktop computers the university reluctantly moved away from centralized computing to distributive computing. The typewriting labs were replaced by computer labs, which in turn were replaced by laptop computers.
Under Sandmeyer's leadership, new and improved technology also allowed the business school to extend its programs, both credit and non-credit, off campus in a more efficient and cost effective way. The Spears School now uses the internet to deliver its nationally ranked distance learning programs to numerous sites.
Sandmeyer credits his forward-looking leadership team for what was accomplished during his tenure.
"As there was very little turnover in our leadership team during my 17-year tenure we could plan for the long run and take advantage of opportunities as they came along," said Sandmeyer, who worked closely with business, foundations and government entities to increase endowments for faculty support and student scholarships. During Sandmeyer's tenure the number of endowed chairs and professorships increased from zero to 13, and endowed funds for student scholarships also increased by a large amount.
Soon after retiring, Sandmeyer moved to Al Ain in the United Arab Emirates where he served in an advisory role to create a Western-style business college at the United Arab Emirates University. Sandmeyer also served as the founding dean of the College of Business at Zayed University with campuses in Dubai and Abu Dhabi.
Sandmeyer received many awards and recognition over the years, including his induction into the Spears School of Business Hall of Fame, the Oklahoma Higher Education Hall of Fame, the Fort Hays State University Alumni Achievement Award and the Fort Hays State University Alumni Distinguished Service Award. In recognition of his distinguished international service, Sandmeyer was appointed a Henry G. Bennett Fellow in the OSU School of International Studies.
Sandmeyer and his wife, Loretta, have been married 64 years. They have four grown children, four grandchildren and five great grandchildren. Their oldest great-grandchild, Jordan Scully, is currently a student at OSU.
"I am incredibly honored to recognized in the Spears School Tributes for the centennial celebration. I am humbled to know that I was chosen to represent the many outstanding graduates of the Spears School of Business," he said.