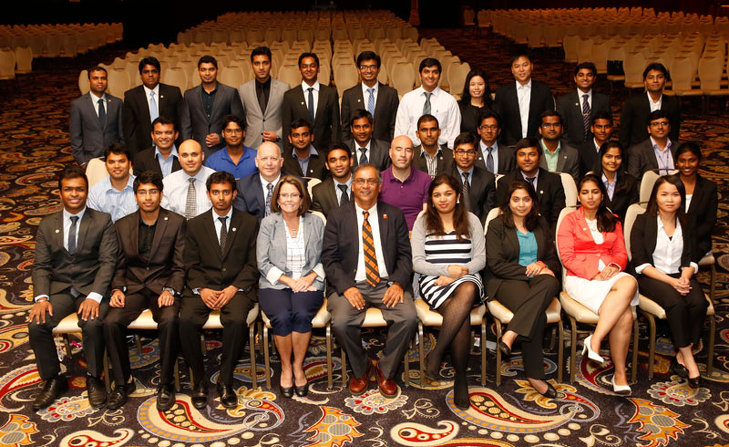 Oklahoma State University was well represented at the SAS Analytics 2014 Conference in Las Vegas this past weekend with students bringing home several major awards. The OSU students, part of the Spears School of Business data mining and marketing analytics certificate programs, impressed the judges in a number of competitions during the conference. Sixty-plus teams from 23 universities competed in the Analytics Shootout where students are given a complex business problem to solve by analyzing big data sets. Two of the top three teams in the Analytics Shootout and one of the three honorable mention teams were from OSU. In addition, two OSU students were recognized as best posters in the Analytics 2014 Poster contest in which only six awards were presented. Also, the 23 posters submitted by OSU students were more than any other university. This is the eighth consecutive year that at least one OSU student team has placed in the top three in the shootout, the largest data mining competition in the world, allowing students to demonstrate their expertise in data mining alongside industry professionals.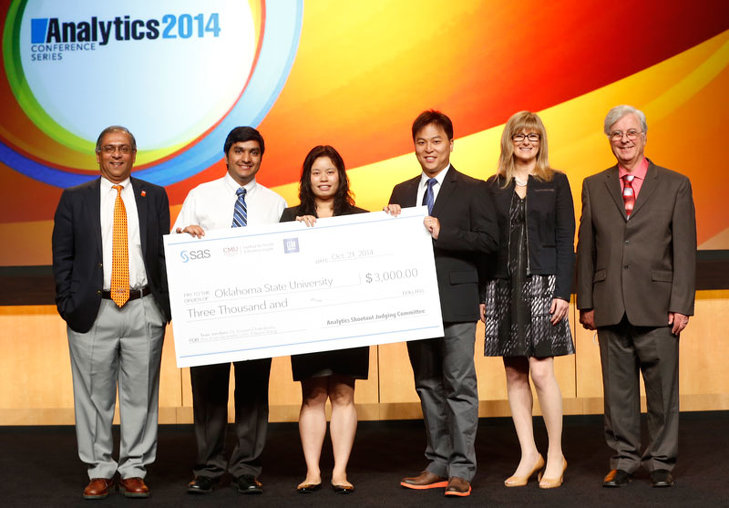 The teams representing OSU that placed in the shootout are:
Second place: Ravi Kiran Garimella, Lin Li and Edward Wang
Third place: Pankush Kalgotra, Juan Ma and Anuashkha Sharma
The Spears School students recognized as best posters are:
Balamurugan Mohan
Ramcharan Kakarla
Goutam Chakraborty, professor of marketing and founder of the SAS and OSU Data Mining Certificate program, is proud of how well the students represented OSU and the Spears School. "I am extremely proud of our student teams' achievements in the shootout," Chakraborty said. "The second-place team comprised of all distance-learning students in the graduate certificate in business data mining program and they have never physically met each other. They collaborated virtually to produce an elegant solution to a complex business problem.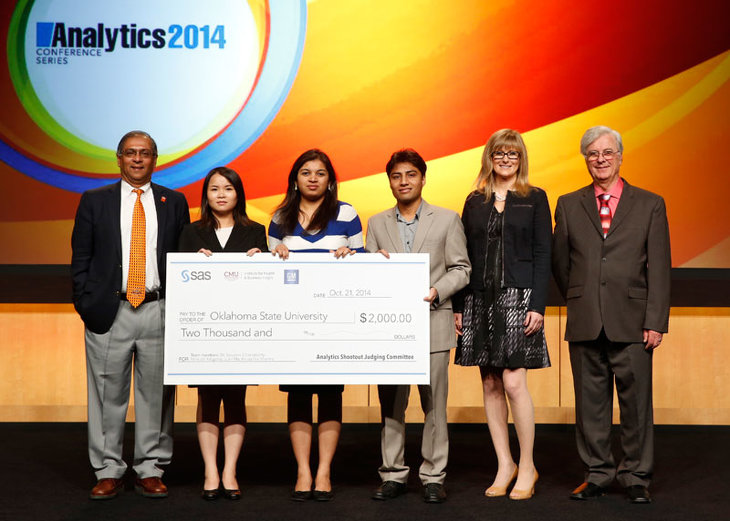 "The third-place team was equally impressive with students from very different backgrounds. I am also very happy that our students took the most awards for research posters. The poster winners produced impressive work, one building a predictive model for the utility industry and the other building a predictive model in a non-profit (fundraising) context." Analytics 2014 is an industry-leading conference for the latest ideas, research and best practices in the field of analytics. More than 40 OSU students and alums were present at the conference that brought together about 1,000 analytics professionals. For more information about the data mining certificate program at the Spears School, go to the Analytics and Data Mining Certificates Program website (
http://analytics.okstate.edu/
) or, contact Chakraborty at 405-744-7644 or
goutam.chakraborty@okstate.edu
.