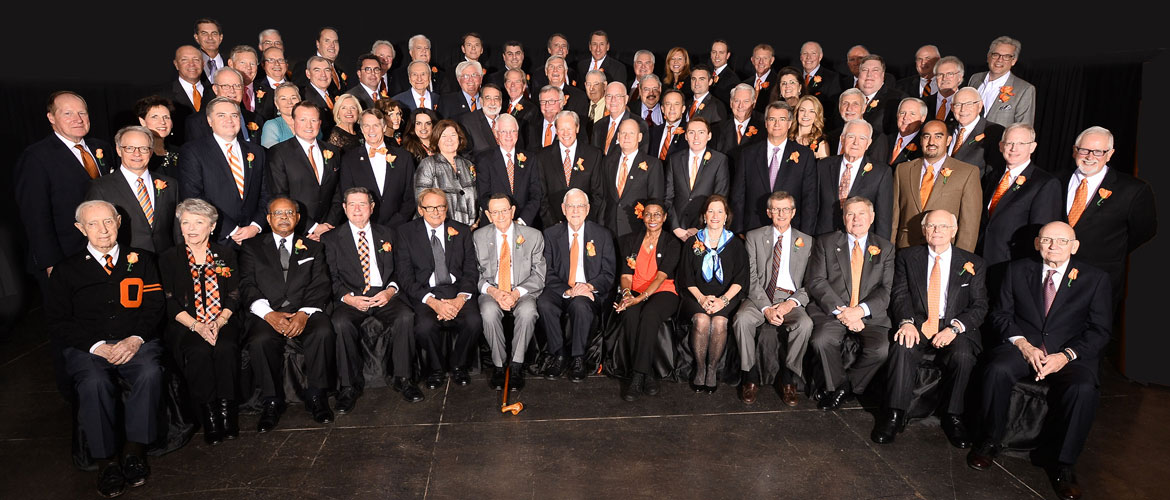 Suzanne Carlile Myers & Norman Myers makes 'Spears School Tributes: 100 For 100' list
Saturday, November 1, 2014
Suzanne Carlile Myers, Business Administration (1957)
Norman Myers, Banking and Finance (1958)
"Do not go where the path may lead. Go instead where there is no path and leave a trail."
— Ralph Waldo Emerson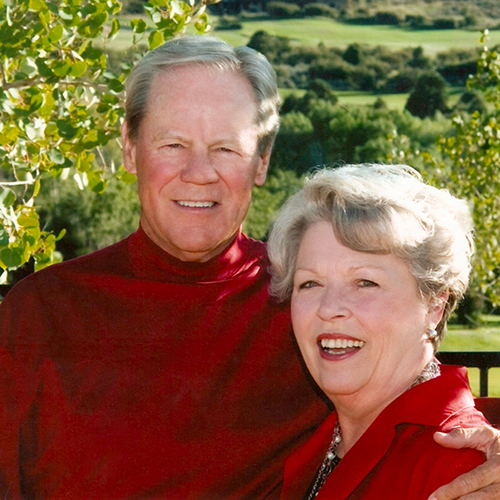 Norman and Suzanne Myers began their path at the Oklahoma State University business school.
"Our path was one that we could never have imagined we would follow. I do believe we blazed a new trail, and our path has led us right back to the Spears School of Business. Why not finish where we began!"
Themes that recur along the Myers' path include the value of Norman's natural sales ability, a shared willingness to take risks and to change course, and an ongoing desire to support and invest in OSU.
Norman enrolled in then-Oklahoma A&M College in the fall of 1953 as an engineering major. He pledged Sigma Nu fraternity, and began to involve himself in every aspect of campus life, which did not necessarily include regular class attendance. By the time he reached his junior year, he was making A's in campus activities. He was president of Sigma Nu and served as a student senator for the Interfraternity Council.
Unfortunately, his commitment to campus activities didn't leave much time for attending classes. Norman found his engineering degree at risk due to scholastic probation and possible pending suspension.
On the last day of finals, at his two roommates' suggestion, he took a risk and proposed a change of course. He called Professor Draper, who taught the course he hadn't attended since mid-semester. He shared that he wanted to change his major from engineering to banking and finance in the College of Business, but in order to do so he needed to be able to withdraw from Draper's class with a passing grade.
Norman, the natural salesman, persuaded his professor to allow him to withdraw and to begin the second semester of his fourth year as a College of Business student. He found his niche, and his transcript showed it.
Suzanne Carlile also noted Norman's natural sales ability, which he leveraged to date her through college. A Kappa Kappa Gamma member and business administration major, Suzanne was involved in many campus activities. She served on the Business Student Council, was a student senator for the College of Business and was invited to be a member of Who's Who in American Colleges and Universities. Suzanne graduated in May 1957 as a member of the last graduating class of Oklahoma A&M.
The Myers married in August 1957. Suzanne worked in the College of Business Dean's office until Norman graduated in May 1958. Norman was a member of the first graduating class of OSU's program.
Moves to Perry, Oklahoma, and Virginia dotted the Myers' early path as Norman pursued a sales career with Jones and Laughlin Supply Company, and then served his six-month obligation in the active military reserve.
Rejoining Jones and Laughlin Supply Company in Houston after his military service, Myers noted that the local economy was booming. He decided it was time to take the risk of leaving the oil and gas industry to create a new path in the insurance business.
After becoming the top producer of his insurance agency, Myers became intrigued with an investment opportunity in a fledgling trash-hauling company which was being started by a friend from their Sunday school class. Despite Suzanne's caution, Myers invested $10,000.
The trash-hauling company which began as American Refuse Systems, Inc. purchased a heavy equipment business in 1969, and became Browning Ferris Industries, Inc. Later that year the publicly traded company went on the New York Stock Exchange. Over the next 30 years, Myers held a variety of positions at BFI, including executive vice president, chief development officer, national sales/marketing director, vice chairman of the board, and chief marketing officer. BFI became the second-largest waste disposal company in the world with more than $6 billion in annual revenue before it was sold in 1999 to Allied Waste Industries, Inc.
Gary Trennepohl invited Norman to be inducted into the College of Business Hall of Fame in 1996. This was the beginning of yet another new path of renewed interest and involvement in OSU. In addition to being active in the OSU Foundation and in the Business School Associates, the Myers created the Norman and Suzanne Myers Endowed Chair for Excellence in Business. They also gave a gift of $1 million to name the Dean's Suite in the new business building.
"We are honored to be chosen for this special tribute. We join you in paying tribute to many at OSU who have given so much."