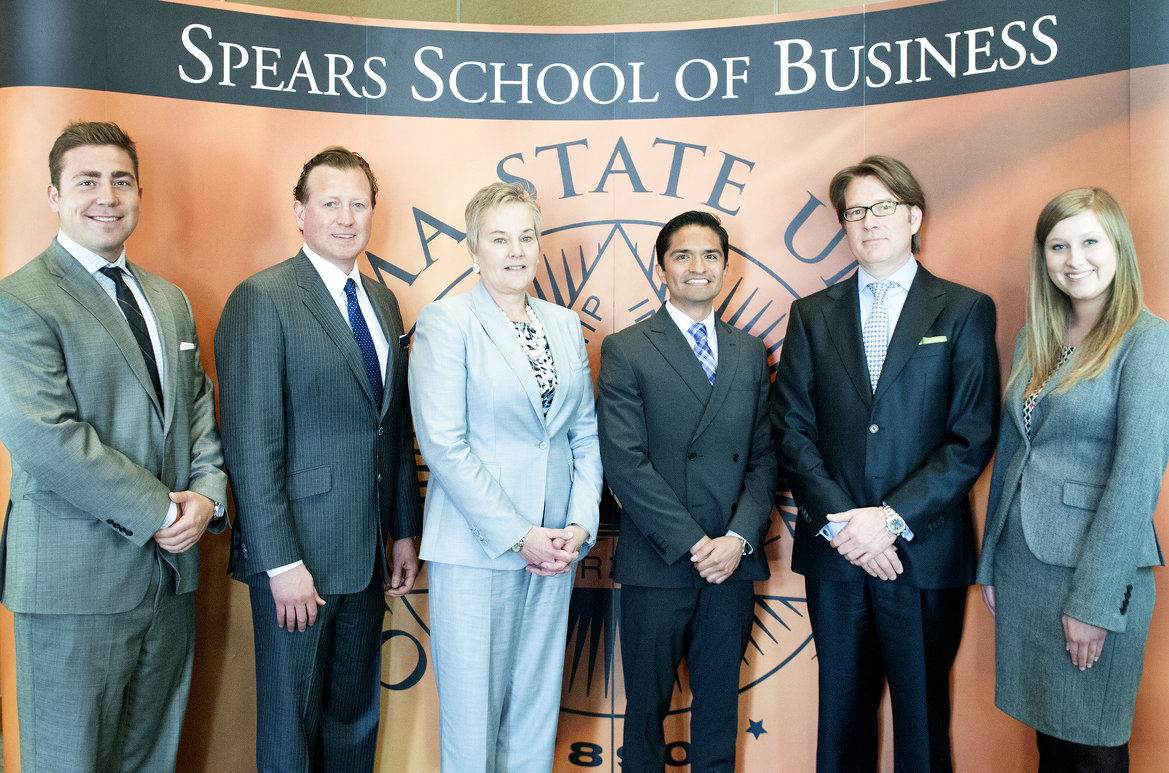 Three executives from around the world each of whom earned degrees from Oklahoma State University's Spears School of Business were able to share their success stories with students Wednesday during CEO Day. Joseph Eastin, Bill Hite and Alicia Smales spent the day meeting with Spears School student leaders, speaking to several classrooms and then participating in a forum entitled "Global Business in Today's World," in which several hundred students engaged in a question-and-answer session with the three executives. CEO Day is hosted by OSU's Spears School of Business to bring successful business people to the Stillwater campus so students have the opportunity to discover the challenges and issues that business leaders face, understand how CEOs chart their career paths, discover characteristics they seek in managers, interact with successful executives, and learn about their decision processes and leadership styles.
Joseph Eastin
is the president and a principal of ISN, a global software, database and service company that manages and amalgamates performance, safety and compliance data for capital-intensive industries. Headquartered in Dallas, ISN has offices in Calgary, Sydney, London, New York and Los Angeles supporting more than 50,000 subscribing companies worldwide. During Eastin's tenure as a member of the leadership team, the company has grown from three employees in 2001 to over 370 today, and has been named one of Inc. magazine's 500 fastest growing, privately held companies for the past seven years. Eastin holds a bachelor's degree in business administration from OSU (1992) and is currently pursuing a Masters of Business Administration at the Massachusetts Institute of Technology's Sloan School of Management. He is a board member for the Riata Center for Entrepreneurship and serves on the Board of Governors for Oklahoma State University Foundation. In 2012, he was inducted into the Spears School Hall of Fame. He sits on the board of the Dallas Lone Star Chapter of the Young Presidents Organization (YPO), where he also serves as Treasurer. Eastin is married with four children and currently living in Dallas.
Bill Hite
is the founder and CEO of Hull Speed Associates. Hull Speed, a boutique international business services company, helps companies expand and operate worldwide. As CEO, he consults on international business matters and is a frequent speaker at colleges and universities. Hite has also authored several articles on international business topics for
CFO Magazine
. A serial entrepreneur, Bill has founded companies in Europe and the United States. He has experience raising capital for start-up ventures, launching an IPO, and participating in mergers and acquisitions. He has 27 years of experience with SEC compliance, international accounting, tax, legal, HR, and operational issues. He began his career with Coopers & Lybrand in Boston. He holds a bachelor's degree in accounting from the Spears School. He and his wife, Catharina, live in Southern Bavaria, Germany, with their two children. As chief marketing officer for Snap-on Incorporated (NYSE: SNA),
Alicia Smales
is responsible for guiding marketing, brand management, innovation and customer connection efforts across the enterprise. She joined Snap-on Tools Group in April 2007 as Vice President Marketing where she was responsible for advancing Snap-on brands across the global Snap-on Tools organization and leading the marketing communications strategy. Prior to joining Snap-on, Smales worked for Hilti Inc., a global manufacturer and marketer of tools and fasteners for construction and industrial markets where she held roles in product management, services marketing and customer loyalty management. Smales began her career in the sporting goods industry working on leading brands such as Wilson Sporting Goods, Brunswick Inc., Coleman Camping Products and Adams Golf, holding roles of increasing responsibility in product and brand management. Smales earned a bachelor's degree in business administration from the Spears School and received an MBA from Dominican University. During her time at OSU, she received an athletic scholarship for golf, won four collegiate tournaments and competed in four U.S. Women's Open Golf Championships as an amateur. Smales and her husband, Richard, currently reside in Lake Forest, Ill., a northern suburb of Chicago and have three children, Sean, who graduated from Oklahoma State in May of 2012, Shannon, a senior at Clemson University, and Shealyn, a senior at Lake Forest High School.