Executives from across U.S., Mexico join OSU's Ph.D. in Business for Executives
Monday, January 26, 2015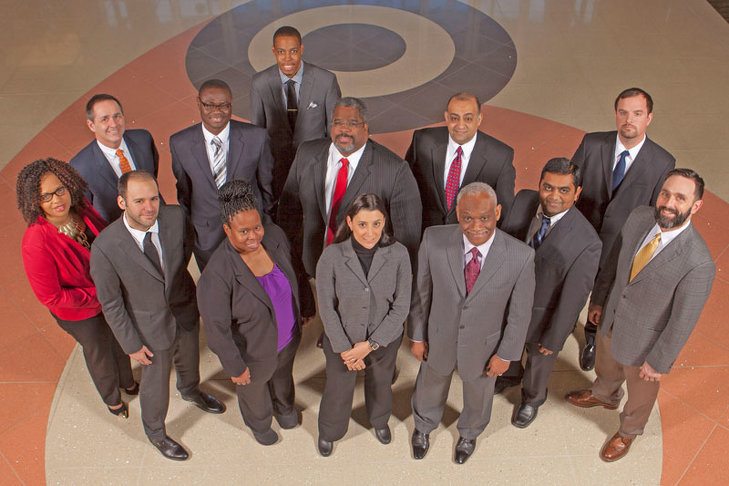 Oklahoma State University's innovative doctoral program for executives continues to grow after graduating its inaugural class of participants in December. The fourth class of the Ph.D. in Business
for Executives
in the Watson Graduate School of Management features 13 participants from the United States and Mexico. The three-year doctoral program in OSU's Spears School of Business kicked off Jan. 15-17 with an orientation session at the Helmerich Research Center on the OSU-Tulsa campus. The fourth cohort joins 24 participants from across the world already taking part in the Ph.D. in Business
for Executives
program. "We are very excited to welcome our fourth cohort to the Ph.D. for Executives program," said Ken Eastman, dean of the Spears School of Business. "This program has proven to be very popular with executives as it has built a reputation as a rigorous and high-quality program. We look forward to what this new cohort can accomplish as they help build the legacy of the program." Executives from the fourth cohort participating are (listed alphabetically):
Sherif Ebrahim, Managing Partner, SMG Capital
Matthew Kolakowski, Senior Non-Commissioned Officer, United States Army
Bhargava Konkayala, Manager, Statistical Programming, UCB Bioscience Inc.
Victor Moore Jr., Executive Director, Progressive Care Services
Joseph Nketia, Fund Reporting Manager, Fidelity Investments
Janice Pittman. Senior Manager, Walmart Stores, Inc.
Angela Reddix, President and CEO, A. Reddix & Associates, Inc.
Chadwick Reese, Chief Executive Officer, Chatham Area Transit Authority
Russell Rhoads, Senior Instructor, The Options Institute - Chicago Board Options Exchange
Daniela Ruiz-Massieu, Director, Undergraduate Business Programs, ITAM
Edward Scott, Professor, Point Park University
Carlos Arturo Serna-Garcini, Administrative Director, Excel Technical Services
Jim Utley, Director of Technical Services, Niagara Bottling
The fourth cohort includes chief executive officers, executive directors, managing partners, chief operating officers and managers from well-known and respected companies across the U.S. and Mexico. The program consists of individuals representing Arkansas, Georgia, Illinois, Louisiana, North Carolina, Oklahoma, Pennsylvania, Texas and Virginia. Two participants are from Mexico. "We are really pleased to be welcoming this cohort. It is diverse in backgrounds and interests. We are also pleased to have two students joining us from Mexico in this cohort," said Ramesh Sharda, vice dean for the Spears School and director of the Ph.D. in Business
for Executives
program. "We are excited to have graduated many members of the first cohort in December 2014 with a Ph.D. degree. Continued and growing interest in our program is truly heartening." The first 11 graduates from the program were recognized Dec. 12 during OSU Graduate College commencement exercises. They are:
David Altounian, Austin, Texas
Scott Anderson, Guymon, Oklahoma
Tom Bennett Jr., Tulsa, Oklahoma
Fred Cleveland, Calgary, Canada
Durand Crosby, Oklahoma City
Warren Dyer, Edmonton, Canada
Toby Joplin, Broken Arrow, Oklahoma
Patti Jordan, Tulsa, Oklahoma
Philip McMahan, Edmond, Oklahoma
Dessie Nash, Dallas, Texas
Tom Totten, Indianapolis, Indiana
For more information or to explore how to become a member of the 2016 class, go to the Ph.D. in Business
for Executives
website:
http://phdexec.okstate.edu
.