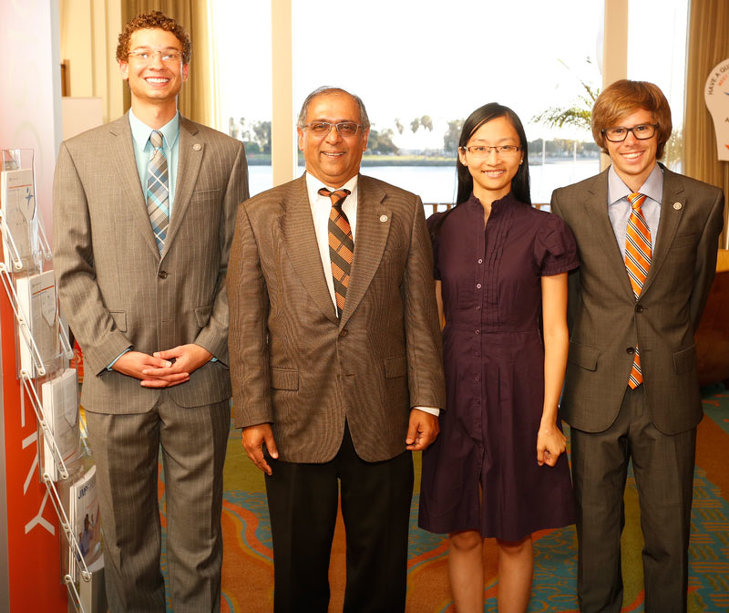 Several Spears School of Business MBA students with marketing analytics specializations recently presented research posters at the SAS JMP Discovery Summit in San Diego, Calif. This event is put on by SAS, a leading provider of analytics software.
The MBA students specializing in marketing analytics had the opportunity to have their work viewed by more than 400 analytics professionals from well-known and established companies such as Apple, Sony and Microsoft.
The OSU students who presented posters at the summit were:
Predicting a Player's NBA Success Using Collegiate Statistics: Christopher Linn and Kushal Kathed
Comparison of Ages and Conditions for Best Performances in 1,500-Meter Running: Vegard Oelstad and Cory Hinchey
Examining Factors That Influence English Premier Soccer Results Using JMP®Pro 11: Huyen Nguyen and June Phan
For those three students in attendance, the summit was more than a platform to present their findings.
"The networking opportunities were phenomenal," said Linn. "Many people rarely get the opportunity to be in a room and have the freedom to approach professionals from numerous Fortune 500 companies. I took full advantage of meeting with those business professionals, learning what they are currently working on, and in turn they were interested in my project presentation."
Goutam Chakraborty, an OSU marketing professor and JMP steering committee member, was pleased with his students' work.
"I am very proud of our MBA students with Marketing Analytics specializations who attended and presented their posters at the conference," said Chakraborty, Director of MS in Business Analytics and the founder of the SAS and OSU analytics and data mining certificate programs. "This was a great networking opportunity for the students and they projected a very professional image for graduates of our program."
The JMP Discovery Summit is only one of the connections OSU has with SAS. Both OSU and SAS partner in Oklahoma State University's MS in Business Analytics and certificates in Analytics and Data Mining programs.
For more information about Oklahoma State's SAS and Data Mining Certificate program at the Spears School, visit the program's website at analytics.okstate.edu, call Chakraborty at 405-744-7644 or send an email to goutam.chakraborty@okstate.edu.