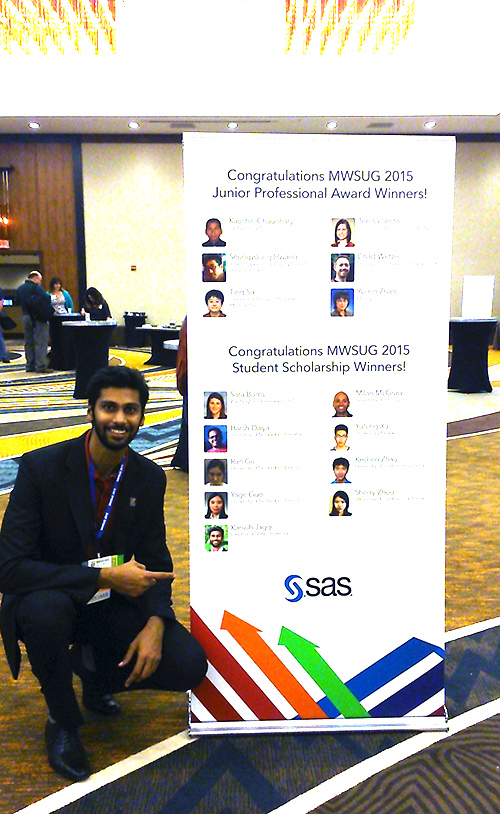 Karush Jaggi, a second-year graduate student pursuing a master's degree in data mining at Oklahoma State University, recently was awarded a scholarship, earning him the opportunity to present a paper at the 2015 Midwest SAS® Users Group Conference in Omaha, Nebraska.

"This is the first time OSU participated in this conference and our student is honored with a scholarship at the Midwest SAS® Users Group Conference" said Goutam Chakraborty, adviser and marketing professor in the Spears School of Business. "I am very proud of Karush's achievement."
The paper entitled Debt Collection Through SAS® Analytics Lens focuses on using an analytical approach to debt collection and elaborates on the data mining techniques that can be used therein.
Jaggi's paper is a result of the experience he gained as a part of a summer internship with a debt collection company.
The conference was an opportunity to present his understanding of the domain without any prior finance or economics background. "Considering I had no prior experience in the industry, it was a huge eye opener for me when I started absorbing more about the industry and why it is so crucial to America's economic health," said Jaggi.
What he learned motivated him to put it all on paper and share his findings.
"With the increase in personal and public data available for our customers, it was one of my key tasks to skim through all the data and identify the more valuable customer attributes," said Jaggi. "The paper details this aspect very well and gives the reader a good idea of all the data available out there for use."

After the application process, Jaggi admits he was nervous when it was announced that he was a winner because it meant he would have to present to a large audience of industry professionals. "After this initial jolt of nervousness I was able to concentrate on preparing myself very well for the opportunity," said Jaggi.
Jaggi said he prepared for the conference by reading literature about the industry and researched a lot about the data mining techniques that he presented in the paper.
The opportunity also allowed him to meet and network with analytics managers who are always recruiting good talent to join their companies.
For more information about the Midwest SAS® Users Group Conference, visit http://www.mwsug.org/.