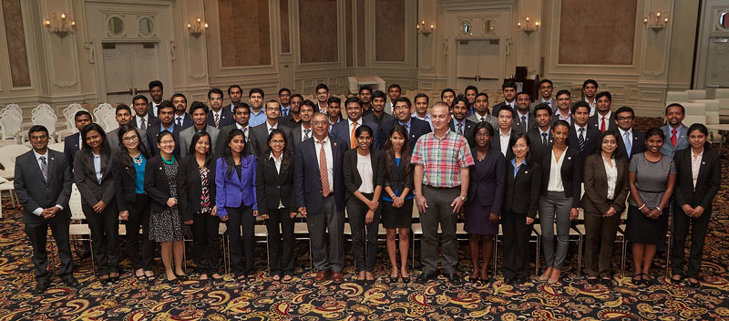 For an unprecedented ninth consecutive year, Oklahoma State University students were among those receiving recognition at the SAS Analytics 2015 Conference in Las Vegas last month.
The OSU students, part of the Spears School of Business analytics programs, impressed the judges with their presentations in a number of competitions. Two teams of OSU students received honorable mention recognition in the Analytics Shootout, the largest data mining competition in the world, allowing students to demonstrate their expertise in data mining alongside industry professionals.
The teams from OSU receiving recognition in the Analytics Shootout were:
Honorable mention: Mostakim Tanjil and Cristian Contreras-Nieto
Honorable mention: Alex Novotny, Cameron Unterberger, Ganesh Gangarajula, Girish Shirodkar, Hamed Majidi, Kushal Kathed and Woranat Wongdhamma
In addition, two posters by OSU students were selected best poster winners (out of six awarded) at the conference:
Aditya Sharma
Ram Poudel and Xiang Lynn
Students from OSU presented 34 posters at the conference, more than any other university.
Goutam Chakraborty, Ralph A. and Peggy A. Brenneman professor of marketing and director of the Masters in Business Analytics program, is proud of how well the students represented OSU and the Spears School.
"I am delighted with the performance by OSU's analytically trained students at this conference," said Chakraborty. "OSU students had the highest number of posters and a won large number of awards and recognitions. I am very proud of our students' achievements."
Analytics 2015 is an industry-leading conference for the latest ideas, research and best practices in the field of analytics. More than 40 OSU students and more than 10 OSU alums were present at the conference that brought together about 1,400 analytics professionals.
For more information about the data mining certificate program at the Spears School, go to the Analytics and Data Mining Program website (http://analytics.okstate.edu/) or, contact Chakraborty at 405-744-7644 or goutam.chakraborty@okstate.edu.