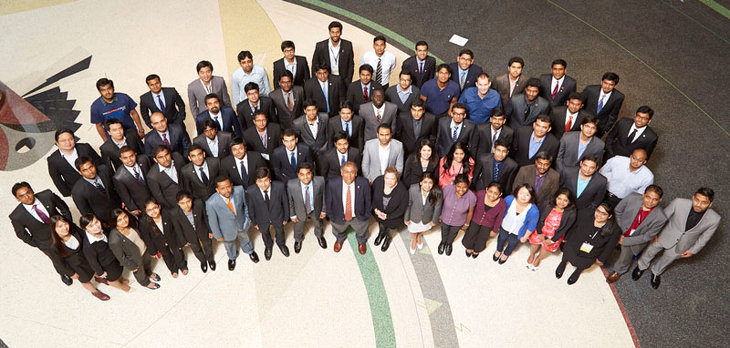 Oklahoma State University's contingent of nearly 75 students, alumni and faculty were more than any other school attending the SAS Global Forum 2015 on April 26-29 in Dallas. The forum is the premier event for SAS and data mining professionals worldwide with more than 4,000 from industry and academia attending.
OSU Spears School of Business students again demonstrated their excellence by earning some of the most coveted honors given during the SAS Global Forum.
The SAS Ambassador Award is the highest honor a student can receive with only 15 students worldwide being recognized, and this year four OSU students received the SAS Ambassador Award. They are Ramcharan Kakarla, Balamurugan Mohan, Narmada Dave and Juan Ma.
Also, five OSU students –Sharat Dwibhasi, Zabiulla Mohammed, Vijay Singh, Karush Jaggi and Ram Poudel ­– earned Global Forum student scholarship awards that are given by SAS to 15 students worldwide.
"I am extremely proud of our students in the analytics and data mining program. They have unequivocally demonstrated again that they are the best in class in the world," said Goutam Chakraborty, Ralph A. and Peggy A. Brenneman professor of marketing at the OSU Spears School and director of the Graduate Certificate Program in Business Data Mining and Graduate Certificate Program in Marketing Analytics.
Many OSU students, faculty and alums presented papers on topics such as text mining, customer segmentation and predictive modeling at the SAS Global Forum 2015. The presenters and their paper titles include:
Ramcharan Kakarla, Donor Sentiment and Characteristic Analysis Using SAS® Enterprise Miner™ and SAS® Sentiment Analysis Studio
Balamurugan Mohan, Predicting Transformer Lifetime Using Survival Analysis and Modeling Risk Associated with Overloaded Transformers Using SAS® Enterprise Miner™ 12.1
Tanvi Kode, Location-Based Association of Customer Sentiment and Retail Sales
Shubhi Choudhary, Application of Text Mining on Tweets to Collect Rational Information about Type-2 Diabetes
Kushal Kathed, Forecasting Vehicle Sharing Demand Using SAS® Forecast Studio
Shrey Tandon, How to Implement Two-Phase Regression Analysis to Predict Profitable Revenue Units
Nikhil Kapoor, Predicting Hospitalization of a Patient Using SAS® Enterprise Miner™
Ayush Priyadarshi, Using Text from Repair Tickets of a Truck Manufacturing Company to Predict Factors that Contribute to Truck Downtime
Girish Shirodkar, Improving the Performance of Two-Stage Modeling Using the Association Node of SAS® Enterprise Miner™ 12.3
Avinash Kalwani, Tips for Managing SAS® Work Libraries
Kushal Kathed, Gross Margin Percent Prediction: Using the Power of SAS® Enterprise Miner™ 12.3 to Predict the Gross Margin Percent for a Steel Manufacturing Company
Avinash Kalwani, Using SAS® to Combine Regression and Time Series Analysis on U.S. Financial Data to Predict the Economic Downturn
Vijay Singh, Improving SAS® Global Forum Papers
Sravan Vadigepalli, Analyzing Direct Marketing Campaign Performance Using Weight of Evidence Coding and Information Value through SAS® Enterprise Miner™ Incremental Response
Ganesh Kumar Gangarajula, Using SAS® Enterprise Miner™ to Predict the Number of Rings on an Abalone Shells Using Its Physical Characteristics
Kushal Kathed, Credit Scorecard Generation Using the Credit Scoring Node in SAS® Enterprise Miner™
Zabiulla Mohammed, Working with PROC FEDSQL in SAS® 9.4
Hephzibah Munnangi, Predicting Readmission of Diabetic Patients Using the High-Performance Support Vector Machine Algorithm of SAS® Enterprise Miner™ 13.1
Raghavender Reddy Byreddy, Analyzing Marine Piracy from Structured and Unstructured Data Using SAS® Text Miner
Sharat Dwibhasi, Analyzing and Visualizing the Sentiment of the Ebola Outbreak via Tweets
Juan Ma, Statistical Evaluation of the Doughnut Clustering Method for Product Affinity Segmentation
Pradeep Reddy Kalakota, Alien Nation: Text Analysis of UFO Sightings in the US Using SAS® Enterprise Miner™ 13.1
Atul Thatte, A Mathematical Model for Optimizing Product Mix and Customer Lifetime Value
The SAS and OSU data mining certificate program is the largest data mining program in the United States. OSU's students are among the most prolific in receiving national and international attention since the data mining program began in 2004.
Data mining is the exploration and analysis of large quantities of data in order to discover meaningful patterns and rules, and SAS is a leading provider of data mining software and solutions. The SAS Global Forum offers unequaled educational opportunities for attendees and provides a means for SAS software users to network and exchange ideas.
For additional information on the OSU and SAS data mining certificate programs, visit http://analytics.okstate.edu, or contact Chakraborty at 405-744-7644 or by email: goutam.chakraborty@okstate.edu. For more information about SAS Global Forum 2015, visit http://www.sas.com/en_us/events/sas-global-forum/sas-global-forum-2015.html.