OSU's Spears School and China students collaborate on MBA project
Wednesday, July 29, 2015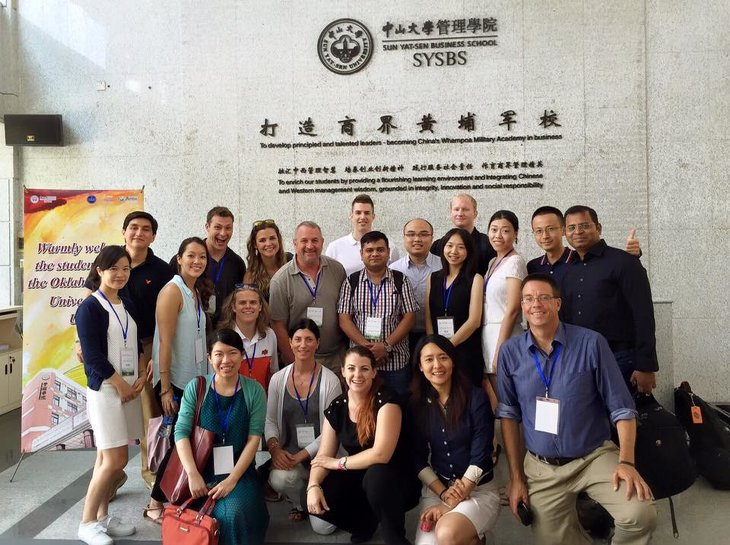 Students and a faculty member from Sun Yat-sen University in Guangzhou, China are traveling to Stillwater this week. The nine Sun Yat-sen graduate students, along with nine Spears School of Business graduate students, are collaborating on a semester-long corporate strategy consulting project through the Spears School's study abroad exchange program.
The Sun Yat-sen students will present their final presentation on Thursday, July 30, on the Stillwater campus.
The Oklahoma State University and Sun Yat-sen students were assigned a project that required them to analyze the Chinese healthcare market to look for ways that PreferUS Healthcare could bring US medical practices to patients in China. The students will present their final proposals to the PreferUS Executive Team.
Scott Johnson, professor in the Department of Management, is the faculty member in charge of the China corporate strategy. William Paiva, of OSU's Health Science Center for Innovation, is the senior vice president of corporate development for PreferUS.
As part of the program, OSU graduate students and Johnson traveled to different areas of China in June to learn more about Chinese health care. Cities they traveled to included Beijing, Shanghai, and Guangzhou, and also made a trip to Hong Kong.
Also, they were able to visit different university campuses including Fudan University in Shanghai and Chinese Agricultural University in Beijing. In order to gain an understanding of the health care of the United States, the Chinese students will visit hospitals in Oklahoma and Texas during their visit.
OSU students participating in the program this year include:
Katherine Anderson, MBA
John O'Hara, MBA
Diego Ruiz, MBA
Gabriel Bahr, MSE
Jake Duke, PhD Entrepreneurship
Kendall Gibson, MSE
Nicholas Nord, MBA
Heather Maher, MBA
Dhruva Kumar, MBA
"China is the second largest trading partner for the United States and the fourth largest export market for the state of Oklahoma," Johnson said. "This class is a great way for our business students to learn about this important economy and at the same time help Chinese business students to build a relationship with Oklahoma State University."
"This year our focus is on the healthcare industry," Johnson said. "Studying this industry highlights many of the huge differences between doing business in China and doing business in the United States."
Nicholas Nord, an MBA student and the MBA Association president for this year, says the trip was memorable.
"The China study abroad class is truly an unforgettable experience," Nord said. "The class is unique because not only do you have the opportunity to travel halfway across the world and experience the best of Asian culture but also because you get to work on a real-life consulting project with Chinese MBA students in the largest economy in the world."
"My favorite part of the trip was visiting four of the biggest cities in the world in a 12-day period and really getting a glimpse into what makes China tick both culturally and professionally," he said. "I learned that this new powerhouse market isn't going anywhere anytime soon and if companies want to be truly international they must consider, and most likely have a presence, in China. I hope to show the Chinese students the way of life of Americans and differences I've noticed in the two countries."
Sponsors of the program include the Spears School of Business, Sun Yat-sen University, and PreferUS Healthcare.