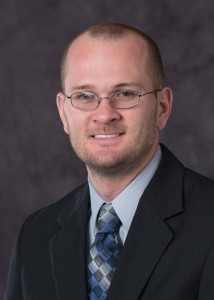 John Winters, assistant professor in the Department of Economics and Legal Studies in Business at Oklahoma State University, was the recipient of the William H. Miernyk Research Excellence Medal presented recently at the Southern Regional Science Conference in Mobile, Ala.
Upon its 40th anniversary, the Regional Research Institute at West Virginia University initiated an award for scholarly excellence in honor of William H. Miernyk, founding director of the Institute. The Miernyk Medal is awarded annually at the Southern Regional Science Meeting to the first author of the best SRSA conference paper written and presented by an eligible scholar.
"This is further evidence of John's growing status in the profession. We could not be more pleased to have John here at OSU. He really is an outstanding young scholar in Urban and Regional Economics," said Lee Adkins, head of the Department of Economics and Legal Studies in Business in the Spears School of Business.
Winters' primary research is in the field of Regional Economics and Labor Economics with specific topics including the migration decisions of college students and college graduates, the effects of human capital on regional economies, the effects of policies and other factors on individual education outcomes, inter-area wage differentials, and teacher labor markets.
Winters has taught at OSU's Spears School of Business since 2013.