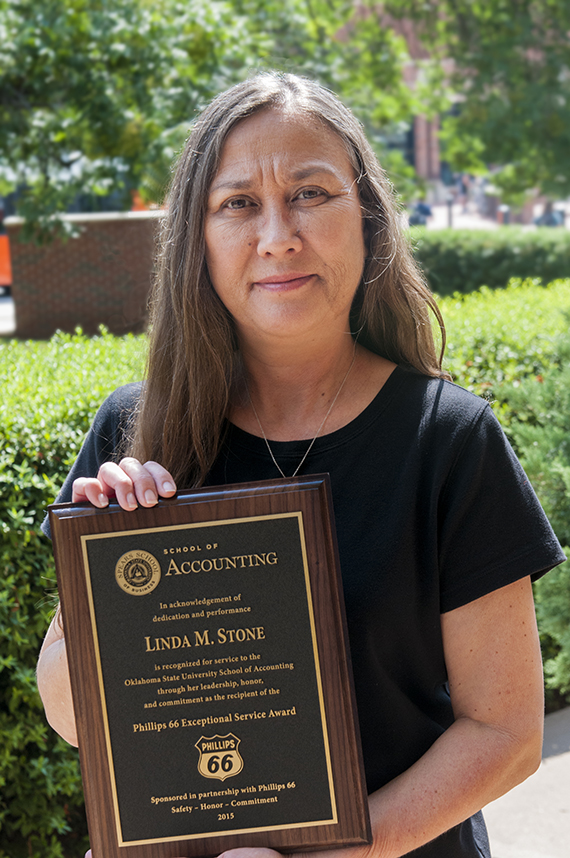 Linda Stone, administrative support specialist II in the School of Accounting at the Spears School of Business, was recently honored by Oklahoma State University with the Phillips 66 Exceptional Service Award.
As the recipient, the 30-year OSU employee was recognized for service to the OSU School of Accounting through her leadership, honor, and commitment.
"Linda is an amazing colleague and has provided exceptional service to School of Accounting students, staff, and faculty since joining us in 2012," said Bob Cornell, head of the School of Accounting. "I have the pleasure of working with her every day, and I am always impressed with her willingness to stay late, come in early, and go out of her way to make sure things are taken care of every day. She is an example of lifelong dedication to Oklahoma State University, and the School of Accounting is a much better place because of her efforts on our behalf."
"I felt very honored. Awards and accolades make me feel I'm doing something right and to the benefit of the accounting department, Spears School of Business, and OSU," said Stone. "And it's nice to receive this recognition."
Stone first began her career with the Business School in 1985, in what was then the secretarial pool. She went on to work in the Marketing Department as administrative support specialist to longtime marketing professor Lee Manzer, before beginning her current role.
Stone says what she enjoys most about her career is working with diverse groups of people.