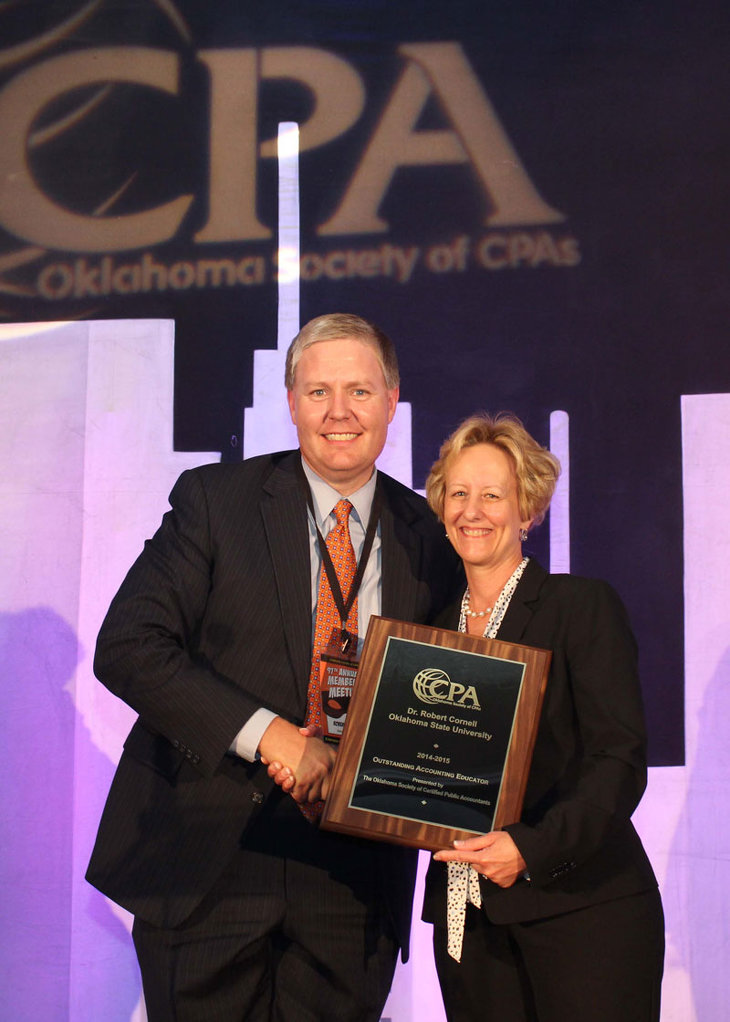 An Oklahoma State University professor was honored with the Oklahoma Society of Certified Public Accountants 2015 Outstanding Accounting Educator Award during the society's 97th Annual Members Meeting on Friday, June 5, at the Hyatt Regency Hotel in Tulsa.
Robert M. Cornell, PhD., the head and Wilton T. Anderson chair of the OSU School of Accounting, became the 34th recipient of the prestigious award. He received his Bachelor of Science in Accounting from Truman State University and his Doctor of Philosophy in Business Administration (Accounting) from the University of Utah.
Cornell has been an accounting professor at OSU since 2006. In addition to his duties as a professor and department head, Cornell is also the academic integrity coordinator for the OSU School of Accounting, runs the Summer in London Study Abroad Program and serves as the Spears School of Business faculty council representative.
Ken Eastman, dean of the OSU Spears School of Business, said, "His dedication toward his students accelerated when he became department head as he used his position to improve the vitality of accounting education here at OSU."
Cornell is an active member of the Stillwater Medical Center Finance Committee and the Stillwater Frontier Club. He is also a member of the American Accounting Association, the Canadian Academic Accounting Association, the Institute of Management Accountants and the Association of Certified Fraud Examiners.
In conjunction with his award, Cornell will receive a scholarship from the OSCPA to award to an OSU accounting student of his choice.
Cornell joins Spears School accounting professor Charlotte Wright, who was recognized in 2009, as the only current OSU faculty members to be honored with the Outstanding Accounting Educator Award. Other OSU faculty recognized in the past have been Lanny Chasteen (1991 and 2007), Patrick Dorr (1997), Gary Meek (2001), and T. Sterling Wetzel (2006).
The Outstanding Accounting Educator Award recognizes distinguished educators for teaching excellence, innovating educational techniques, motivating students and contributing to the accounting profession.
Nominees for the Outstanding Accounting Educator Award must be full-time or retired accounting educators at two or four-year Oklahoma colleges or universities; display superior teaching skills, student motivation abilities and notable education innovations; and demonstrate active involvement in professional accounting activities.
To learn more or to nominate an accounting educator, visit www.oscpa.com or email communications@oscpa.com.