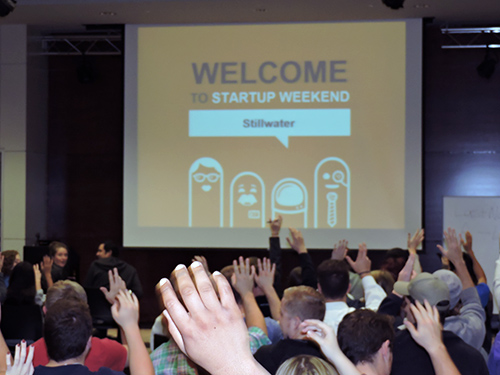 Students at Oklahoma State University recently participated in Startup Weekend, a global grassroots movement of student entrepreneurs who learn the basics of founding startups and launching successful ventures. Ten teams ranging from five to 12 students were able to work alongside area business leaders at the Kicker World Headquarters in Stillwater.
The program, hosted by the Riata Center for Entrepreneurship in the Spears School of Business, is a startup education program designed for university students with an emphasis on learning by doing.
"We want to provide opportunities for students to implement what they are learning in classes in a creative and innovative manner. Programs like Startup Weekend are meant to do just that while also bringing together students from all disciplines to work side by side and learn from one another," said Alex Bartley, Events and Outreach Manager in the Riata Center.
During the three-day program students gained experience pitching their ideas, met potential co-founders, mentors and investors, and learned about the process of creating a startup business.
The student-run businesses were led by OSU students from all disciplines including students from the Spears School of Business, the College of Arts & Sciences, the College of Engineering, Architecture and Technology, and the College of Human Sciences.
"I'm always inspired to see creativity in action, and there was no shortage of that at the recent Startup Weekend. The effect is contagious," said Steve Irby, president of Kicker.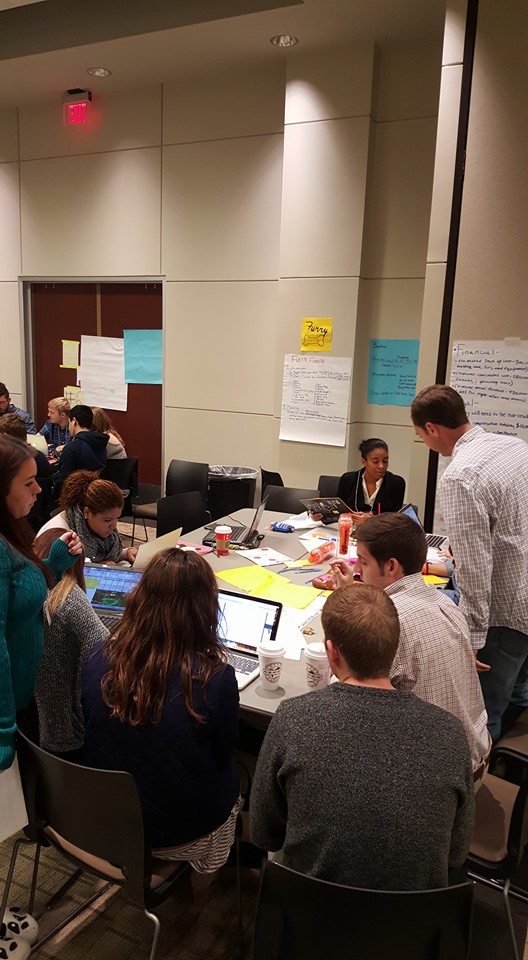 First place was awarded to team Furry Family Resort and team members Peter Banks, Divine Bennett, Katie Coon, Jordan Crosslin, Sadie Glasglow, Christy Humphries, Collin Jefferson, Miranda Jones, Amber Lowers, Christie McMeans, Kimberlin Miller, Ryan O'Dell, Justin Reinhart, Tiare Rice, and Trent Wakefield.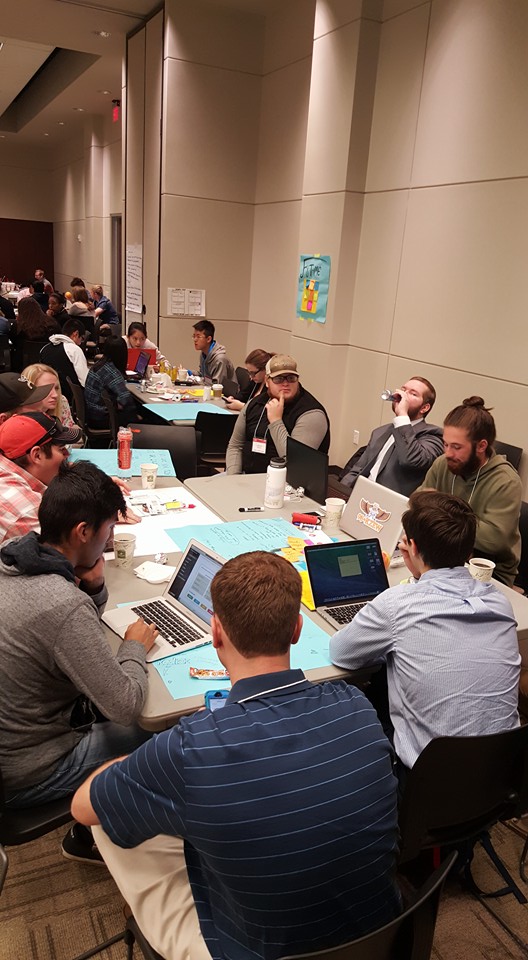 Second place was awarded to team Kodiak Koozie and team members Cody Bell, Brent Bozarth, Derrick Brown, John Fitzgerald, Joshua Goodwin, Tommy Hall, Landon Hlad, Ross Morales, Tom Occhipinti, Gerardo Rico, Maci Slater, Stormi Talley, and Jordan Wiley.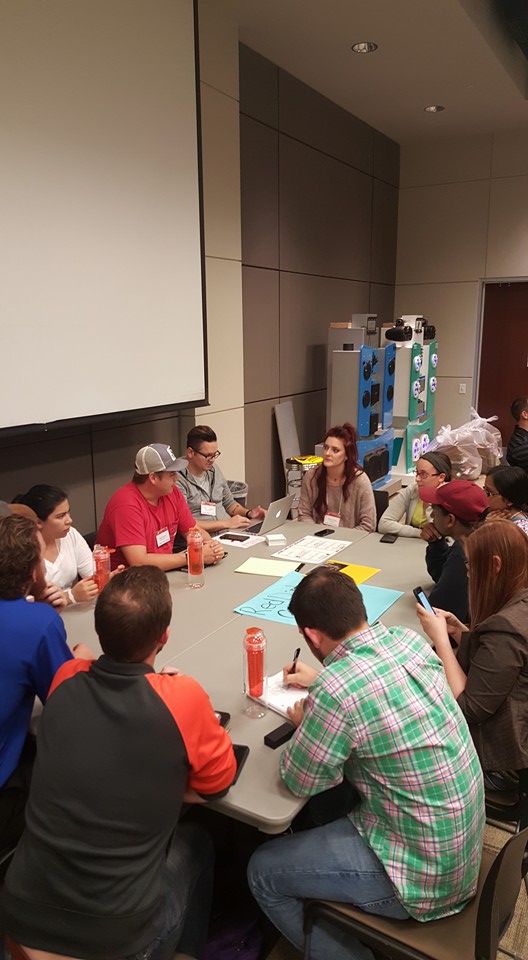 The third-place team was Red Dirt Company and team members Alyssa Alburez, Jordan Blackmon, Trent Brown, William Davis, Dylan Graham, Julie Houser, Kylie Keener, Kelsey Kruse, Gilbert Munoz, Amrita Patil, Alex Rohan, and Nathan Vaughn.
Honorable mention went to team Motion Mouse and team members Rachel Ammons, Claudio Ferrer, Shawn Jones, Matthew Jones, Ragan Land, Fabio Montes, Connor Maguire, Dalton Pack, Daniel Palella, and Bryan Tchang.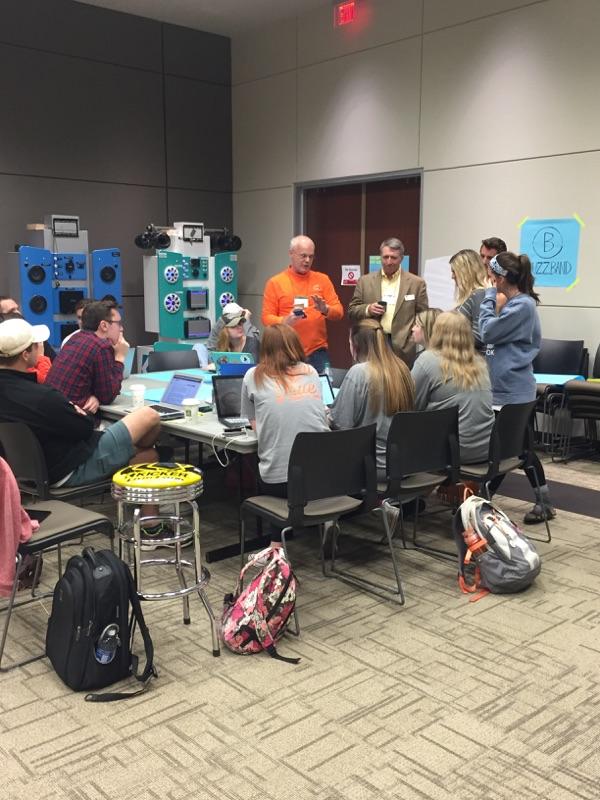 "I believe that what I learned is actual real life examples of starting a business. Having had this experience, I feel that all attendees gained a substantial amount of information and would recommend Startup Weekend to any individual who is interested in perhaps starting their own business," said Colton Lind, OSU student.
The Riata Center hosts a number of events dedicated to fostering the spirit of entrepreneurship through innovative student focused and community outreach programs including The Entrepreneurship Inspire Bootcamp, the Big Pitch and Poster Competition, and the Veterans Entrepreneurship Program (VEP) as well as multiple other partner initiatives on campus. For more information about the Riata Center for Entrepreneurship or their programs, visit riata.okstate.edu.