Ambassador Taranjit Singh Sandhu speaks to OSU about U.S.- Indo relations
Monday, February 15, 2016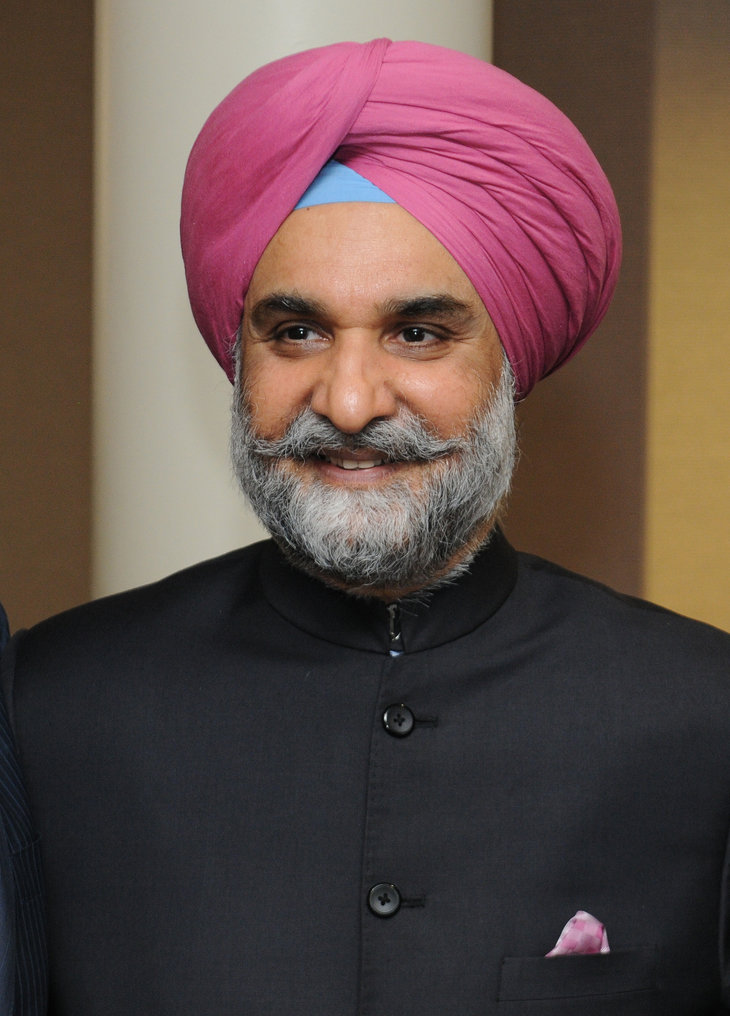 This past Friday, Oklahoma State University welcomed Ambassador Taranjit Singh Sandhu of India. Sandhu was hosted by OSU's Center for Advanced Global Leadership and Engagement (CAGLE) as a part of the Watson Graduate School of Management's Professional Development course to speak to the OSU community about U.S.- Indo relations.
Sandhu is the Deputy Chief of Mission at the Embassy of India in Washington, D.C. He was appointed in 2013. Before being named deputy chief of mission, Sandhu was the Consul General of India in Frankfurt for two years.
In addressing OSU students, Sandhu said there are strong educational ties between the United States and India. He said there are currently "about 134,000 Indian students in the United States pursuing advance degrees and spending $5 billion dollars in tuition fees in the United States universities."
Sandhu also addressed that the educational ties do not just benefit Indian students. "Around 5,000 U.S. students are enrolled in educational institutions of excellence in India," said Sandhu.
Sandhu also talked about how many citizens from both countries travel between India and the U.S..
"A million of our citizens are traveling in both directions every year," said Sandhu. "The three million strong Indian-American community is a visible force in the United States today amongst the different ethnic groups in the U.S."
He went on the say that Indian-Americans are the highest educated and have the highest level of income. To illustrate India's presence in the U.S., Sandhu stated that Indian doctors see one of every seven patients in America, 40 percent of the hotels in the U.S. are owned by Indian-Americans, and 15 percent of start-ups in the Silicon Valley are launched by Indian-Americans.
After giving his speech, Sandhu answered questions from the audience addressing issues such as dealing with the communication gap, a question asked by Raghave Nargotra, the winner of year's OSU Three-Minute Presentation Competition.
"I think the real answer lies in democratic thinking; I think that is something in the United States that all of you will be picking up," said Sandhu. "It provides you with the platform to sit across the table and exchange your views. You may have different views but we must have the ability to accept or defend views."
Spears School senior management student Daniel Allen was pleased with the guest speaker's presentation.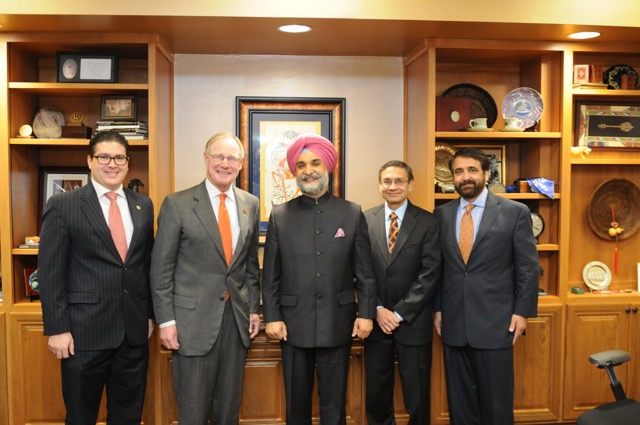 "I thought it was very motivational on what's going on between the U.S. and India," said Allen. "I didn't realize how inter-connected we were, and he really opened it up to where you could understand it better."
Professional Development course professor Ajay Sukhdial was excited to bring Sandhu to OSU to share his knowledge with Watson students and the rest of the Oklahoma State community.
"I wanted to expose them to an international topic covering international events," said Sukhdial. "He [Sandhu] is probably the most important person, ambassador wise, from India because the U.S. is India's biggest partner and because the U.S. is the biggest economy in the world."
Watson Graduate School Vice Dean Ramesh Sharda was thrilled to welcome the ambassador to Stillwater.
"OSU has a strong relationship with India, so it is especially gratifying to have such an accomplished individual inspire and motivate our MBA students as well as others," Sharda said.
Sandhu also met with OSU President Burns Hargis, other members of OSU's administration, and faculty from other colleges across campus.
For more information on OSU's Watson Graduate School of Management, visit http://watson.okstate.edu/ or call 405-744-9000.