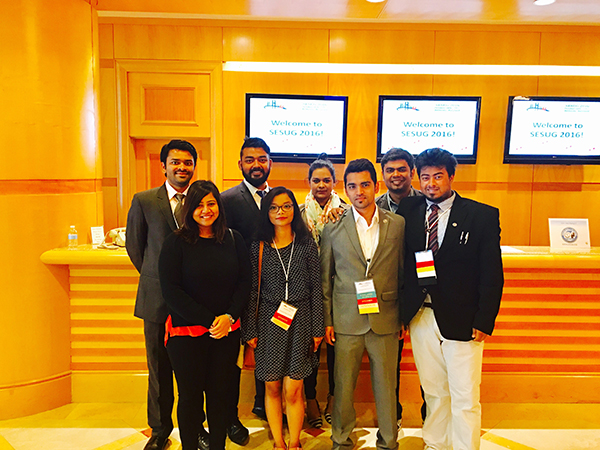 Five Oklahoma State University master of science in business analytics students received scholarships for their poster presentations Oct. 18 at the annual Southeast SAS Users Group (SESUG) conference in Bethesda, Maryland.
Sangar Rane, Pallabi Deb, Rajesh Tolety were selected for their individual posters and Vivek Doijoke and Neha Singh were selected for their joint poster as top posters at the conference. They received a scholarship and were honored at the conference.
"I am delighted that our MSBA students' analytical talents were recognized in this conference," said Goutam Chakraborty, professor of marketing and director of the master of science in business analytics program for the OSU Spears School of Business. "This is the first year our MSBA students participated in the conference, and they had a great experience. We will certainly be back next year."
The list of the winners and their posters are as follows:
"The Orange Lifestyle." – Sangar Rane (scholarship winner) and Mohit Singhi
"Formula 1: Analytics behind the tracks to the podium." – Pallabi Deb (scholarship winner) and Piyush Lashkare
"Text Analysis of American Airline Reviews." – Rajesh Tolety (scholarship winner) and Saurabh Choudhary
"Predicting student success based on interactions with virtual learning environment." – Vivek Doijode and Neha Singh (scholarship winners)
"The SESUG conference offers us an opportunity to grow our professional network, build our knowledge base and also helps expand our resources," Deb said. "I had a pleasure attending some great presentations during the conference and hearing about cutting-edge research ideas and marketing strategies. The conference was an eye-opener for me, and it was an amazing experience. I hope more students will participate in such conferences."
To learn more about SESUG, visit www.sesug.org/SESUG2016/.
To learn more about the MSBA program, visit analytics.okstate.edu/msba/.