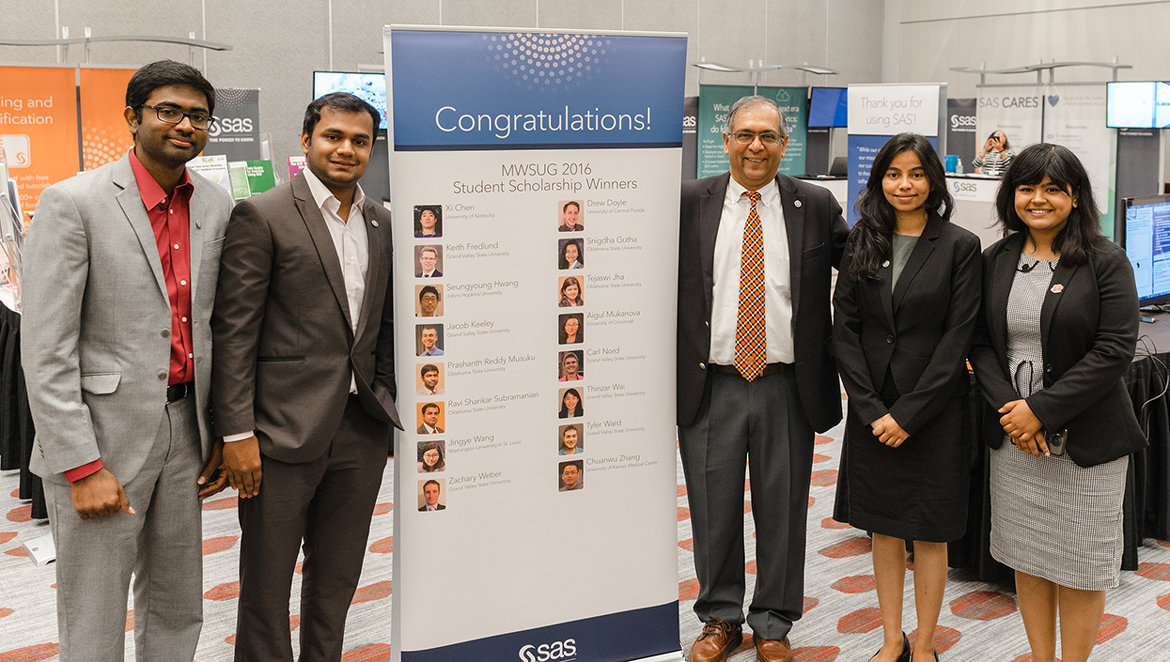 Four master of science in business analytics students from Oklahoma State University were awarded scholarships from the 2016 Midwest SAS Users Group (MWSUG) conference in Cincinnati, Ohio.
The annual conference offered more than 100 paper presentations, hands-on workshops and pre-conference training workshops to business analytics programs in the Midwest.
"I am so proud of our MS in business analytics students winning four scholarship awards at the conference," said Goutam Chakraborty, professor of marketing and director of the master of science in business analytics program for the Spears School of Business. "This is the first time we participated in the conference, and it has been a great experience for our students."
Each paper was written by a pair of Spears School students. The conference committee's rules state only one author can win a scholarship, so one student from each pair was selected to win.
The list of the winners and their papers are as follows:
"Identifying the Factors Responsible for Loan Defaults and Calssificantion fo Customers using SAS Enterprise Miner." – Prashanth Reddy Musuku (scholarship winner) and Juhi Bhargava
"Analyzing the Effect of Weather on Uber Ridership." – Snigdha Gutha (scholarship winner) and Anusha Mamillapalli
"Hybrid recommender systems to provide suggestions based on user reviews." – Ravishankar Subramanian (scholarship winner) and Shanmugavel Gnanasekar
"Analyzing the sentiment of tweets related to Telsa Model 3." – Tejaswi Jha (scholarship winner) and Praneeth Guggilla
"It is a pleasure winning this scholarship," Gutha said. "It waived our registration fee along with free accommodation. It, in a way, helped us attend this conference through which we were able to network, attend some of the best presentations, grab some ideas and leave conference with thoughts for future projects."
The MWSUG conference is the premier SAS educational forum in the twelve-state region. MWSUG is a non-profit, all-volunteer user group and is officially recognized by SAS Institute.
To learn more about the MWSUG, visit www.mwsug.org.
To learn about Spears' MSBA, visit www.analytics.okstate.edu/msba/.