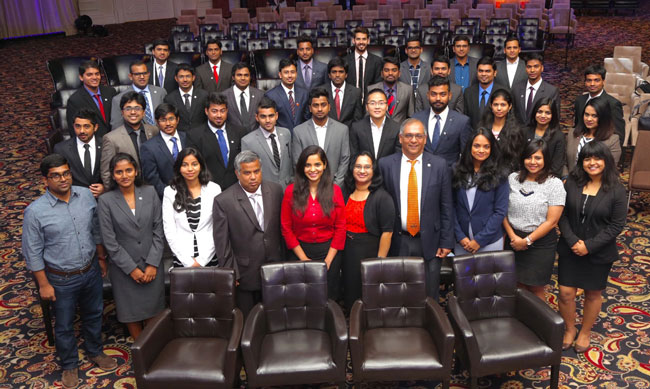 Six Oklahoma State University master's in business analytics students were among those earning major awards for their work earlier this month at the SAS Analytics Experience 2016 in Las Vegas.
More than 20 OSU students in the Spears School of Business master's in business analytics program participated in the poster competition, including best poster award-winning teams of Snigdha Gutha and Anusha Mamillapalli, Jacky Arora and Sapna Bhoir, and Shanmugavel Gnanasekar and Ravishankar Subramanian.
The Spears Business students paired up to produce three of the six best poster awards presented at the conference that brought together more than 1,800 analytics professionals.
"I believe my poster was selected as one of the six best posters because instead of directly jumping into modeling I started to approach the problem with initial descriptive analysis, which gave me a direction as to how to model the solution." said Gutha, whose poster was titled, "Analyzing the effect of weather on Uber Ridership."
"I really had an amazing experience at the analytics conference in Las Vegas and winning one of the best poster awards was a moment of pride for me, the master's in business analytics program and OSU," said Arora, whose poster was titled, "Categorization of Fitbit's Customer Complaints on Twitter."
"Being selected as one of the six best posters allowed us to explain the uniqueness and importance of our idea in today's business world. It was a wonderful experience and receiving such a prestigious award improved our confidence and re-kindled our desire to come up with new innovative ideas for future conferences," said Gnanasekar, whose poster was titled, "Hybrid recommender system to provide suggestions based on user reviews."
Goutam Chakraborty, director of the master's in business analytics program and founder of the SAS and OSU data mining certificate program, is pleased with how more than 40 current students and alumni represented OSU and the Spears School at the conference.
"I am extremely proud of our MS in business analytics students' performance at the conference," said Goutam Chakraborty. "Our MSBA students certainly made a huge impact on 1,800-plus attendees by presenting their posters, networking with others and handling themselves very professionally throughout the conference."
Gutha said, "All the credit behind my success goes to the master's in business analytics program at OSU. The course work is so diverse and it is equipping me with powerful skills to make my footprint in the data analytics world."
Gnanasekar said, "The OSU master's in business analytics program helped me learn various areas of analytics domain such as machine learning, statistics, optimization and programming. As a part of the SAS-OSU data-mining certification, I completed various SAS certificate programs which increased my knowledge and my skill set. The program offered me a myriad of opportunities such as participating in real-time projects, internships, and publishing my research in various conferences. Overall, this program helped me to re-connect with my passion for data science, my creativity and offered a platform where I am recognized for my work."
The SAS Analytics Experience 2016 was an industry-leading conference for the latest ideas, research and best practices in the field of analytics.
For additional information about OSU's various programs on analytics and data mining, visit http://analytics.okstate.edu, or contact Chakraborty at 405-744-7644 or by email, goutam.chakraborty@okstate.edu. For more information about the SAS Analytics Experience 2016, visit http://www.sas.com/en_us/events/analytics-conference/analytics-experience-2016.html.