OSU student-led teams place first, third in i2E Governor's Cup competition
Monday, April 18, 2016
Two teams of students from the Oklahoma State University School of Entrepreneurship were among the top winners in the Donald W. Reynolds Governor's Cup High Growth Graduate Division announced on April 15.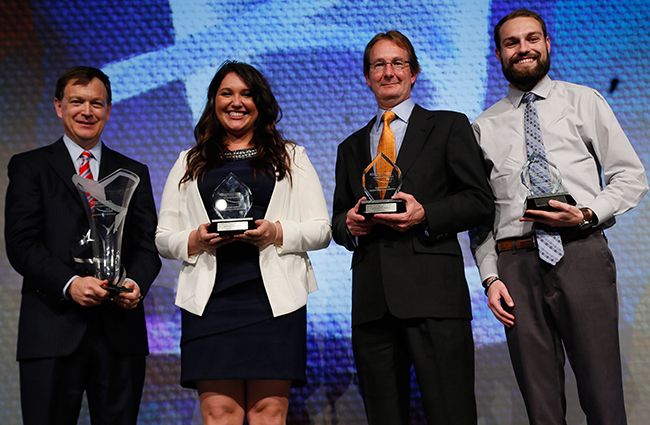 MITO Material Solutions placed first in the competition with its cost-effective nano-filler additive. The additive toughens fiber-reinforced composite structures using an organic polymer formula. MITO consists of OSU students Haley Kurtz and Kevin Keith and is coached by Richard Gajan, Thoma Family clinical assistant professor of OSU's School of Entrepreneurship. MITO was awarded a cash prize of $20,000 for placing first in the competition.
"Kevin and I are so thankful for the opportunity given to us by the School of Entrepreneurship," Kurtz said. "Our business venture is absolutely the result of collaboration between the schools of entrepreneurship and engineering, which is highlighted throughout our team makeup and our successes. We are thrilled to be the first-place team in the 2016 Donald W. Reynolds Governors Cup. Looking forward, we expect to meet new challenges and to perform more hard work as we prepare for Tri-State in May."
Kurtz, Keith and Gajan will travel May 25-26 Las Vegas to compete at the Tri-State Competition, which consists of the top two finalists from Oklahoma, Arkansas and Nevada.
"Haley and Kevin did a fantastic job, and I am looking forward to working with them as they move this technology forward," Gajan said.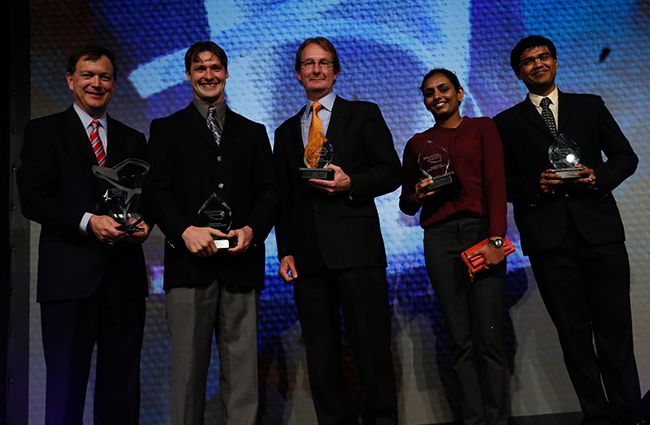 Gajan also coaches WoodPro, which consists of OSU Entrepreneurship students Gabriel Bahr, Sourabh Biswas and Samyukta Koteeswaran. WoodPro's invention is a sustainable new wood composite that uses red cedar sawdust and epoxy resin. The team placed third and was awarded a $5,000 cash prize.
"We are so thrilled to make it to the finals," Bahr said. "Placing in third was a dream come true. Our team now knows the struggles you go through when starting a business. We plan to continue working together as a team and develop our business skills together."
"There are few teams that coalesce like Gabe, Sam and Sourabh," Gajan said. "I expect them to compete again next year with a new idea. I know they will do a great job."
OSU had a third team that was a finalist in the High Growth Graduate Division but didn't place. Volunteer Me, consisting of Rhyder Robison, Eliot Bush and Santosh Padakanti, aids private school administration in recruiting, tracking, coordinating and verifying volunteer services through its student bodies. Volunteer Me was coached by David Thomison, clinical assistant professor of OSU's School of Entrepreneurship and George Kaiser Family Foundation endowed chair.
"Though they didn't place in the top three, we are extremely proud of our Volunteer Me team," said Bruce Barringer, head of the School of Entrepreneurship. "They competed hard and made it to the finals. We are fortunate to have such a strong group of entrepreneurs at Oklahoma State."
"As always, i2E did an amazing job of hosting this competition, and the awards ceremony was spectacular," Gajan said. "We also wish to congratulate them for securing Love's Travel Stops & Country Stores as a sponsor."
i2E is a nationally recognized, private, not-for-profit organization founded in 1998 and focuses on growing innovative small businesses in Oklahoma. Its mission is investing in entrepreneurs to build successful high-growth companies in Oklahoma and making a positive impact on the state's economy.
The Donald W. Reynolds Governor's Cup is a statewide collegiate business plan competition that simulates the real world process of researching a market, writing a business plan and making a presentation to potential investors. In the 11-year history of the competition, $1.5 million in cash, $80,000 in scholarships and $221,000 in fellowships have been awarded, and more than 1500 college students from 31 statewide campuses have participated.
For more information about i2E and the Governor's Cup, visit http://i2e.org/gov-cup/.