OSU's Ph.D. in Business for Executives welcomes new cohort of doctoral students
Friday, September 16, 2016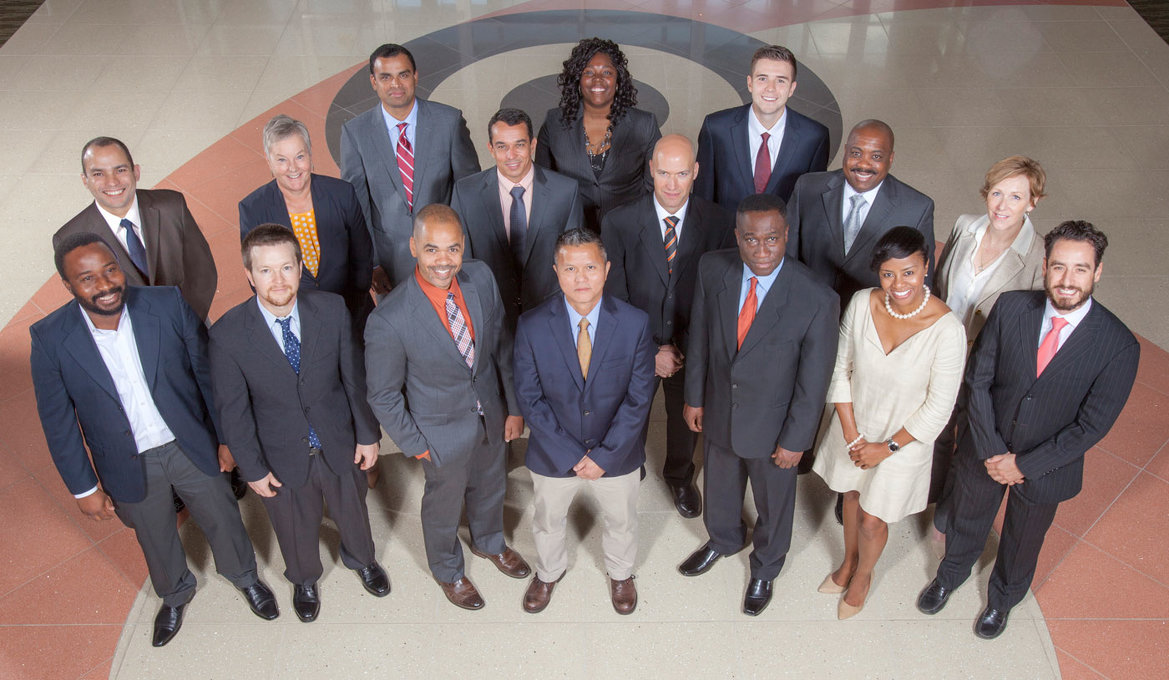 Oklahoma State University's innovative doctoral program for executives continues to grow as the fifth cohort of the Ph.D. in Business for Executives features 16 participants from across the United States.
The three-year doctoral program in OSU's Spears School of Business kicked off in August with an orientation session at the Helmerich Research Center on the OSU-Tulsa campus. The fifth cohort joins 51 participants from across the world already taking part in the Ph.D. in Business for Executives program.
"We are very excited to welcome our fifth cohort to the executive doctoral program," said Ken Eastman, dean of the Spears School of Business. "The program has exceeded our expectations and I am very impressed with the quality and diversity of individuals in the program. We have representatives from such companies as American Airlines, Bank of America, Citigroup, Deloitte & Touche, Dell, Pfizer, Sprint, Walmart, and Wells Fargo. The program has a very good reputation and it shows in the quality of individuals who are admitted."
Executives from the fifth cohort participating are (listed alphabetically):
Felix Acquah, Vice President, Finance, Citigroup, Inc
Emmanuel Aidoo, Auditor IV, State of Texas Health and Human Services Commission
Derrick Bonyuet, Finance Controller, Dell, Inc.
Julia Kirkland, Senior Manager, U.S. Strategic Marketing, Pfizer Inc.
Kipp Krukowski, Founding and Managing Director, Equipment Appraisal Services
Jamie Leonard, Owner/Systems Engineer, LionHearted Engineering Opportunities, LLC
Marcio Salles Melo Lima, Director, Metalsider Ltda
Alfredo Felipe Perez, Technical Support Director, Azteca Milling LP
Nagesh Ramesh, IT Director, Enterprise Applications, CSL Behring
Stephanie Royce, Operations Manager, WeamcoMetric
Lana Scroggins, Tax Analyst II, Sprint
Alicia Smales, Director, Eastin Center for Talent Development, Spears School of Business, Oklahoma State University
Marcos Souza, Vice President of Data and Analytics (Executive), Sprint
Ted Washington, Assistant General Manager, Wal-Mart Corporation
Lawrence Justin White Jr., General Manager, Castle Park, a Palace Entertainment Property
Jonathan Wild, Partner and Cofounder, WF1 Holdings
"The high caliber of executives in the fifth cohort of our executive PhD program reflects the strong competition from the increasing number of applicants who apply to the program each year," Toby Joplin, director of Executive Doctoral Programs, said.
"OSU was one of the first and is still one of the few universities to offer an AACSB accredited PhD in business in an executive format. The reputation of the program has grown around the world over the past five years as our graduates have made their mark with their research and in their respective industries and profession," Joplin added.
The cohort includes managing partners, senior executives, vice president of finance and controllers, and managers from well-known and respected companies across the United States. The program consists of individuals representing California, Illinois, Kansas, Maryland, Ohio, Oklahoma, Pennsylvania, Texas and Wisconsin.
"I chose the OSU program because of the opportunity to compete intellectually and to obtain a PhD degree that will compare favorably with the best in the country and even the best in the world," said Ted Washington of Walmart.
"This is important because it has been a long standing goal of mine. The format of the program allows me the opportunity to balance work and my study with being a full-time working mom," said Julia Kirkland of Pfizer, Inc.
The doctoral program has graduated 22 students from the first two cohorts. The program has attracted executive students from all across the world, including Brazil, Canada, Malaysia, Mexico, and The Netherlands, and from 22 states.
Those students are from industries such as energy, banking and financial, higher education, manufacturing, aerospace/airlines, state government, health care, non-profits, telecommunications, transportation, bioscience, entertainment, information technology and engineering.
For more information or to explore how to become a member of the 2017 class, go to the Ph.D. in Business for Executives website: http://phdexec.okstate.edu.