The 63rd annual Honors & Awards Banquet recognized some of the Spears School of Business finest students and faculty members on Thursday, March 31. The event was sponsored by the Business Student Council and attracted hundreds of SSB students, faculty and friends to the ConocoPhillips OSU Alumni Center.
"The Honors and Awards Banquet is one of my favorite events of the year as we get to celebrate the success of our students," said Ken Eastman, dean of the Spears School. "Every year I am amazed at what our students are able to accomplish and we are very fortunate to have such outstanding students."
"It is a pleasure to formally recognize the many accomplishments of our Spears School students. This ceremony provides a forum to take time out of our busy schedules to celebrate students, who have either exceeded expectations academically, or displayed strong leadership in their Spears School organizations," said Karen Flaherty, associate dean for undergraduate programs. "We are thankful for their hard work and dedication to the school."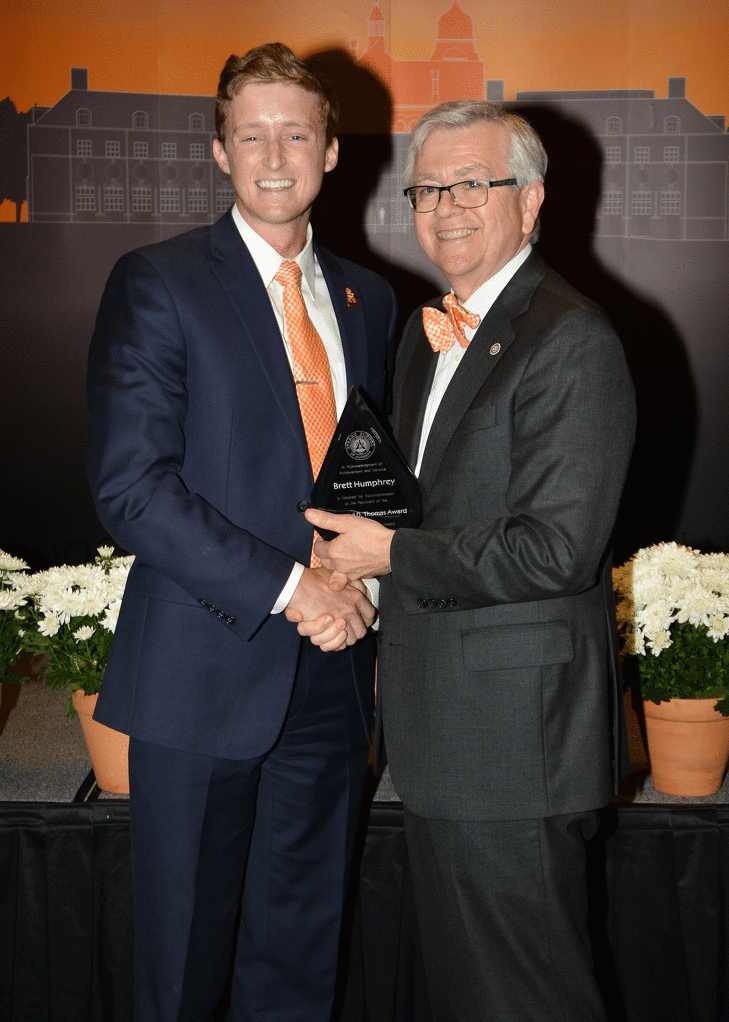 Brett Humphrey was the recipient of the Raymond D. Thomas Award, given annually to the top senior in the Spears School. Each year, a faculty committee in the business school votes who will receive the award and the $600 lifetime membership to the OSU Alumni Association.
"Over the past four years, the Spears School of Business has become my second home and I could not be more honored to have received such a prestigious award," said Humphrey. "A big thank you goes out to all the faculty, staff, and students who have made my time here so special."
The senior finance major from Tulsa was also named a 2016 Outstanding Senior and an OSU Senior of Significance for the 2015-2016 academic year by the Oklahoma State Alumni Association.

On campus, Humphrey is the Business Student Council President, an OSU Student Alumni Board Executive, an OSU President's Partner, a Spears School Ambassador and a Phillips66 Shield Scholar.

Others recognized during the banquet were:

Outstanding Business Organization: Delta Sigma Pi

Delta Sigma Pi Gold Key Awards: Megan Billingsley, Robert Confer, Stephanie Easterly, Amanda Fiveash, Jacob Fowler, Jeremy Garrison, Elise Heigle, Jamie Kirby, Matthew McConegly, Allison Meinders, Tanner Robinson, Rafael Rodriguez, Paige Townsley and Jason Tracy.
Outstanding Member of a Business Organization
African American Business Student Association: Tianna Carter
American Association of University Women: Erin Shaheen
Association of Information Technology Professionals: Shaheen Rahmani
Beta Alpha Psi: Ken Norton
Business News Club: Jeffery Cole Parsons
Business Student Council: Nathan Herrmann
CLEAN Students: Seth Paxton
Delta Sigma Pi: Chelsey Garner and Carson Guinn
Economics Society: Branton Wiederholt
Entrepreneurship Club: Kevin Christensen
Financial Management Association: Danny Boisson
Human Resource Management Association: Courtney Fryar
Information Security and Assurance Club: Jake Eyer
Net Impact: Brian Hicks
Phi Beta Lambda: Michael Gotwald
Spears School Ambassadors: Allison Meinders
Eastin Fellow Award: Brett Humphrey

Tony Galindo Excellence in Engagement Award: Kevin Christensen

ConocoPhillips Excellence in Civic Engagement Award: Beta Alpha Psi
OSU Seniors of Significance: Kourtney Brooks, Madison Cotherman, Aaron Cromer, Charlie Gibson, Brett Humphrey, Kaci Kennedy, Allison Meinders, Lyndsay Parks, Jeffery Cole Parsons, Rafael Rodriguez, Nathan Mark Woods and Tyler Zander.
OSU Outstanding Senior Awards: Aaron Cromer, Charlie Gibson, Brett Humphrey, Allison Meinders and Tyler Zander.
Top 5 Seniors in Accounting: Shannon Chiarello, Kate Finley, Jacob Fowler, Rafael Rodriguez and Nathan Squiers.

Top 5 Seniors in Economics and Legal Studies: Charles Dickson, Mikayla Estes, Charlie Gibson, Madison Mosier and Katherine Raunikar.
Top 5 Seniors in Entrepreneurship: Alexandra Adkins, Amanda Broussard, Andrew Hillenburg, Madison Welch and Tyler Zander.
Top 5 Seniors in Finance: Robert Confer, Isaac Graves, Jeffery Cole Parsons, Logan Smith and Collen Steffen.
Top 5 Seniors in Management: Madison Cotherman, Stephanie Grimes, Kaci Kennedy, Anushka Raje and Kiandra Spencer.
Top 5 Seniors in Marketing and International Business: Konner Devoto, Jeremy Garrison, Braelyn Johnson, Chandler Nett and Megan Shaver.

Top 5 Seniors in MSIS: Jennifer Mark, Evan Rauner, Dylan Smith, Seth Tate and Paige Townsley.
Spears School Outstanding Seniors: Madison Cotherman, Jacob Fowler, Jeremy Garrison, Michelle Hemperley, Brett Humphrey, Braelyn Johnson, Kaci Kennedy, Cheyenne Meckle, Allison Meinders, Chandler Nett, Jeffery Cole Parsons, Tanner Robinson, Rafael Rodriguez, Collen Steffen and Tyler Zander.
Faculty of Distinction
August: Don Herrmann
September: Tom Westbrook
October: Ryan Greenbaum
November: Evan Davis
January: Griffin Pivateau
Kenneth D. and Leitner Greiner Undergraduate Teaching Award: Andy Urich