Carson Guinn is a senior economics and finance double major with a minor in accounting from Wichita, Kansas. She will graduate from Oklahoma State University on May 13.
Her parents Lynn and Kim Guinn graduated from the T. Boone Pickens College of Business at West Texas A&M University in Canyon, Texas, outside of Amarillo. "Pickens was a large supporter of the school as well as a major supporter of Oklahoma State University. So we have a running joke in my family that although we didn't graduate from university, we have the same alma mater because T. Boone Pickens is such a huge supporter of Oklahoma State. So we're kind of all Cowboys," said Guinn.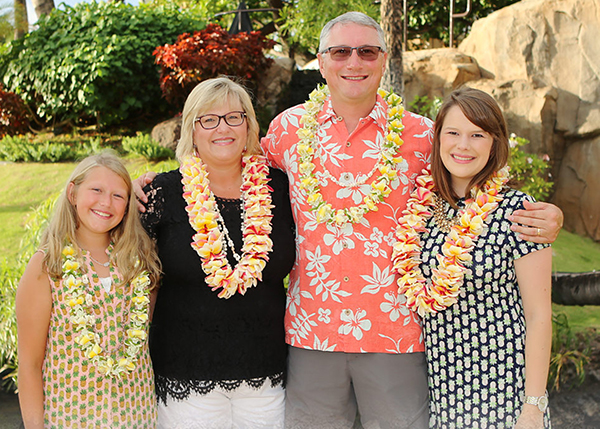 Growing up, Guinn knew her father was a commercial stock trader in Wichita, Kansas. Although she was inspired by him to go into business, she had different ideas of what she wanted her career to be.
"When I was growing up, I was like, 'I'm going to do my own thing. I'm going to start something different. I'm not going to follow in my dad's footsteps.' And what do I do? I ended up doing exactly what he's doing and I love it," said Guinn.
"At the time, I really didn't understand what all went into his job. I just thought, 'He talks on the phone all the time and he seems like he knows what all of these screens mean.' They were just crazy flashing things to me. As I got further into my coursework at OSU and understood, I thought 'oh my gosh, he was looking into the Chicago Board of Trade, that's awesome!' And so it really kind of clicked for me. I guess genetics are real because that's what I really want to do too. I did go into the oil side instead of the agriculture so I'm venturing out a little bit," she laughed.
"I chose to major in economics and finance because I've always been really interested in why people make the decisions they do. Originally, when I came to college I was just an economics major and this idea of supply and demand and how the market always goes back into equilibrium was so fascinating to me. Then as I was going through my classes and started to learning about the theory behind why people make decisions and I realized I wanted to learn about the true financial impact of these decisions they make.
"The more I learned about finance, the more I fell in love with it. It was really crazy," said Guinn. Halfway through her junior year, she considered becoming a core finance major but decided economics and finance with a minor in accounting worked well together, giving her a well-rounded education. "I said to myself, 'I know that all these things work together to make corporate America run but I want to understand why that is.'"
"What I'd like to do down the road is commercial trading for an oil and gas company so that's right in line with economics but then the financial impacts you learn from looking at the balance sheets and income statements, those play a huge role in it as well. I feel like they all play well together to help make me understand how to be a successful business person."
Guinn's knowledge and passion for business started at home. "My dad is by far my biggest inspiration. He is the most fantastic father, ever. I know everyone says they have the best parents in the world but think my dad is number one. He travels all the time for his job but always makes time for his family. It's a huge inspiration to me because I think the things he does and the impact he makes on his company are just so impressive and fantastic. He always goes back to 'the reason I do this is for my three girls,' my mom, my sister Darby (who plans to also attend OSU in the future) and I. I want to have that as well. I want to be able to make huge impacts on the commercial world but at the same time I want to also have a great family life."
On campus, Guinn has been president of Delta Sigma Pi, a professional fraternity, for last two years. She is also heavily involved in as a Spears Ambassador, a group of students that promote and inform prospective and current students about opportunities in the Spears School.
During her freshmen and sophomore years, Guinn was a member of the Cowboy Marching Band and a member of the OSU Concert Band from her freshmen to junior year. She is a member of the Kappa Kappa Psi, a national honorary band service fraternity. "I really enjoyed my time in the marching band and I still really enjoy music. It's an outlet for me," said Guinn. "Some of the best friends I made in college were from the band programs so I am very thankful for it but I think my future core goals alight with the business school."
Without a doubt, Guinn will be leaving a legacy on the OSU campus. During her role as president of Delta Sigma Phi, the group founded the Cowboy Strong Run, benefitting the victims of the OSU Homecoming Parade crash that occurred on Oct. 24, 2015.

"We all were so upset to see this terrible tragedy hit our campus that we really wanted to do anything we could for the victims and their families," said Guinn. "So our chapter was in the in the process of planning a 5K run just as a fundraiser for our organization. But when we heard about the tragedy, we decided to switch gears and make it a benefit run for the Stillwater Medical Foundation to raise money to cover the medical expenses of the victims involved in the tragedy."
"So in the course of about two weeks, we put this entire run together. We were so inspired by the amazing support of the community. We had over 350 runners to raise about $6,500 to donate to the Stillwater Medical Foundation," said Guinn. "I was just so amazed, I think during the middle of the run I started crying just because I couldn't believe how kind people were and how willing they were to help."
"After the run, we decided it was something that we really wanted to continue so we began to work with the Oklahoma State Foundation to create the Cowboys Strong Fund, which is set up for students who are put in unforeseen financial hardships. The fund helps students get through the rest of their time in college. The second year, we were able to donate about $7,500 to the Cowboys Strong Fund. We were excited to be able to give back to the community that's given us so much."
After graduation, Guinn will be moving to Houston to begin her career with Phillips 66 in the accounting and finance new hire rotation program. "I will spend the first three to five years rotating through different roles within the accounting and finance groups to get views on all kinds of different operations and support all the different business units. I'll then have the opportunity to specialize in a certain area," said Guinn. "Being from Wichita, Kansas and moving to Houston, Texas will be a major change for me but I'm super excited. I know this is the industry I want to be a part of and what better place to be in oil and gas than Houston?"

"As I am getting ready to graduate from Oklahoma State, I have had time to look back on the past four years and see all the great things I've been able to accomplish. I really have to give full credit and thanks to my parents because they have pushed and encouraged me so much. They've always told me I could be anything and do anything I wanted to do. Their love and support has really been the driving force behind everything I've done here at OSU and for that, I will be eternally grateful. So, thanks mom and dad!"