Twenty students have been selected as the Top 10 Freshmen Men and Top 10 Freshmen Women at Oklahoma State University for the 2017-2018 academic year, and five of those students are from the Spears School of Business.
Jacob Swanson, entrepreneurship and management major; Brent Cunningham, accounting; Corey Collins, business management, and Coleman Bourke, business, were selected to the Top 10 Freshmen Men while Hadley Reuter, management information systems and statistics major, was selected to the Top 10 Freshmen Women.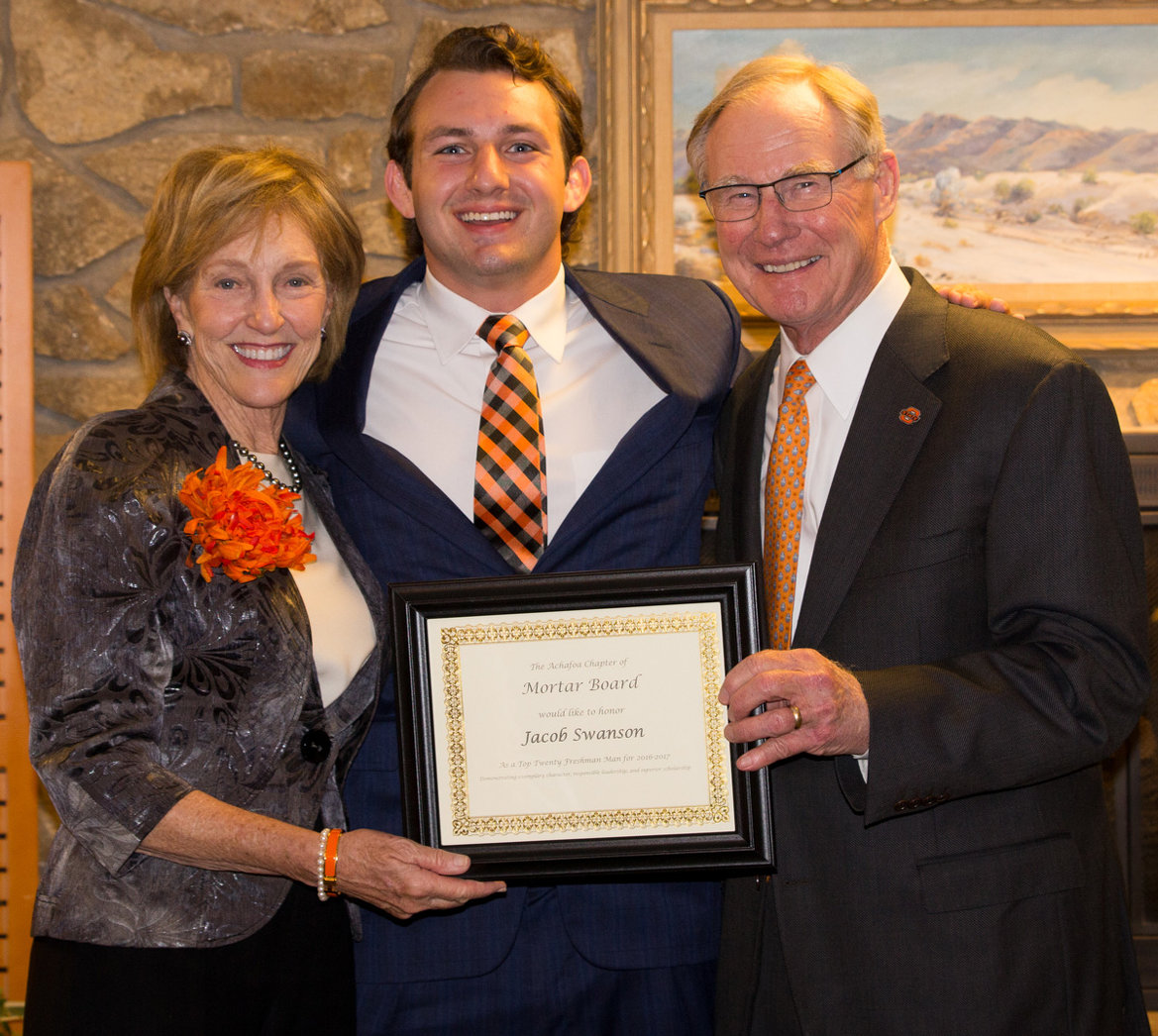 Swanson is the son of Chris and Ashley Swanson and grew up in Cache, Okla. He is the vice-president of the E-Club, serves as the Homecoming chair for the Business Student Council, is a part of the Student Alumni Board and the Chaplain of the Alpha Gamma Rho fraternity at OSU.
"It's an incredible blessing to be honored in such a special way," Swanson said. "Being a third generation Cowboy, it is truly my honor to serve OSU, and I do my best to fill the shoes of the men and women who have come before me. I owe a huge thank you to my hometown of Cache – that community raised me to become the man I am today. I also want to thank my parents and mentors who have absolutely poured themselves into my life before and during my college career."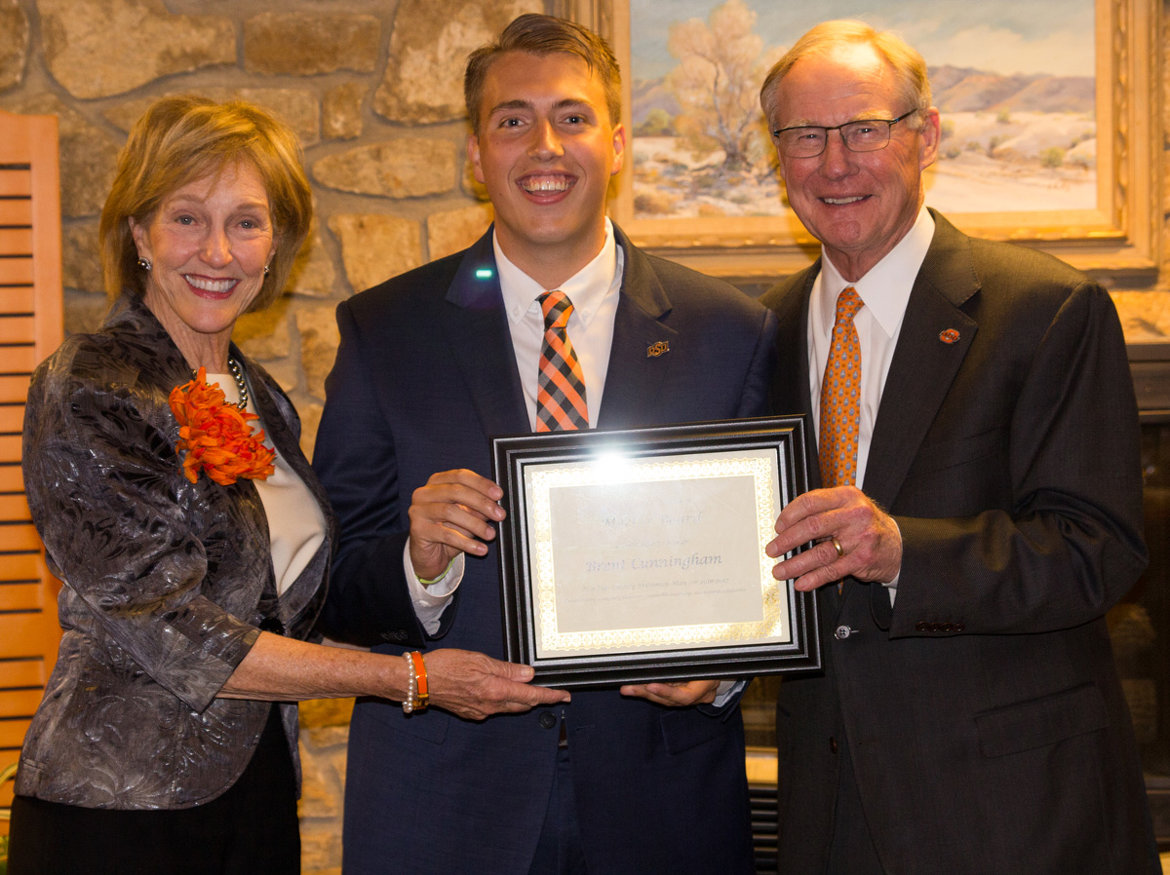 Cunningham is the son of Karla and Vince Cunningham. He grew up in Bartlesville, Okla., and serves as a Spears School of Business senator and on the budget committee for the Student Government Association. He also is a part of the President's Leadership Council, Business Student Council and serves as the internal bonding chair for the Student Alumni Board.
"I feel truly blessed to receive this award alongside other leaders that have inspired me in multiple perspectives," Cunningham said. "It's an amazing honor to represent the organizations that have helped me develop the leadership qualities and skills needed to reach this point."
Collins is the son of Eric and Lizette Collins and grew up in Piedmont, Okla. He is an active member of the Business Student Council, Spears Business Mentor Program and the Beta Theta Pi fraternity.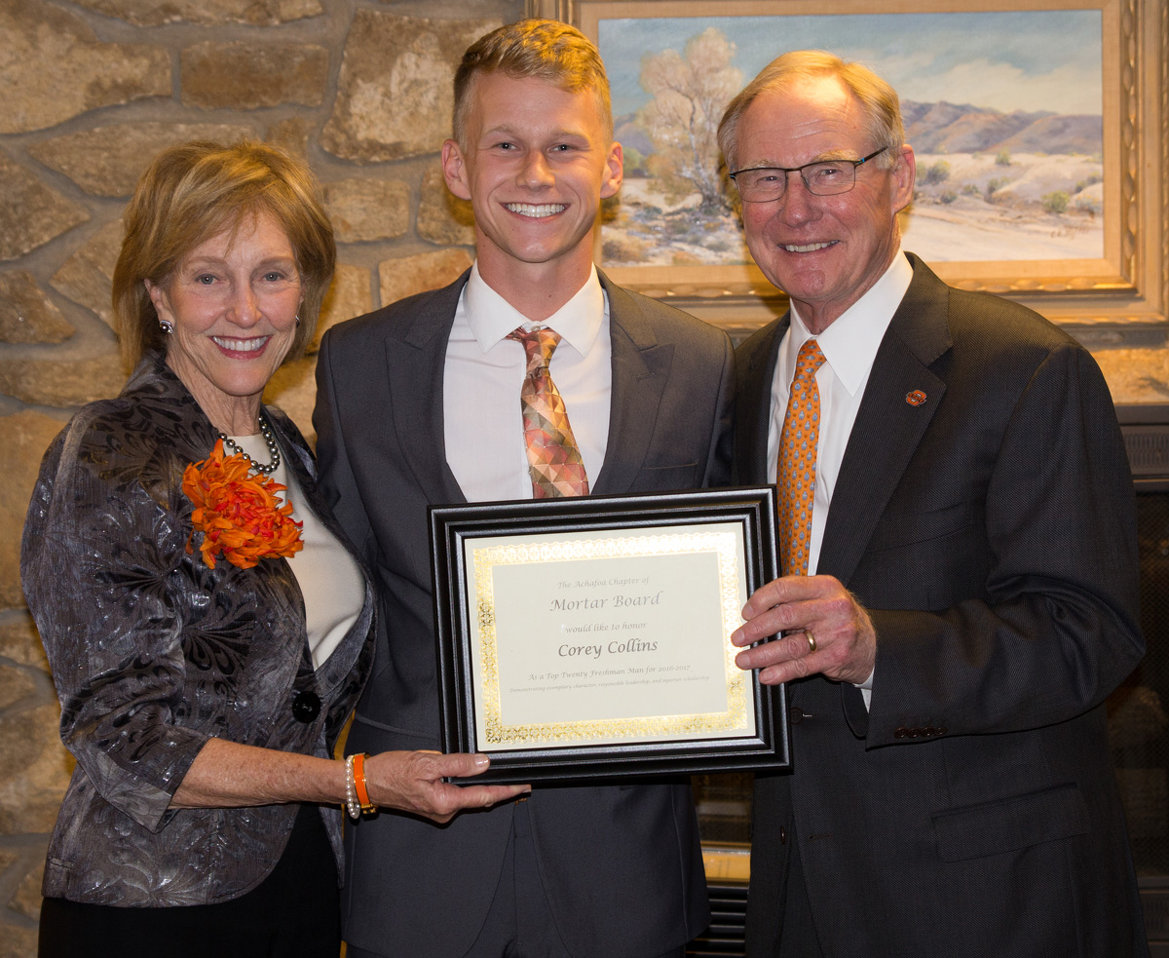 "I am beyond honored to be recognized by Oklahoma State University as a Top 10 Freshmen," Collins said. "I cannot begin to describe the growth that our campus fostered with me during my freshman year. The change that occurred makes me eager to actively give back to everyone involved with this community. The growth doesn't stop now – the journey has only begun."
Bourke is the son of Terry and Kim Bourke from Tulsa. He serves as a Spears Scholar Leader, Junior Greek Life Coordinator and is a member and the Freshmen Follies director for the Beta Theta Pi fraternity.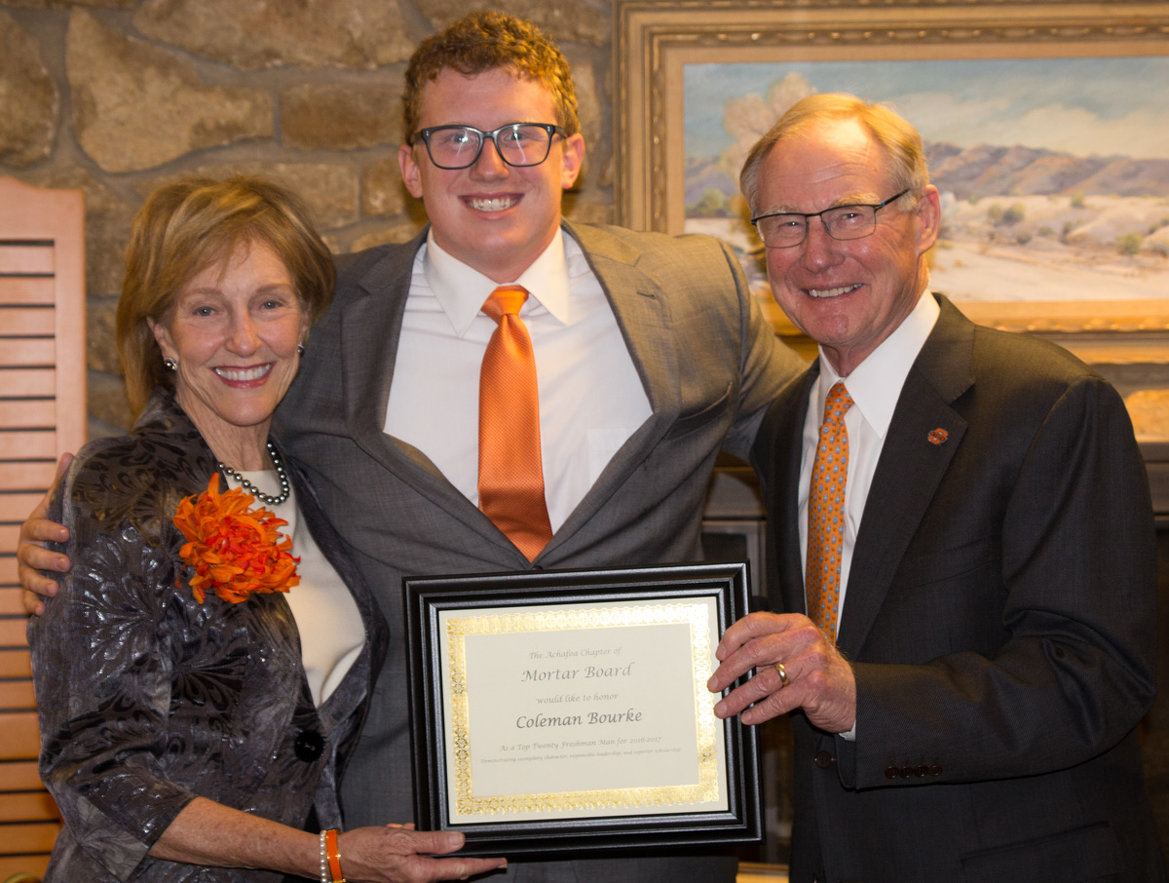 "Going through this process has been a really cool way for me to reflect on my freshman year, both in the little things and the big things," Bourke said. "It is special to be able to look back on the fun things and laugh at the failures and learn how to do better in the future. I grew so much at Oklahoma State this year and am ecstatic to be able to grow more with the incredible people at this university over these next three years."
Reuter is the daughter of Ryan and Julie Reuter. She was born and raised in Stillwater and is involved with the Spears Scholar Leaders, Freshman Research Scholar Program and the Student Alumni Board.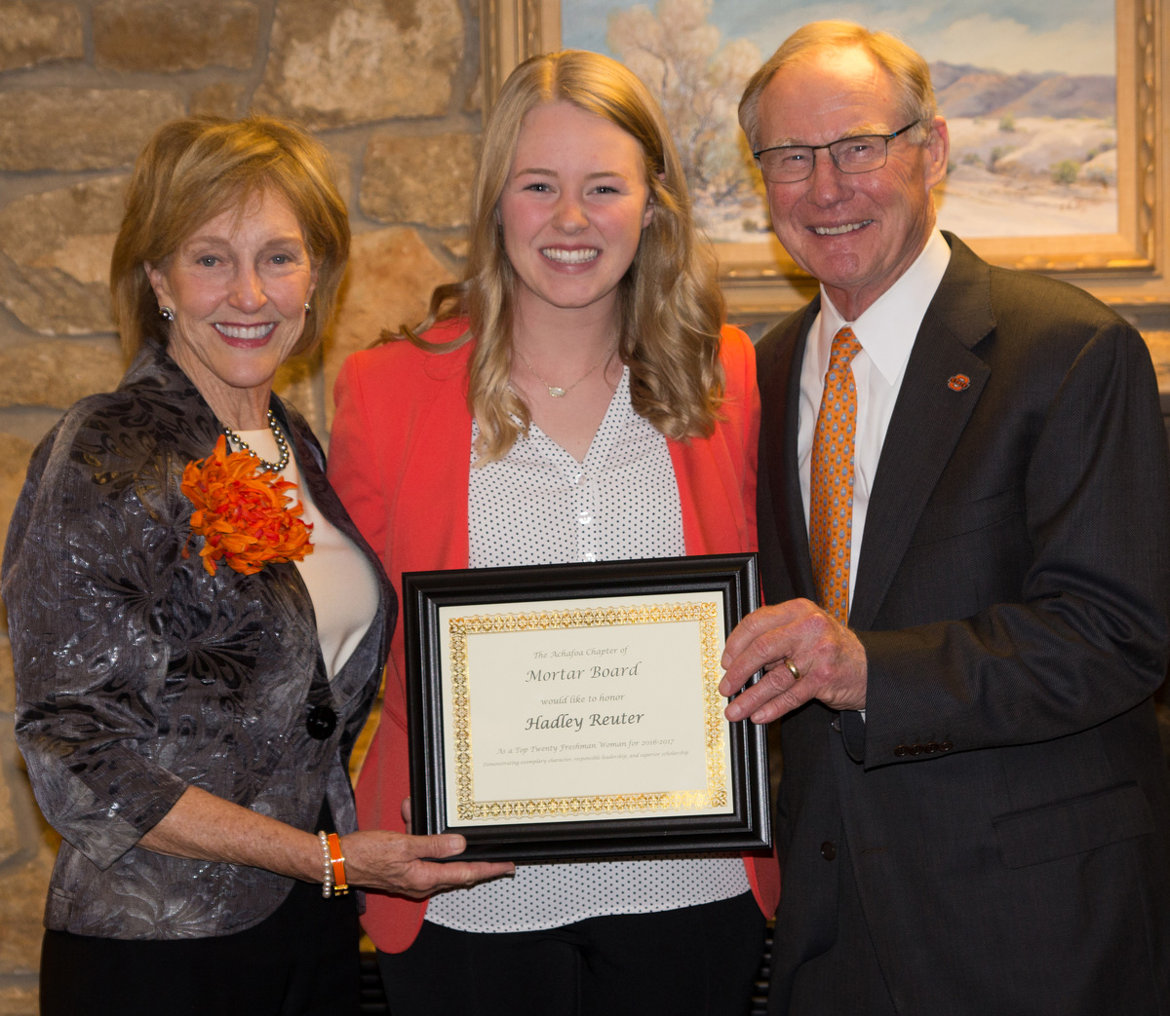 "I am honored to have been named a Top Ten Freshmen," Reuter said. "OSU has given me a multitude of opportunities to learn and serve others, and I am excited to see what else OSU will bring in future years."
Students who received this honor were selected based on scholarship, community service, campus involvement and leadership during their freshmen year. The Achafoa Chapter of Mortar Board selected students through an extensive interview process that narrowed the Top 20 Freshmen in each group to Top 10 Freshmen. More than 120 students apply for this award every year.
The students will be formally recognized during halftime at the OSU vs. Kansas State football game on Nov. 18.