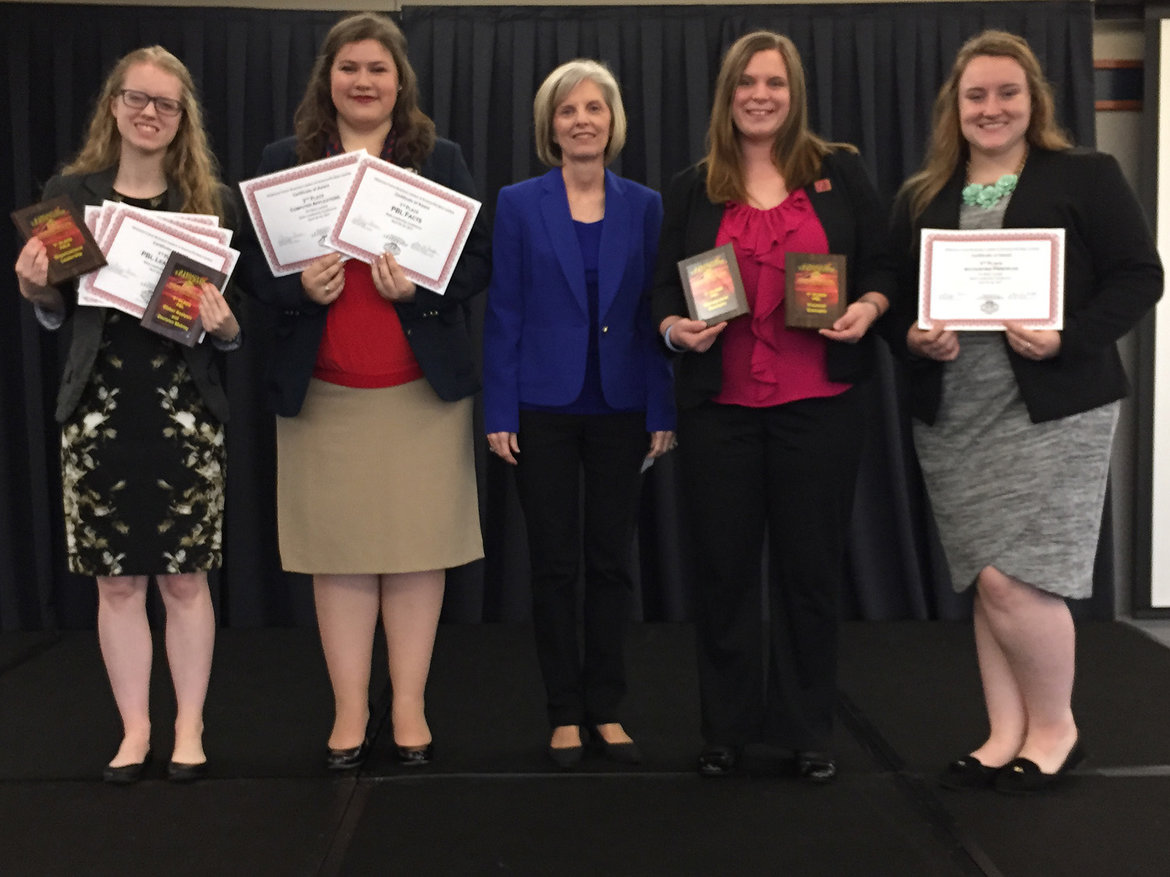 Four Oklahoma State University business students will be traveling to Anaheim, California, to compete in the 2017 Phi Beta Lambda National Leadership Conference in June.
Earlier in April, management junior Anna Hudson, international business junior Kalina Keester, accounting junior Sydney Laudero and finance junior Kayla Roberts competed at the PBL State Conference hosted by Tulsa Community College-Metro. All four placed in the top three of their respective competitions to qualify for the National Leadership Conference. OSU Spears School of Business academic counselor Vicki Johansen also attended the conference as the OSU PBL chapter adviser.
Anna Hudson, second place Computer Applications
Kalina Keester, first place Global Analysis & Decision Making and first place Organizational Behavior & Leadership
Sydney Laudero, first place Management Principles and first place Financial Concepts
Kayla Roberts, third place Accounting Principles
"I am very excited to get to represent OSU at the Phi Beta Lambda Nationals this year," Keester said. "One of my events, Global Analysis and Decision Making, will require some research for case studies, and I think that will be fascinating. I am very much looking forward to getting to connect with other members of PBL and improving my skills in ways that classes don't this June at the national conference. This will be my third national conference, and I hope to make it back onto the stage for top ten in one of my events."
Despite the dreary weather, Laudero said she enjoyed the event and meeting people from all over the state.
"This was my first State Leadership Conference so I didn't know what to expect, but I love a good challenge," Laudero said. "I reviewed my textbooks and took several practice tests to adequately prepare myself. I am thrilled to be competing in Anaheim in June. Though I am scared of heights and have never flown on a plane before, so this will definitely be a new experience for me but one I am eager to take on."
Oklahoma Future Business Leaders of America-Phi Beta Lambda, Inc. is an independent business student organization that strives to provide Oklahoma students with a positive, professional experience. The three student levels – FBLA Middle Level, FBLA and PBL – work as one unit to provide opportunities for students and advisers. Students participate and compete in two conferences each year to qualify to represent Oklahoma at the National Leadership Conference. Students have access to workshops, team building and professional development through the organization.
To learn more about the Oklahoma FBLA-PBL, visit http://www.okfbla-pbl.org/.
To learn more about the FBLA-PBL National Leadership Conference, visit http://www.fbla-pbl.org/conferences1/nlc/