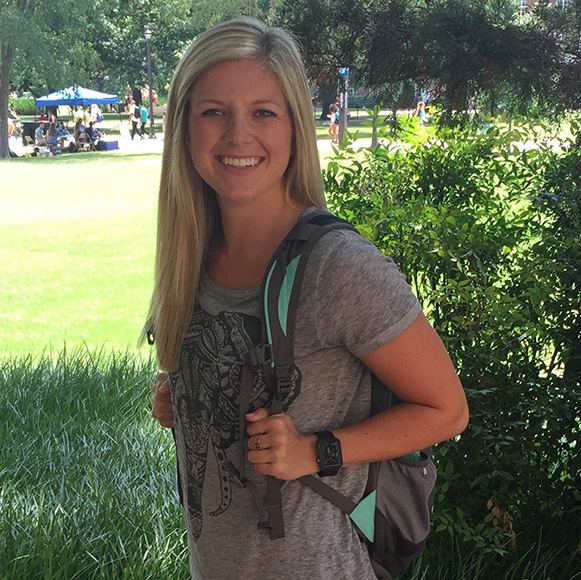 Dealing with four brothers as the only girl didn't stop senior accounting major Shelbie Smith from proving she was just as tough.
Born in Edmond, Smith attended Edmond Memorial High School, where she was involved with Student Council and softball. She helped organize the annual SWINE week for Edmond Memorial, raising $500,000 for nonprofit organizations and gaining valuable experience dealing with professionals and handling money. Smith and her family grew up attending Oklahoma State University football games, which made the decision to transfer to OSU an easy one.
"Our family has always come to football games on Saturdays, we hold season tickets every year," Smith said. "My oldest brother graduated from OSU, the next one came [to OSU] for a year and decided college wasn't for him, and the one right above me graduated from OSU in December. After my two years at North Texas playing softball, I decided I was done and I knew OSU was heavy on my heart, I always wanted to go to OSU, so it was a pretty easy decision for me to say this is where I am going to transfer to.
"My youngest brother will be a freshman [at OSU] next year. My dad attended OSU many, many years ago and has always been a big Cowboys fan, lives and breathes Cowboy football. My mom did not attend Oklahoma State, but that's okay."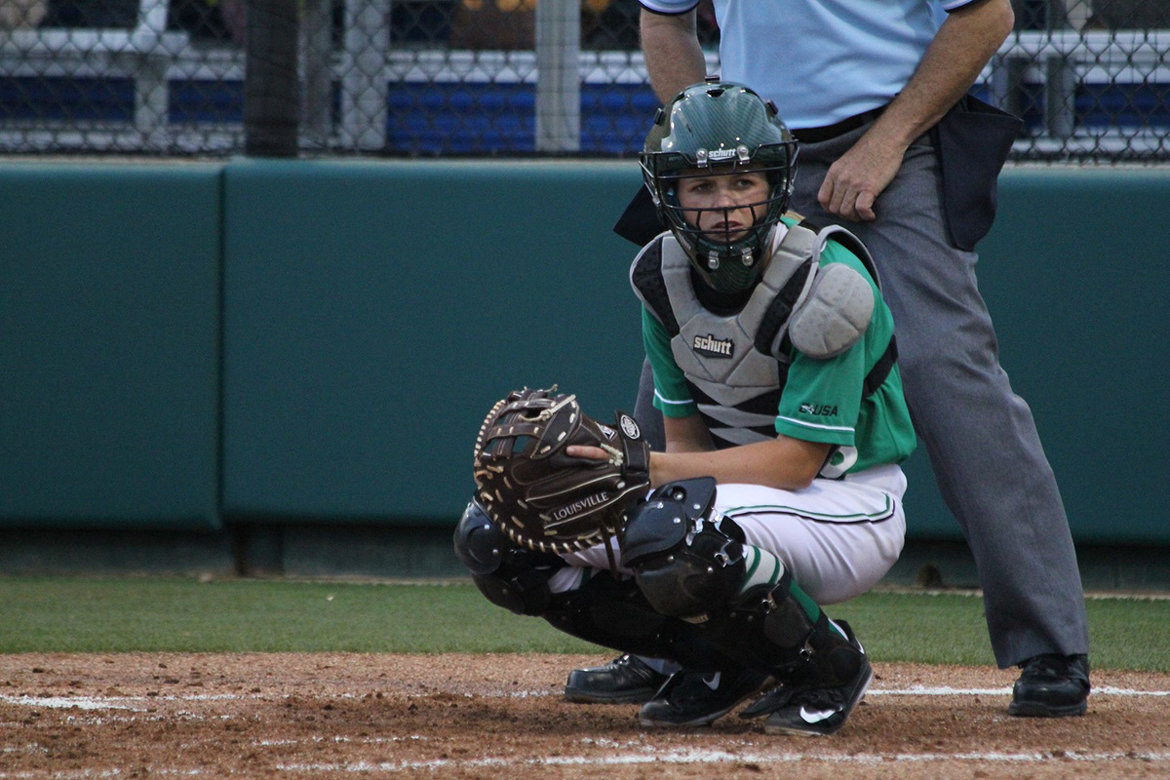 Before transferring to OSU, Smith played softball at the University of North Texas for two years. Being a student-athlete was a full-time job, and she had to make a lot of sacrifices, but the experience was invaluable. It was a tough decision to quit playing softball, but Smith was excited to make the move back to Oklahoma and attend her favorite university.
"The experience at North Texas is one that I would never want to take back," Smith said. "It really did set the groundwork for me my first two years of college. Being a student-athlete and being involved in your academics is extremely hard, it's a full-time job, and I have nothing but respect for student-athletes that do it all four years.
"I left North Texas after two years because I knew my academics were more important than my softball career. I had also experienced some injuries… and I was just getting beat up being a catcher. After two years, I decided I'd like to be able to run with my future kids, so I decided to go ahead and hang up the cleats and come to Oklahoma State."
Originally a finance major, Smith transferred to accounting after realizing she was better with accounting after an internship with American Energy Partners' accounting department in Oklahoma City. Though it has been a struggle, Smith was able to succeed with the help from associate professor of accounting Angela Spencer.
"The accounting program at Oklahoma State is very hard," Smith said. "It's one of the top accounting programs, and it proves to be day in and day out as I study and do homework and problems that take hours upon hours. My first accounting class at Oklahoma State was with Dr. Spencer, and she took me under her wing and showed me that I could do this even though I felt like I couldn't. She helped me through that semester and gave me guidance not only in the classroom but out of the classroom with what I wanted my future to be in the accounting profession. Her influence [and others] pushed me in the direction that I am going."
Smith served as a student employee with the Center for Sovereign Nations, which helps Native American students connect to resources and events on campus. Her neighbor from Edmond of 12 years, Elizabeth Payne, happened to be the director of the Center for Sovereign Nations and offered Smith the job. The experience broadened Smith's cultural knowledge and allowed her to get involved with the University as a junior, as well as expanding her accounting knowledge.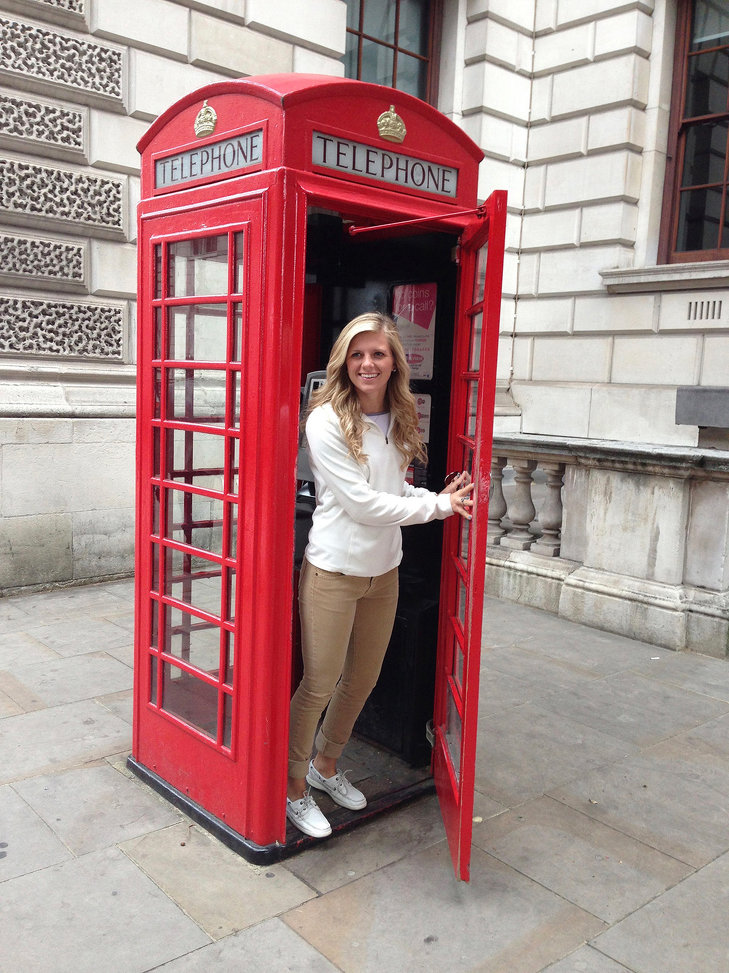 Upon graduating May 2017, Smith will be heading to London for three months interning with Deloitte, one of the "Big Four" accounting firms. She plans to return to OSU to get her MBA to broaden her skills and then further her accounting education later. Thanks to the guidance and mentorship of her professors at Oklahoma State, Smith feels prepared for her future.
"Being in the Spears School of Business has really opened up so many doors for me," Smith said. "I really think that being in the Spears School of Business provides you with opportunities that you would never have the chance to get if you were at another college. I know that both my internship last summer with Grant Thornton in OKC and coming up, going to London, those opportunities would not have been placed in front of me if I wasn't in the Spears School of Business.
"Overall, being able to walk into the Spears School of Business and go straight up to your professor's office, and them just being so welcoming to talk to you, I think that's something that really stands out about the professors at OSU. They're always willing to help and give you advice on a direction you should go…. I just think the Spears School of Business provides you with opportunities that no other school in the country can give you, and that's something I can take away from Oklahoma State and be proud of."