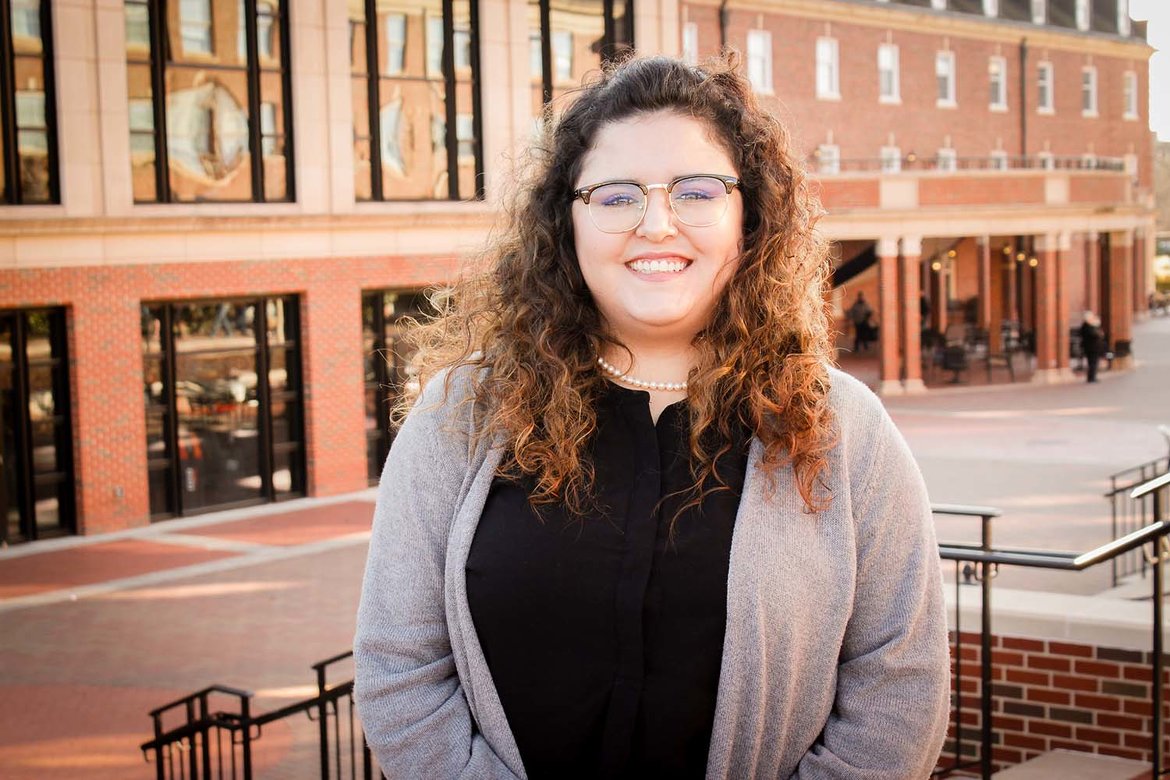 She made the big move to the United States from Mexico when she was three years old and has been bleeding orange ever since.
Paulina Medrano is a senior marketing major in the Spears School of Business at Oklahoma State University. She grew up in Enid, Okla., with two younger siblings and spent most of her time volunteering for the soup kitchen at her church and preparing to be a college athlete… which didn't quite turn out in her favor.
"I focused a lot on my studies in high school, but I was also trying to be a college athlete," said Medrano, who grew up in Acatic, Mexico, a town with a population of about 20,000 in central-western Mexico. "Obviously, that didn't work out, I wasn't good enough. I was pretty slow in track, and I also played volleyball, but I was so bad that I quit my senior. But it's okay, I'm here now, so it all worked out."
Funny story, Medrano actually didn't like OSU during high school, but one of her volleyball teammates convinced her to take a tour of the Stillwater campus. She was hesitant at first, but she immediately felt at home and solidified her college decision to enroll for her freshman year Fall 2013. She originally chose to be a general business and pre-law major, but she fell in love with marketing after taking the Introduction to Marketing class. She joined the Center for Customer Interface Excellence (CIE), an organization specifically for marketing students taught by marketing professor Tom Brown, which changed her life for the better.
"One of the biggest things I have done with the Spears School wasn't necessarily in class, but Dr. Tom Brown has been such a huge help in my career," Medrano said. "He teaches a program called CIE… that has saved my life, it has been the best thing I've ever been involved with in my high school or college career. It's how I ended up with my PepsiCo internship and how I have my full-time position with Cintas Corporation after graduation."
Through CIE, Medrano was able to score her job with Cintas as a management trainee. She will go through four rotations to experience every aspect of the company in Tulsa, Okla., for two years before having the opportunity to choose a division such as outside sale, production management and office management.
As a Mexican student in the U.S.'s DACA program, Medrano was drawn to OSU's Hispanic Student Association out of a desire to help other Latino students on campus and in high schools in Oklahoma. She participated in the Miss Hispanic/Latino OSU Scholarship Pageant and built connections among the community, striving to encourage others.
"As a Hispanic woman, there's a stigma that I am supposed be a housewife and I'm not supposed to do anything else," Medrano said. "It's an awesome feeling to know that, as a Hispanic woman, as a Latina, and as someone who wants to do better at make the world a better place, [DACA] is really helpful. If I can do it, anyone else can do it. I'm proud of my accomplishments… and I am going to be one of the first people in my family to graduate college and the first woman in my family to go to graduate school. Don't be afraid to go for your dreams."
Medrano credits the Spears School with shaping her mentality to be more ambitious and determined in the business world.
"All of the people at Spears have been very helpful and welcoming. I really feel like everyone at the university has invested time in me and helped me with anything that I needed. I feel really excited and very well prepared for my career at Cintas. I'm going into management, but the marketing program [at OSU] has been more than helpful with that. I hope to further my career again here at OSU with the MBA program and I think that speaks wonders of the people and the type of professors we have here, the advisors, everyone we have here at OSU.
"I think that should tell you how I feel about the university when I went from not really liking the university in high school to completely falling in love with it."