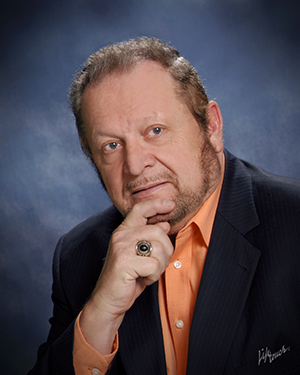 Dennis L. Mott, professor of management in the Spears School of Business, retired in February after 43 years at Oklahoma State University.
Mott was the first in his family to attend college; his initial intent was to teach and coach at the secondary level. He completed his undergraduate degree in business education from Wayne State College in Nebraska in less than three years and was teaching in Missouri Valley, Iowa, at 21. Three years later, he accepted a position as business teacher and coach at Central High School in Omaha, Nebraska.
Two years later, he earned a master's degree from the University of Nebraska at Omaha and went on to fulfill the requirement for a doctorate at the University of Nebraska-Lincoln. He began his work in higher education as an assistant professor at the University of Wisconsin-Superior in the College of Business Administration.
In late spring of 1974, Mott accepted an offer to join the faculty at OSU's College of Business Administration as assistant professor in the management department. He was promoted to associate professor in 1975 and to full professor in 1980. He served as department head from 1980 to 1986.
"Dr. Mott has had a long and distinguished career at OSU. He was very dedicated to students, and he has positively affected the lives of countless students. He is a true professional and a consummate gentleman," says Ken Eastman, dean of the Spears School.
"Truly, I believe that those who can, teach. Without question, the opportunity to assist the thousands under my direction the skill of learning how to learn is the true highlight of my tenure at OSU," Mott says. "Always did I stress the importance of sustained learning that is so essential to success in both professional and personal life. Hopefully, I was able to positively impact the lives of those in my classes in a unique and growing manner."
OSU student Collin Smith says, "One thing a student loves more than anything at the collegiate level is being treated like a professional by being held responsible for your duties inside the class and trying your hardest to receive the best grade you can. One thing he [Mott] always pushes out of his students is excellence because he knows what it takes to receive that excellence outside in the real world. His classes are enjoyable because he makes it much like a real job, preparing us for the next level, which benefits every one of us."
Mott's résumé includes numerous awards for his leadership and professional contributions. Among those many awards, Mott received Oklahoma State's AMOCO Award for Teaching Excellence. He says receiving the 2016 Regents Distinguished Teaching Award was his greatest honor.
When nominating Mott for the Regents honor, James Pappas, head of the Department of Management, wrote, "Dennis is excellent in the classroom. As a senior scholar in the department, it would be a convenient excuse to think one might fall out of favor with younger students; however, Dennis consistently receives very strong evaluations for his classes. Teaching excellence is his primary goal at this point in his career, and you would be hard-pressed to find a more talented and dedicated faculty member."
"Dr. Mott was a pleasure to work with on outreach activities, and he was very humorous yet practical with his stories," says Julie Weathers, director of the Center for Executive and Professional Development. "He taught many seminar topics in the outreach area for the business school for years and helped people in government, corporations and non-profit organizations with time management, supervisory skills and working with people. Dr. Mott was a time management expert. He was always such a delight in that he cared about the participants and made sure they left with materials that would help them achieve success in their workplaces."
Other major awards he has received include the University Extension Faculty Award, OSU, 1992; OSU's Mortar Board Golden Torch Faculty Award, 2003-2004; Outstanding Teaching Award, Management Department, OSU, 1996; Professor of the Year, OSU Chapter of the Oklahoma Education Association, 1976; M-PBEA Business Education Leadership Award, 1987; Noon Lions "Lion of the Year," 1990-91; Business Educator of the Year, and the leadership award from the Oklahoma Business Education Association, 1978.
Mott is the author and co-author more than 50 books, academic journals, and assorted publications. Of note is his role as the co-author (with Zane K. Quible) for three editions of Prentice Hall and Pearson Publishing textbook entitled Business Communication Principles and Applications. He is also the author of Independent-Study Courses for Organizational Communications (five editions), and Human Resource Management (three editions).
Over the years, Mott served as an advisor for many organizations including Phi Beta Lambda. He also served on the Stillwater Library Board. He held all the elected officer positions for Noon Lions, and served as chair of the OSU Publications Committee, the OSU Re-Admissions Committee, the Student Conduct Committee, and the OSU Human Resources Advisory Committee. He was also elected the business college's representative to the OSU Faculty Council.
Mott served as president of the Oklahoma Business Education Association and the Mountain-Plains Business Education Association with leadership awards from both professional organizations. He was also named Post-Secondary Teacher of the Year by the Oklahoma Education Association, an honor awarded at the State Fair of Oklahoma in a special ceremony.
Over the years Mott's research efforts centered on topical areas considered essential for ultimate success. "In particular are special areas of research such as data bank prisons and the associated threat to individual freedom, time management, building an office team system, intrapersonal communications, and instructional excellence," he says.
"OSU is truly a great university and I was privileged and I thoroughly enjoyed my time serving constituents in the Spears School," Mott says. His immediate family holds six degrees from the Spears School of Business – his wife, Karen, earned her bachelor's in organizational administration; daughter Nicole, bachelor's and master's degrees in accounting; son Bryan, bachelor's in management and an MBA, and son-in-law Rod Weaver, an MBA. "We are loyal and true OSU and if nicked we would likely bleed orange!"
His plans after retirement are to enjoy his family, especially his three grandchildren, and some extended travel to see some of the wonders of the world.