Master's in Business Analytics students represent OSU at Southeast SAS® Conference
Thursday, December 7, 2017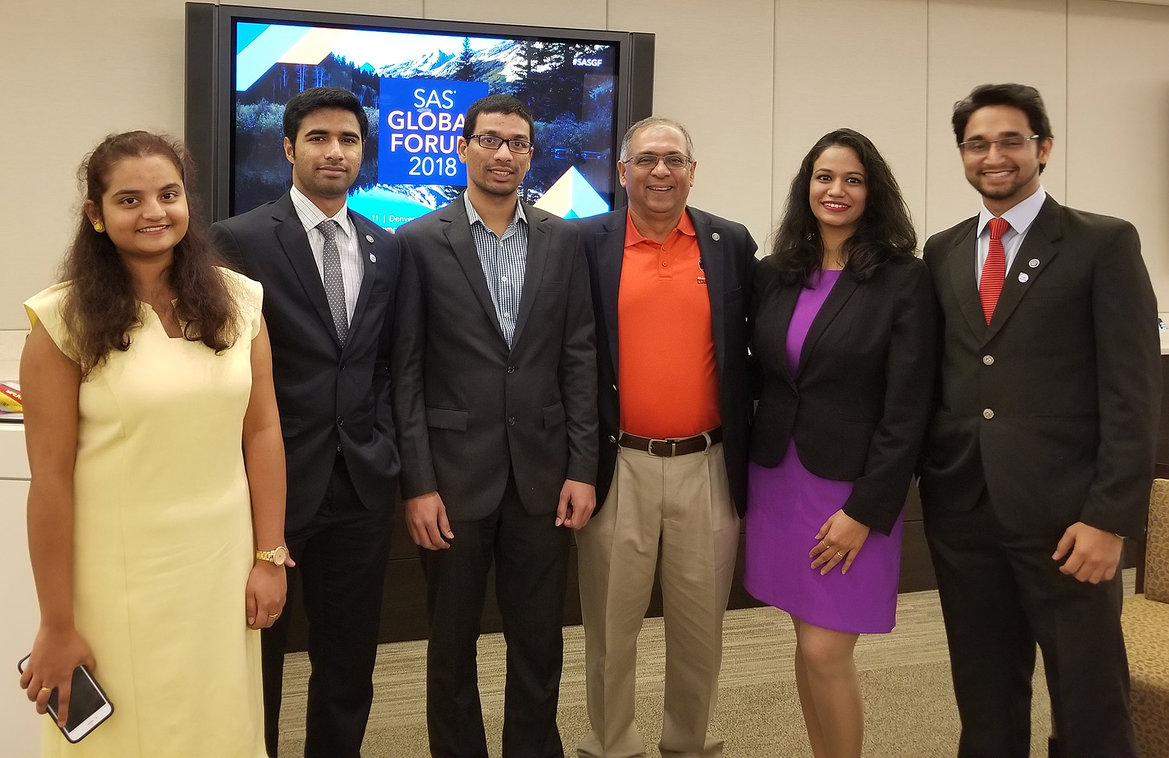 A group of Oklahoma State University Master's in Business Analytics students were participants in November at the four-day 2017 Southeast SAS® Users Group (SCSUG) Conference in Cary, N.C.
The conference allowed OSU Spears School of Business analytics students to meet with SAS® users from Alabama, Florida, Georgia, Kentucky, Mississippi, North Carolina, South Carolina, Tennessee, Virginia, West Virginia, Maryland, the District of Columbia, and Puerto Rico with the purpose of learning and sharing about the software, network with SAS staff and other users, and provide a platform for everyone to expand their knowledge of SAS.
"This is the third year in a row that our students have participated and won scholarships at the SESUG Conference. I am very happy with their performances at this conference," said Goutam Chakraborty, SAS professor of marketing analytics and director of the Master's in Business Analytics program at Spears Business.
The OSU scholarship winners presenting at the conference were:
Ravi Teja Allaparthi, "Analysis of Unstructured Data: Topic Mining & Predictive Modeling using Text"
Sujal Reddy Alugubelli, "Understanding the Influence of the Day of Week in the Reviews Written"
Jital Patel, "Analysis of Tweets on Demonetization in India using SAS Enterprise Miner"
Varsha Reddy Akkaloori, "Identifying Semantically Equivalent Question Pairs Using Singular Value Decomposition"
Also presenting at the conference was:
Vasudev Sharma, "Tornado Inflicted Damages Pattern"
Several of the analytics students spoke about the benefits of attending the conference.
"This conference was a great opportunity to understand the real-world dynamics of data analytics," Allaparthi said. "The representatives from various universities and organization enriched us with their expertise. I believe that it was a golden chance for students like me to attend SESUG and build a strong network with high designated people of the analytics industry."
"As a first-timer, I really had an amazing experience attending a SAS regional conference that was hosted in the SAS headquarters," Alugubelli said. "I had a chance to present a paper on the research that I have done during my second semester and I also received the SESUG student grant. This provided me a way to showcase my skills to the analytics professional from various domains. I got the opportunity to attend several other analytics sessions wherein I was able to learn about various thought-provoking studies that people are working on. I strongly believe that the conference has great value in it and young professionals like me learn a lot from the conference."
For more information about the Master's in Business Analytics program at OSU, visit the program's website[BROKEN LINK].