New OSU downtown entrepreneurial building unveiled with Ribbon Cutting Ceremony
Friday, September 29, 2017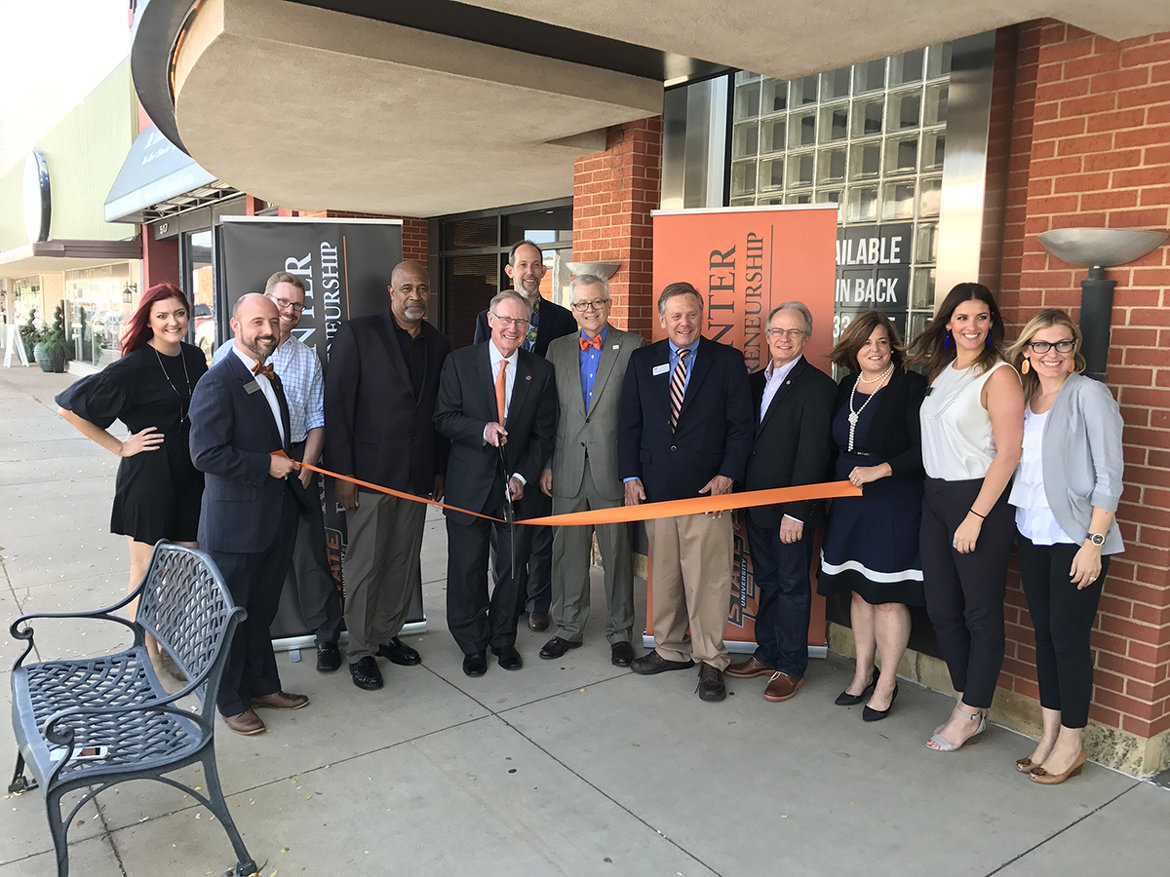 A new venture has opened in downtown Stillwater that will join Oklahoma State University students and the Stillwater community for entrepreneurial success.
On Sept. 19, OSU's School of Entrepreneurship and the Stillwater Chamber of Commerce hosted a ribbon-cutting ceremony at the new Riata Center for Entrepreneurship – Downtown Stillwater, 619 S. Main St. Speakers included OSU President Burns Hargis, Spears School of Business Dean Ken Eastman, Stillwater Chamber of Commerce President and CEO Justin Minges, and School of Entrepreneurship department head Bruce Barringer.
"Whether they realized it or not, everyone who attended the ribbon-cutting ceremony was supporting entrepreneurs and small business owners in the Stillwater community," said Alexces Bartley, manager of the Riata Center. "We chose to launch the Riata Center – Downtown Stillwater location to increase our ability to educate and assist members of Stillwater's growing entrepreneurial community. We want to engage the community and assist in developing a nurturing environment for entrepreneurs and small business owners that will be a hub for networking and educational resources."
Partnerships will be the central focus in the new collaborative space. OSU students of any discipline and the Stillwater community will have full access to the amenities of the space including variety of programs, workshops, and networking opportunities designed to assist entrepreneurs and small business owners.
One program that entrepreneurs have to look forward to at Riata Center – Downtown Stillwater is 1 Million Cups (1MC), a free program designed to educate, engage and connect entrepreneurs with their communities. Every first Wednesday of the month, one or two early-stage businesses will present their companies to the community and engage in collaborative conversations.
"People have been talking about bringing 1 Million Cups to Stillwater for quite a while now, but it takes a lot volunteer effort to organize and put on the program," Bartley said. "Without the buy-in of the Chamber of Commerce and Meridian Technology Center for Business Development we would still just be talking about it. The organizing committee is made up of a mix of volunteers from seven different organizations or small businesses based in Stillwater. If that doesn't exemplify collaboration and community, I don't know what does. It's great to see this ecosystem starting to come together."
Stillwater's inaugural 1 Million Cups will take place from 9-10 a.m. Oct. 4. Coffee is sponsored by Red Rock Bakery.