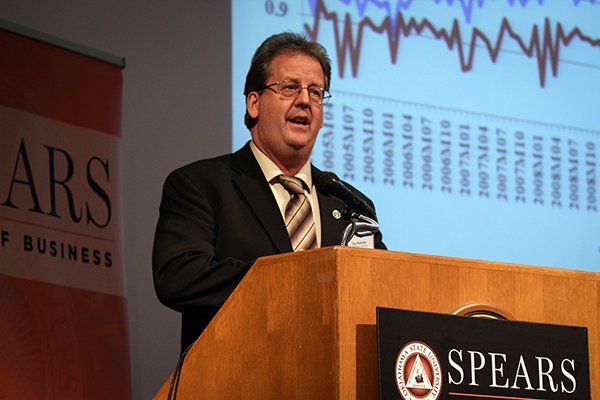 Oklahoma Economic Outlook Conference to discuss future Amazon production center
Tuesday, November 7, 2017
The impact Amazon's new sorting center in Oklahoma City will have on the state will be one of the topics addressed during the 2018 Oklahoma Economic Outlook Conference on Dec. 6 from 8:30 a.m.-noon at the Metro Technology Centers at the Springlake Campus in Oklahoma City.
The conference is hosted annually by the Oklahoma State University Center for Applied Economic Research in the Spears School of Business.
Excerpts from the Oklahoma Department of Commerce will be on the future the Amazon production center and how it will affect the economic dynamic for Oklahoma and its importance to the state. In addition, participants will have the opportunity for a question-and-answer session after each presenter.
"We are excited to be able to host such an informative conference here in Oklahoma City," OSU professor of economics Dan Rickman said. "It is crucial that participants understand where Oklahoma's economy stands at a national level in order for us to grow and prosper as a state."
Ken Eastman, dean of the Spears School, and Marcie Mack, state director of the Oklahoma Department of Career and Technology Education, will give the opening statements.
Charles Kimbrough, director of the Business Development Group for the Oklahoma Department of Commerce, will review the economic impact of the Amazon production center and bring to light some of the benefits and challenges of winning or losing this deal of the century.
Jim Huntzinger, executive vice president and chief investment officer for Bank of Oklahoma Financial Corporation, will present forecasts of national economic topics. The presentation will focus on labor, gross domesticated products, consumer reactions and more.
Participants will also hear Rickman's forecast for 2018, focusing on the expected trajectory of Oklahoma's energy industry and he will present on forecasts of major economic variables for Oklahoma. These variables will include employment, unemployment, income, output and population.
Director at the Center for Applied Economic Research Hongbo "Betty" Wang will be speaking on the performance of the Oklahoma economy over the recent energy boom. The roles of state taxes and education funding will be presented in terms of their potential influence on the connection between the energy sector and the overall economy.
Registration is $60 per person if participants register before Nov. 30 and $75 per person if they register after that date. Fee includes conference materials and food. Sponsorships are also available for $275 and includes two registrations, an opportunity to place materials in provided packets as well as placing the sponsor's name on conference materials and the CEPD website. Booth sponsorships are also available for $150 and includes one registration and an opportunity to place materials in provided packets.
For additional information, please contact Kelle Scott at kelle.scott@okstate.edu or call 405.744.8679.