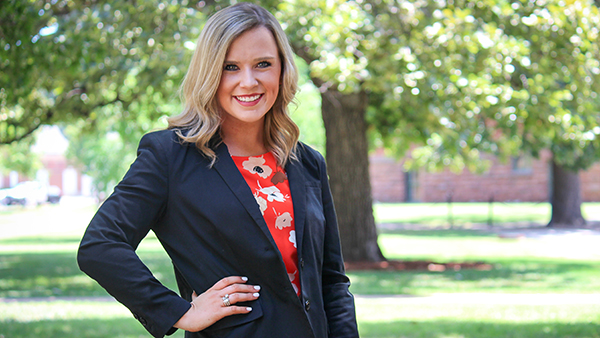 Blair Beale, a senior accounting major at Oklahoma State University, is the recipient of a $10,000 scholarship awarded by the Public Company Accounting Oversight Board (PCAOB). The merit scholarship is intended to encourage undergraduate and graduate students to pursue careers in audit.
The 21-year-old is the daughter of Mark and Lori Beale of Abilene, Texas.
Beale was nominated by the School of Accounting Scholarship Committee in the Spears School of Business. "The nomination committee selected Blair because of her excellence both in and out of the classroom. Her work ethic and attitude exemplify the best of our program and we are proud to call her one of our own," said Angela Spencer, associate professor in the School of Accounting.
"I feel very honored to have been nominated as the student that the Oklahoma State School of Accounting chose as their candidate for this scholarship," says Beale. "I am very thankful for this generous gift from the PCAOB to help further my education."
Beale says she has always enjoyed working with numbers and problem-solving, which is why choosing to major in accounting at OSU was an easy choice. "After I completed the first two entry level accounting courses, I knew that accounting was where I needed to be," she said.
Beale is also a McKnight Leadership Scholar, a National Society of Collegiate Scholar, and she is on the Spears School of Business Dean's List.
She is currently serving as the CEO of Kappa Alpha Theta on the Stillwater campus. She previously served as the CFO of the sorority.
Beale will graduate with a bachelor's degree in accounting in December 2017. She will then begin an internship with KPMG in Fort Worth, Texas. Her plans are to go on to complete her master's degree in accounting (recently ranked One of nation's best in Top 50 Graduate Accounting Programs of 2017 by Accounting Degree Review) at OSU in December 2018.
The PCAOB Scholarship Program awards funds to outstanding undergraduate and graduate students enrolled in an accounting degree program at accredited U.S. colleges or universities.
The PCAOB is a nonprofit corporation established by Congress to oversee the audits of public companies in order to protect investors and the public interest by promoting informative, accurate, and independent audit reports. PCAOB was formed following the infamous corporate meltdowns of Enron and WorldCom. The PCAOB scholarship was created from fines imposed upon those companies.