This article appeared in Discover Spears Research, the quarterly research newsletter released by the Spears School of Business.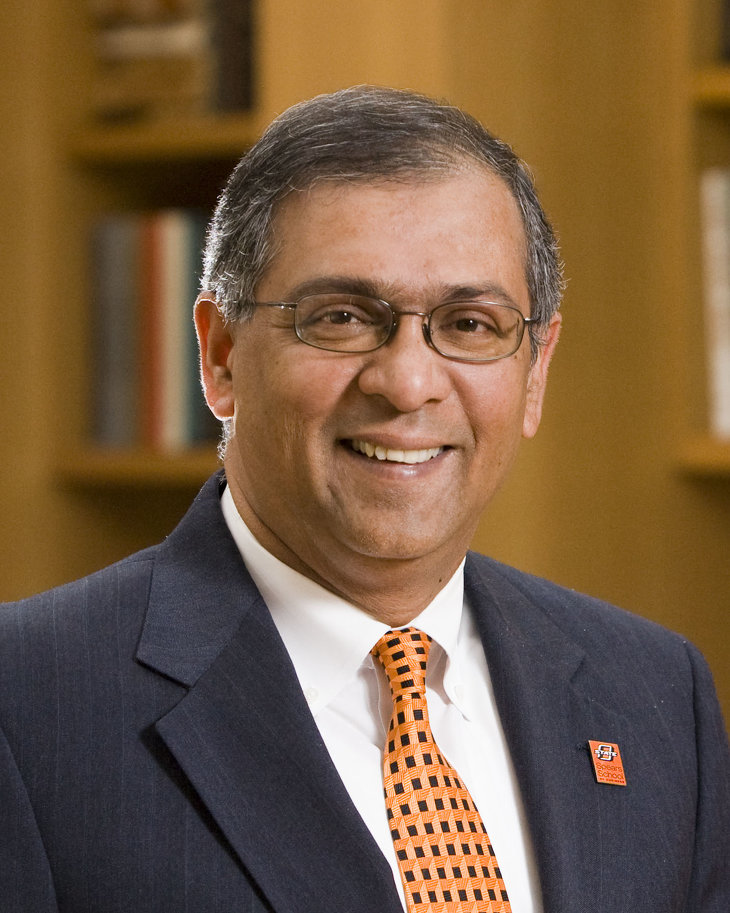 For more than seven years, Spears School of Business's marketing professor Goutam Chakraborty has fostered relationships with companies across Oklahoma and beyond through data analytics.
Chakraborty sets up contracts with major companies such as Elevate, OG&E and PennWell and has graduate students research the companies' desired projects. The student projects are fully funded assistantships that boost the students' résumés and experience in data extraction, data visualization and modeling.
"I seek out the companies to take on my graduate students and start building relationships with them," Chakraborty said. "The projects are usually a semester long and focus on whatever the company's needs are, whether that's determining customer lifetime value, customer satisfaction, predictive modeling or something else. I meet with the students once a week to see their progress, and then we meet with the company every month or so to make sure we are heading in the right direction."
Once the students are assigned to a company, they get right to work. This year, nine master of science in business analytics (MSBA) students took on the challenge of interning at various companies to complete data mining projects.
Nachiket Kawitkar was assigned to Elevate, a financial lending company headquartered in Texas. Over the course of the semester, Kawitkar focused on the analytics for four main projects: analyzing FICO scores and categorizing them, building a visual data dashboard, origination trends, and organizing sell-by-sell metrics into a seven-row seven-column system. He gained valuable skills and learned how to use a new data visualization tool, Tableau.
"Honestly, I had no idea about finance," Kawitkar said. "That was a major challenge, but I poured myself in to learning about it. I learned how to write more efficient codes and how to pull data. Tableau made a powerful impact on the data, because when you're able to see something as a graph or a chart, it makes the data more real. Elevate gave me the freedom to work creatively and out-of-the-box, so it was an amazing experience."
Juhi Bhargava was no different. She was assigned to PennWell Publishing, a business-to-business publisher based in Tulsa, Oklahoma, and worked on analyzing lifetime value for the company. Her major projects were to identify audiences to increase revenue and the deployment of an algorithm that would help PennWell focus its targeting.
"I have 10 years of being in the banking industry involved with operations, so walking in on day one, I was confident," Bhargava said. "But it came as a shock when I realized I had so much to learn. Dr. Chakraborty's teaching methodology helped in this internship. It was difficult, but it was a great experience – at PennWell, my opinions were asked for, and I was treated like a priority. My boss, David Warren, was also an OSU alumnus, so we had a common ground to build positivity from."
Sapna Bhoir interned with Oklahoma Gas & Electric (OG&E) at its headquarters in Oklahoma City. Bhoir brought technical knowledge with her from her software engineer days at Infosys Limited, a multinational information technology consulting corporation in India. Bhoir's first two semesters of the MBSA program gave her valuable skills to complement her technical mastery, which led to her success and an extended internship with OG&E.
"I was a marketing analyst intern for OG&E and worked on two major projects: figuring out what drives customer satisfaction, and what factors determine net promoter goals," Bhoir said. "I had technically sound skills, but through the MSBA program, I learned how to implement technical skills into visual data and present it to people. The biggest thing was learning how to apply proper statistical techniques to make sense of incomplete data and make it the right 'shape,' so it was a great experience."
Chakraborty has fostered relationships with more than a dozen companies across the Midwest. By providing business and marketing analytics techniques to these organizations, Chakraborty is not only benefitting the organizations, but also the graduate students.
"It's a mutually beneficial relationship," Chakraborty said. "The university gets 45 percent from the contracts I set up with these companies, and the students get fully funded assistantships and experience, while the organizations get valuable insights from their data and can make more effective decisions because of the students' work."
The following companies have participated in the data analytics projects: Chickasaw Nation, Devon, Elevate, Freescale, Hilti, Infalysis, Infenedi, Love's, Mile High Healthcare, OG&E, PennWell, Peterbilt, SageRider, Square Two Financial and Sulzer Chemtech.
For more information about the master's of science in business analytics, visit https://analytics.okstate.edu/msba/ or contact Goutam Chakraborty.