OSU Master's in Business Analytics students impress at South Central SAS® forum
Wednesday, October 25, 2017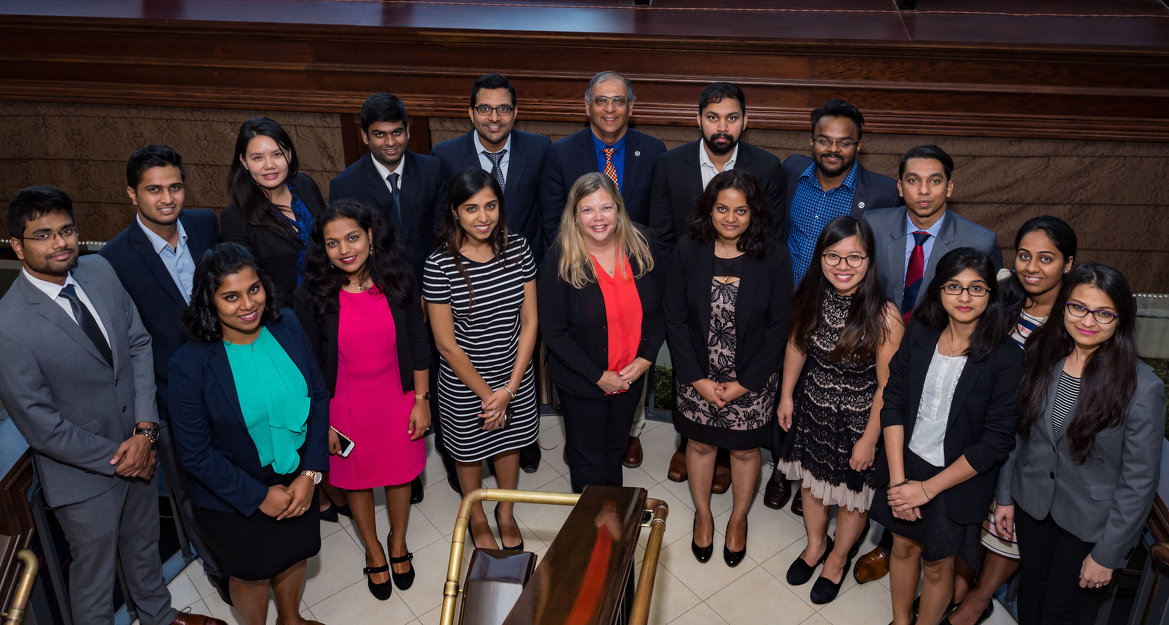 Oklahoma State University's Master's in Business Analytics program was well represented last week as a group of students and faculty were participants in the 2017 South Central SAS® Users Group (SCSUG) Educational Forum in Addison, Texas.
The three-day conference allows OSU Spears School of Business analytics students to come together with SAS® users in Oklahoma, Texas, Louisiana, Arkansas and New Mexico with the purpose of learning and sharing about the software, network with SAS staff and other users, and provide a platform for everyone to expand their knowledge of SAS.
"This is the sixth year in a row that our students have participated in and won scholarships to the SCSUG Conference," said Miriam McGaugh, clinical professor for business analytics in Spears Business. "In addition to the nine scholarship winners from OSU, we had three additional students participate in the student symposium for the fifth year."
The OSU scholarship winners presenting at the conference were:
Archana Chinaswamy, "Enhancement of Clinical Decision Making using Predictive Modeling"
Mettilda Kaimathuruth, "The True Price for Your House"
Mounika Kondamudi, "Classifying and Predicting Spam Messages using Text Mining in SAS® Enterprise Miner™"
Nikhila Kambalapalli, "Mylan's EpiPen controversy: Leveraging Text Analytics during PR Crisis"
Rishanki Jain, "Sentiment Analysis on YouTube Movie Trailer comments to determine the impact on Box-Office Earnings"
Rosie Nguyen, "Apple or Samsung? Which phone should I buy? Sentiment analysis using SAS Enterprise Miner"
Shikha Prasad, "Analyzing Theft Occurrences in Chicago Using SAS Enterprise Miner 14.1"
Shubham Panat, "A Study on H1B – VISA Petitions 2011-2016"
The students participating in the student symposium, and also receiving scholarships were:
Ciril Archenkunju, "Fighting Terrorism with Data Science: The Terrorists are Learning, But So Are Our Algorithms"
Jui Salunke, "Leveraging Multivariate Testing for Digital Marketing Using SAS Enterprise Guide"
Linyi Tang, "Where do the Hop-Heads Go? An Ultimate Data-Driven Guide To U.S. Canned Craft Beers"
Others from OSU presenting were:
Jaideep Muley, "Prediction of Used Car Prices by Using SAS EM"
Saurabh Kokad, "Predictive Analysis for Classifying Type 2 Diabetes Patients Using SAS Enterprise Miner 14.1 and SAS Enterprise Guide 7.1"
Akshay Arora, "Analysis of the Effects of Financial Parameters on GDP and Poverty Using Panel Data Analysis"
Several of the OSU analytics students spoke about the benefits of attending the conference.
"The SCSUG forum not only gave me an opportunity to share my research work with other folks in analytics but also gave me a platform to build connections and learn," Salunke said. "I feel attending such conferences are worthwhile experiences, you never know what opportunities are lying ahead of you. If nothing else, you definitely meet smart people and get to know about their work, which itself is a great learning experience."
"I felt lucky to be chosen as one of the student presenters to represent OSU," Tang said. "It was a great opportunity to be surrounded with like-minded people in the data analytics field and to learn, share and connect. I couldn't say thank you enough for the Master of Business Analytics program at OSU. Not only does it prepare us with awesome, real world big data project experiences but also encourages us to go out there to present and communicate. It has been a wonderful experience."
McGaugh was impressed with how well OSU was represented at the conference.
"I am extremely proud of the hard work these students have put into their presentations and I know they will continue to do great things," she said. "I am also thankful to SCSUG for providing a faculty scholarship to the conference so I could see all the students in action."
For more information about the Master's in Business Analytics program at OSU, visit https://business.okstate.edu/analytics/msban[BROKEN LINK].