OSU Master's in Business Analytics students present at 2017 MidWest SAS® Conference
Thursday, October 19, 2017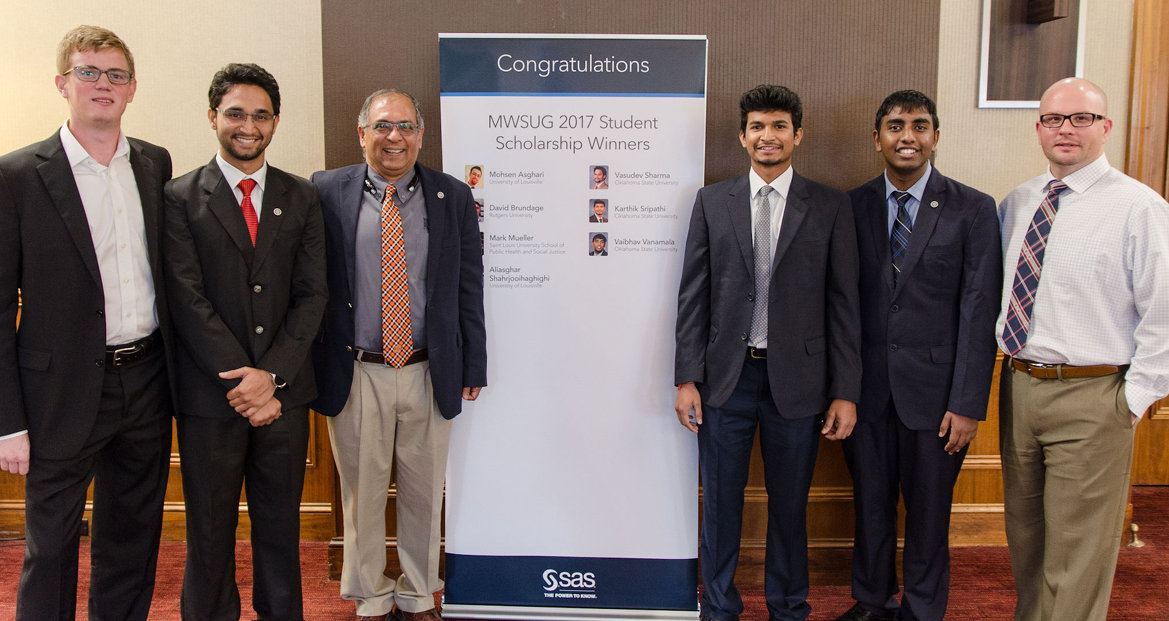 A group of Oklahoma State University Master's in Business Analytics students were among those participating in the 2017 MidWest SAS® Users Group (MWSUG) Conference earlier this month in downtown St. Louis.
The OSU Spears School of Business graduate students participated in the two-day conference which included paper presentations from other SAS® users, hands-on workshops, live demonstrations, and opportunities to network with other SAS® users. In addition, they were able to visit with staff from SAS® that was able to provide their unique expertise and insight.
"This is the fourth year in a row that our students have participated and won scholarships at MWSUG Conference. I am very proud of their achievements," said Goutam Chakraborty, SAS professor of marketing analytics and director of the Master's in Business Analytics program at the Spears School of Business.
The Spears Business students presenting posters at the conference were:
Karthik Sripathi, "OSCARS 2017 – Text Mining & Sentimental Analysis"
Logan Edmonds, "How Can an NBA Player Be Clutch?: A Logistic Regression Analysis"
Vaibhav Vanamala, "Text and Sentiment Analysis of customer tweets of Nokia using SAS® Enterprise Miner™ and SAS® Sentiment Analysis Studio"
Vasudev Sharma, "Tornado Inflicted Damages Pattern"
"The conference gave me an opportunity to interact with some of the great progressive minds in the field of analytics," Sripathi said. "I was able to learn about the emerging techniques and technologies that are coming up in the field of analytics. Analytics folks that I met at MWSUG gave me deeper insights on how to approach a problem and go about it. I received valuable guidance on how to streamline my process while looking for professional opportunities in the field of analytics."
Sripathi, Vanamala and Sharma were each awarded scholarships to attend the conference.
For more information about the master's in business analytics program at OSU, visit https://business.okstate.edu/analytics/msban[BROKEN LINK].