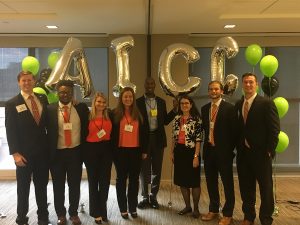 A group of Spears School of Business accounting students accepted a challenge, and a significant challenge it was, with the name Deloitte attached as confirmation.
Challenge accepted and answered, quite well, with a top-four regional finish at the Deloitte Audit Innovation Campus Challenge, a nationally-driven program hosted by Deloitte's Audit Innovation group and the Deloitte Foundation, focused on accelerating innovation in education by helping institutions of higher learning keep pace with the changing marketplace and evolving technologies.
Six Oklahoma State University students – Sarah Sidener, Emory Van Vorhis, Mackenzie Rychlik, Nate Abebe, James Olmstead and Cameron Cremin – traveled to Atlanta Nov. 13th and 14th, competing in the audit-based Challenge through presentation and a question-and-answer segment. Earl Stone, an audit partner from Deloitte's Oklahoma City office, also traveled with the OSU team and provided insight and encouragement as they participated in the event.
The OSU team, guided by Leah Muriel, an assistant professor in the School of Accounting, worked more than a month on the challenge statement issued by Deloitte. Once in Atlanta, the team finished in the top four during the opening competition, then advanced to a second presentation before a large audience that included peers, faculty members and more.
"We got to spend more time together and got to know the students more than just through class, so that part was fun," Muriel said. "It was definitely a difficult challenge. We had to work through ideas, try to figure out which one was the best to go with for our presentation.
"We kept progressing every week, trying to make it the best we could. And I think we did a really good job."
The program, hosted by Deloitte, is designed to engage students and faculty from campuses across the country. The competition overall involved 52 schools spread across six regions. The OSU team worked in the Atlanta Region, which also included Morehouse College, Baylor, LSU, Trinity, Arkansas, Mississippi and Tennessee.
The schools were issued challenge statements and given five weeks to respond. The OSU team met weekly to work out a solution to the challenge, related to the auditing profession and built around the concept of why auditors are in good position to provide assurance in areas other than strictly financial statements. The team was able to discuss ideas with Deloitte representatives and also visited the Deloitte office in Tulsa.
Among the six OSU students, three had yet to take auditing classes.
"So we did well without having a lot of technical background," Muriel said.
OSU's team provided a Power Point response to Deloitte before making the trip to Atlanta, where they made their presentation before faculty and Deloitte representatives, including two judges. OSU and three other schools made the cut to advance forward for a second presentation. There was even time for a little fun, which involved a trip to the Georgia Aquarium.
Muriel said the experience was invaluable to the students, who themselves left an impression.
"We had a lot of school spirit," she said. "Other people were really excited about our presentation –the Deloitte people, representatives from other schools. I think we all represented ourselves extremely well."