OSU teams bring home $47,000 from New Venture Competition
Wednesday, March 1, 2017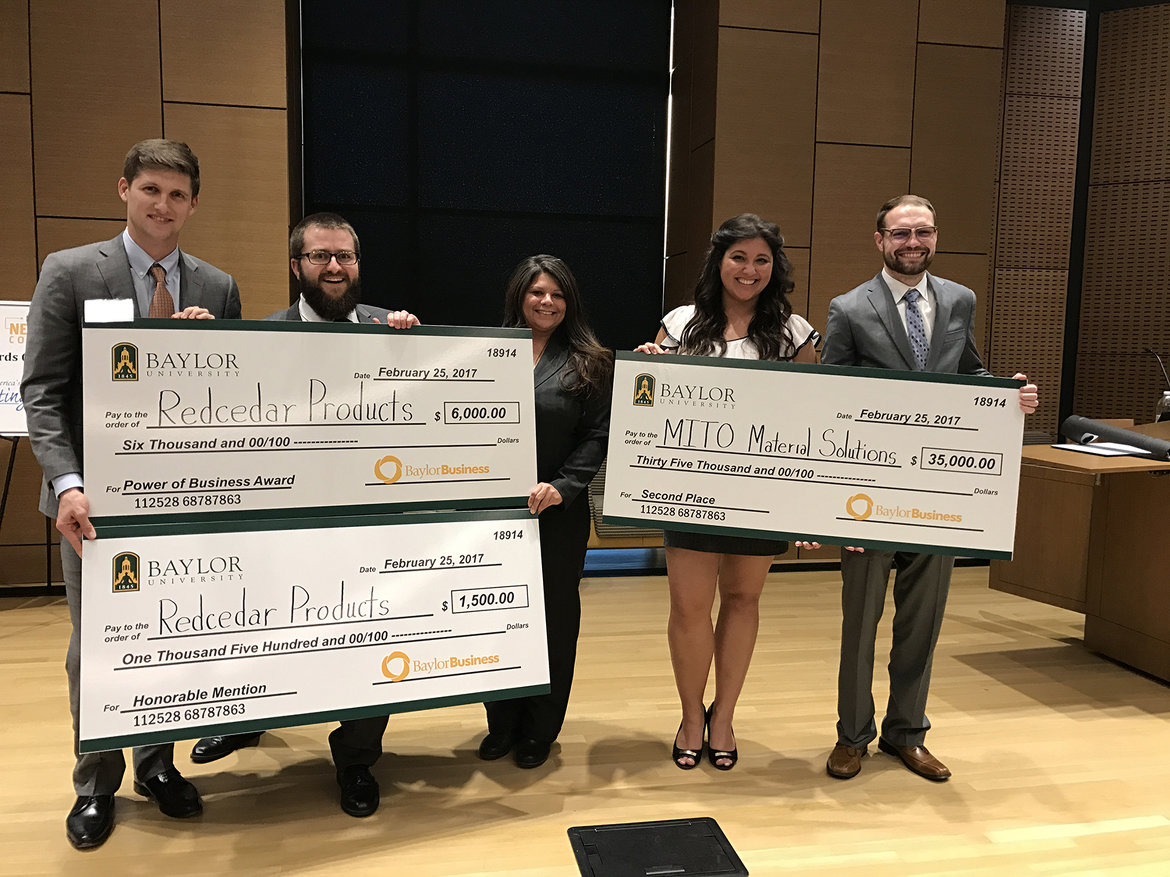 Two Oklahoma State University entrepreneurship incubator teams comprised of students from the Spears School of Business, the College of Engineering, Architecture and Technology, and the College of Arts and Sciences were among the top winners this past weekend in the finals of the Baylor Business New Venture Competition.
Out of 166 teams, the two OSU teams were selected to compete in the finals as part of the Top 12. OSU MBA student Haley Kurtz and mechanical engineering technology student Kevin Keith with MITO Material Solutions placed second in the competition, bringing home $35,000 plus an additional $500 for placing third in the live pitch portion of the competition. MITO sells adhesive epoxy additives which allow manufacturers to double the durability or significantly decreases the weight of composite materials utilized in the aerospace, recreation, and automotive industries.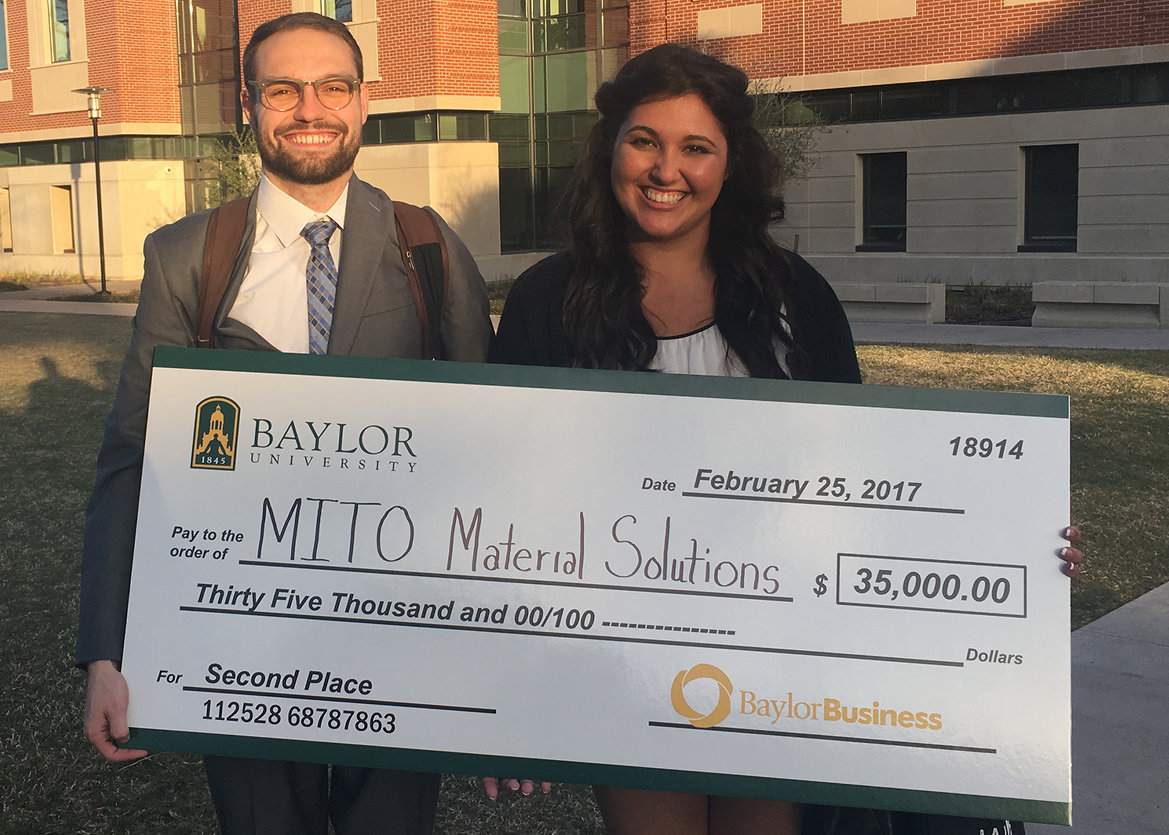 "Winning second place at Baylor is a huge accomplishment for MITO Material Solutions," Kurtz said. "Compared to previous competitions we have been a part of, the competition and schedule at Baylor was fierce. Thankfully, Baylor University offered many coaching and feedback sessions from experienced advisors and judges, which allowed us to really improve our presentation for the semi and final rounds.
"Overall, we learned so much and are so grateful for the support of our advisor, Richard Gajan, and the OSU entrepreneurship ecosystem. This experience was unforgettable, and we are so proud of this achievement."
Biology graduate student Christina Anaya, chemistry graduate student Wesley Honeycutt and Spears MBA student John Nickel with Red Cedar Products received $1,500 for honorable mention as well as an additional $6,000 for the Power of Business award, which combines social and sustainability issues. Redcedar Products takes the eastern red cedar and attempts to turn it into a resource by extracting products that are used in chemotherapy treatments. Each team also received an additional $2,000 from impressed donors, making the final total for OSU teams $47,000.
"We are fortunate to have be selected to compete from the 166 teams who entered the competition this year," the team said in a statement. "This was a great opportunity to learn from mentors, investors, and other teams. Many of the teams we were competing against were very experienced. Since our venture is comparatively young, these teams served as great examples for how we can improve ourselves in the future.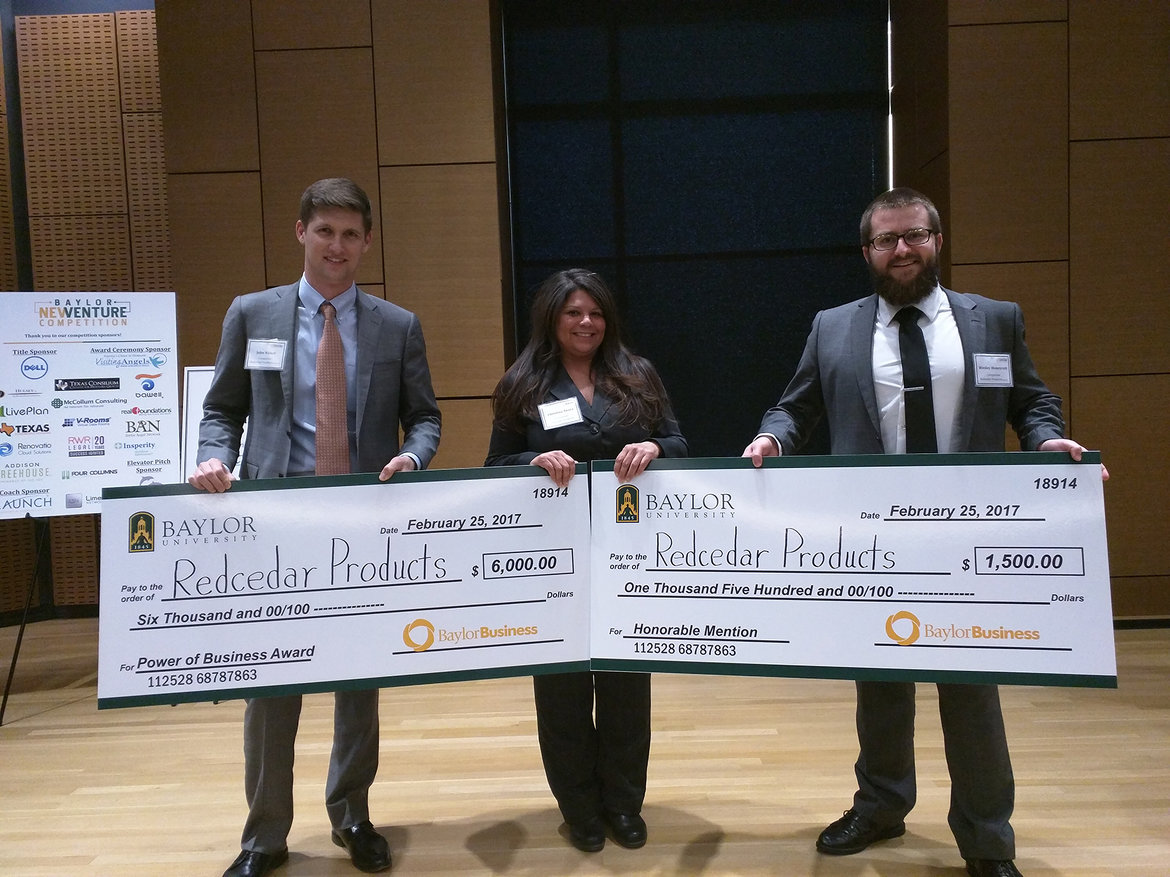 "As our entrepreneurial pursuit grows, we must reflect on the wonderful mentors we have had to get us this far, especially professor Richard Gajan and the School of Entrepreneurship's CIE (Creativitiy, Innovation and Entrepreneurship) Scholars Program. In all, our team brought home $9,500. We are putting this money to good use developing our business which exemplifies the mission of any venture coming from a prestigious land-grant institution such as Oklahoma State University."
Both teams are a part of accelerateOSU, the institute for new venture creation in the School of Entrepreneurship at Spears Business. The program provides entrepreneurial startups a platform that allows exploration of business ideas and resources. Gajan is the director of the program.
"accelerateOSU has replaced the Student Startup Central that we used to have and has moved to a location in downtown Stillwater," Gajan said. "It will serve as a platform for startups in all stages of development and offers resources and guidance. The institute will also be open to the community as well as OSU students, as we hope to cultivate an entrepreneurial spirit in the city of Stillwater."
To learn more about MITO Material Solutions, visit http://www.mitomaterials.com/.
To learn more about accelerateOSU, visit https://riata.okstate.edu/startup/.
For more information about the Baylor New Venture Competition, visit http://www.baylor.edu/business/newventurecompetition/index.php?id=93663.